Good culture gone bad?
By
Rinchen Angmo Chumikchan
Ladakh, Oct 23, 2014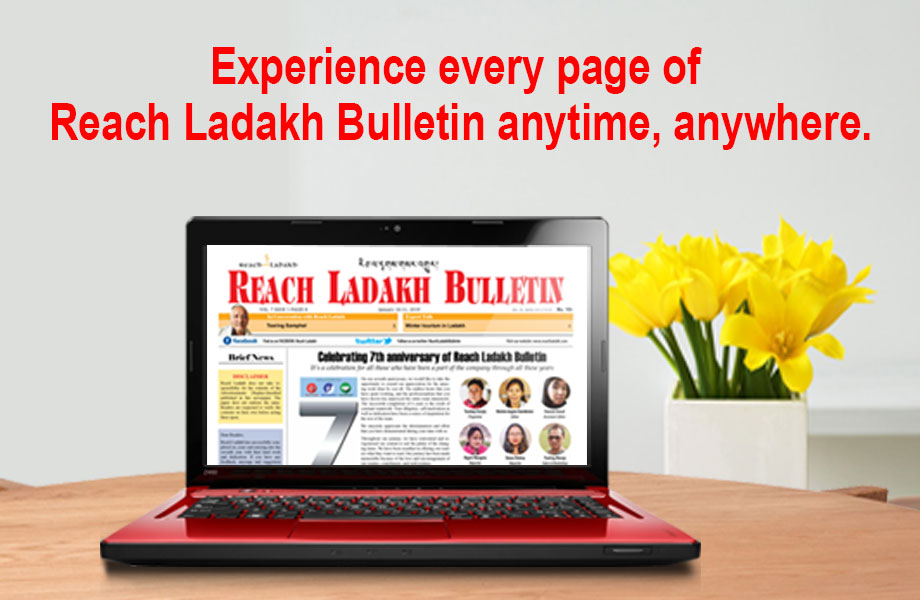 Ladakh :
Has Ladakh, lavishly praised and recognized for its good culture dies out with unprecedented growing number of rape cases?
Last month's rape case of two girls in Hunder, Nubra, a 16 years young minor and a 21years young divorcee with a child, has caught up public attention. Once again the question rekindles an old debate: 'Are women safe?' Reach Ladakh Bulletin, in this issue, recalls other rape cases which made the headlines, but soon faded from public memory as none couldn't do much about it and convicts roams free.  
It is disturbing and sickening that such small peace loving commu- nity is now witnessing so much violence against women. Every day, shocking news of atrocities and crime against women all over the world is reported on televisions and newspaper. Ladakh seems to join the world with such cases.
Ladakh, a place, where the case of rape was unheard of, soon saw three or four rape cases every year. But the worst part of it all is: even the most horrific crimes cases were soon forgotten with society's slackness.
Till date, eight rape cases have been reported at the police station.  Six cases from Leh and two cases from Kargil. Let's look at the data:
Year

Rape

Molestation

Kidnapping/

Abduction

Eve Teasing

Cruelty  by Husband

Total

2010

02

04

04

01

-

11

2011

01

07

03

01

01

13

2012

03

05

01

-

01

10

2013

02

04

-

01

01

08

2014 till Sept. end

06

02

-

-

-

08

TOTAL

14

22

08

03

03

50

From 2010 till September 2014, there are 50 cases of crime and vio- lence against women including rape, molestation, domestic violence, kidnapping and many more. For too long, this epidemic of violence against women and girls has been ignored or was given secondary treatment. In the last few years, there has been an unfortunate increase in rape and crime against women. Many cases do not even get to court because there is a stigma attached to rape, and families would often discourage their daughters from complaining. But most disturbing of all is the reason why so many people keep their suffering to themselves? That rape is still a dirty secret, with so much blame and shame that victims feel they cannot come forward, is testament to how far we still have to go.

RECENT RAPE CASES

In 2013, a 18-19 year old girl was raped in Umla near Ladakh Konka by her own uncle. He forcibly took her to a secluded place and raped her in a maruti car, which was later seized by police.  He was booked under FIR no. 08/14 under section 376 of Ranbir Penal Code.  The accused is now convicted 8 years of imprisonment and he is in prison these days.  In another rape case in 2014, a Japanese woman was raped by a local in Likir in a secluded place. He was booked under FIR no. 76/14 under section 376 RPC at Police Station, Leh. He is still in judicial remand and the case is still under trial. And the recent case in Nubra, Hunder where two men raped two girls at a tourist camp in Hunder, one of the victims is a minor and the other one is a divorcee with one child. This case is also under investigation and the medical reports are awaited.

RAPE CASES THAT SOCIETY FORGOT

One of the most painful and lingering cases is that of the gang rape of a young girl whose body was found near Indus River on 4th September, 2012 who was raped at the age of 15 & met with a tragedy. According to police, the girl slipped from the riverside and die and they call it an acci- dent. The mystery behind the story is still unknown nobody knows what actually happened to that girl. In what can be described as a real travesty of justice, while she is no more, her attacker roams free- out of jail.

She is not alone - her story is repeated with a frightening regularity across the length and breadths of the region.They are left to fight their long lonely battles for justice which, more often than not, is denied to them. On 28 October 2003, the region was shamed when a 18-year old wom- en was gang raped in Khaltse and later forced her to get married to one of the accused and now she is divorced with a child but the child is with her father and away from her. Most of these victims are still waiting for justice, sometimes years after the crimes have been committed.

The rapists sometimes escape with a light sentence because they were drunk, or that they were living away from their family, or they had a family to look after, or that the accused was from a rich family who escape with the power of money.

"The process of justice delivery is too slow and the rate of conviction too low". In Ladakh a case takes so long to conclude that witnesses get dissipated, memory frays and conviction becomes tougher.

"There is no magic formula to deal with the problem of rape. There's a bias that operates in the mind of decision makers - stereotyping wom- en, blaming the victim, trying to find out if she invited the rape."

The real problems are Violent masculinity and victim-blaming. Both these problems go hand in hand. Whenever a rape cases makes the  news, the first questions the people ask are about the victim's sobriety, or clothes, or character.

The right question is not, "What was she doing/wearing/saying when she was raped?" The right question is, "What made him think this is acceptable?"

But every once in a while, an incident happens which ignites a spark. Take the example of Delhi Gang Rape, it was people power that forced the government to change existing rape laws and drew the world's attention to the problem. Many people say until social attitudes change and women are respected and treated as equals, the gains from the protests will be short-lived. The Justice Verma Committee report gave many women the audacity to hope that freedom from violence and constitutional equality would be reclaimed by and for women.

For any crime to get reduced or to stop we ought to go to the root cause. Know the reason why it is happening and look for the solution. So that, it will be a support for present and future victims.
You can write your comments at amyrinchen12@gmail.com or editor@reachladakh.com

Disclaimer: My intention is not to hurt anyone but to discuss about rape cases so that our society could bring changes for the betterment of society or to prevent it from happening.