Demystifying the status of a Ladakhi woman!
By
Hajira Bano Balkhang
Leh, Mar 13, 2015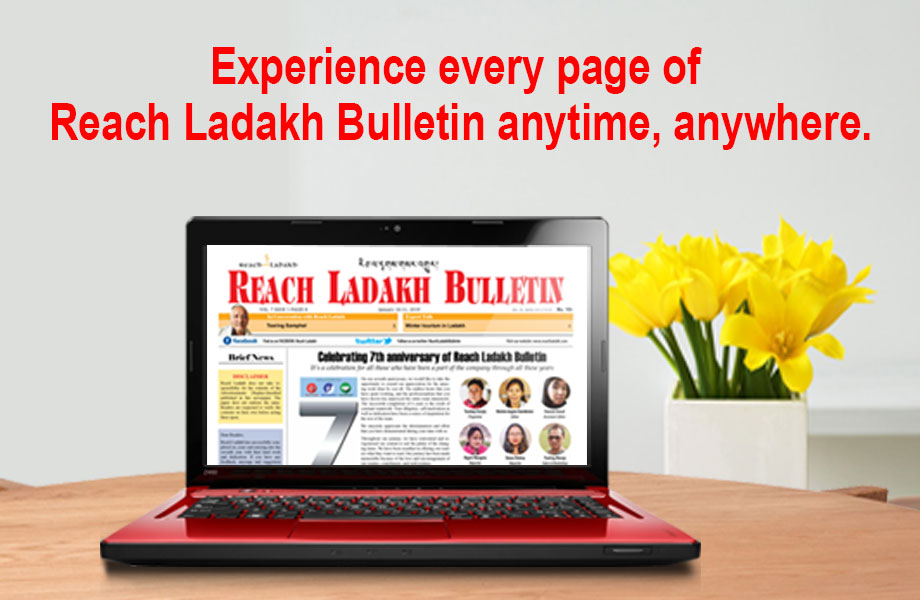 Leh :
What do they say about self love? That it should be accompanied by self critique. We Ladakhis give ourselves a lot of credit when it comes to thinking positive for and about women in Ladakh. We like to believe that our society is one where women enjoy equal rights more or less in every sphere of life. To some extent the benefit of doubt we give ourselves is true; our women do enjoy a very good status as compared to women outside Ladakh.

With the same perception of equality, independence and growth, 64 women from different walks of Leh including members of Panchayat, Self Help Groups, 2010 Leh flash flood victims, journalists, teacher and members of different NGOs and women representative of two major political parties of Leh set out for an exposure tour on 'Women Leadership' to various places in India like Rajasthan, Delhi, Ahmedabad and Mumbai.

The tour was organized by NDTV in collaboration with Tata Institute of Social Sciences Mumbai and Ladakh Autonomous Hill Development Council Leh.

During the one month tour various workshops were conducted on a varied range of topics like related to women such as dowry, violence against women, importance of political equality and participation of women in the local self governance processes, legal rights of women etc.

"We are all very happy and satisfied with our system and females do not face any problem in Leh" was a unanimous, unambiguous and a confident statement from us during one of the earlier workshops. But when the trainer started digging deeper and asked how many of us have properties (land, housing, movable and immovable assets) in their names, how many have written their names in their children's ST and State Subject, how many women have represented in the council yet, how many women sarpanches are there in Leh, are all women educated in Leh, we all drew a blank! It dawned upon us rather cruelly that we were like the rest of our contemporaries everywhere else in the country.

I do not want to say that women are suppressed here in any way or forced to act within a rigid patriarchal framework, but when it comes to a micro analysis we are still have a long way to go in the course of achieving women empowerment; in the real literal and derived sense of the idea. Violence against women or other conspicuous indicators of inequality might not be apparent but real equality in terms of political participation, having a say in decisions that affect their lives, financial independence, not just in terms of a source of income but also freedom to use her income in a manner she likes, property and inheritance rights seems to be missing. These are but few of the many indices or parameters through which we can judge empowerment and gender equality

Women in Leh have a good say in their families but when it comes to the political sphere, a dearth of the fairer sex is evident. If women are equal to men in Leh then why not even a single women from Leh has served as CEC, MP or MLA till now? Why there has not been even a single woman Sarpanch from different villages of Leh? Definitely there were women panches who were nominated after 33 percent reservation in the Panchayats. But to my surprise hardly any of them had a broader idea about the powers and duties of a panch. They were just given the tag of having been chosen as panches but no proper training was provided to them. They had no idea about the total funds of Panchayat and how and where the money is spent.

Not only in politics, but women in Leh are not aware of their legal rights. Most of the women do not have an idea where and how to file a crime report for example or whom to approach in case of say for example in a domestic violence incidence. Such a lack of knowledge leaves women in a position of vulnerability that is spine chilling.
Soon after coming back from the tour, our miscued perception of equality and good status was further shattered when we heard that the body of missing girl from Thiksey was found under gory circumstances just about 300 meters away from her home. This is not the first time that rape has happened in Leh; in the past few years many cases of rapes were registered. Few of the culprits got punished and few escaped without even trial. Some people are alarmed that Ladakhis have now started to accept these crimes as a new social norm. As obvious as it may sound I would disagree with them. As a society we do not relate to such acts of brutality and we would never accept such ghastly acts of violence. Not today not tomorrow nor the day after. Never.

To prevent violence against women it is imperative that we empower them. Empowering alone may or may not be sufficient criteria in gender equality but it is a necessary criteria. Empowerment and gender equality have become a part of everyday discourse nowadays turning it into a cliché. But cliché or not it needs to be done nonetheless for only actions speak louder than words and most definitely perceptions.
.