Constituency: Panamik
By
Stanzin Dasal
Leh, Apr 14, 2017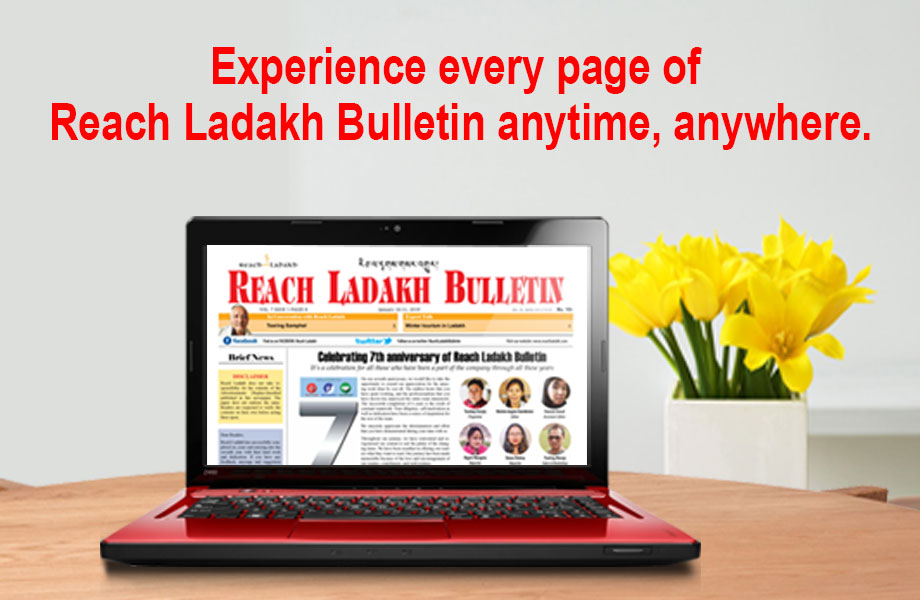 Leh :
Panamik Constituency of Nubra valley comprises of a number of villages situated on the banks of Siachen River from both the side. Lack of drinking water facility is the common issue faced by the people of the villages. People are largely depended on the stream water and face problem of clean drinking water and acute shortage in winter months. In a village like Tongstet, the pipeline was laid 20 years back which needs to be surveyed again and new pipeline installation.  In Kuri, the pipeline needs to reach to the household.  Maximum of the villages need a facility of pipelines or handpumps for the proper water supply.
Education sector development and enrollment are possible only if the infrastructure of the school is at its best. Almost all the schools of the constituency need infrastructure development and basic facilities. There is a demand for smart classes in every middle school in the constituency to impart quality education and to increase the enrollment of students in the schools.  Maximum of the student shifts and pursue higher studies at Diskit because of the hostel facility. The burden of the Diskit school will be lessened if a Centralized residential school is constructed at Panamik to cater students of nearby villages of Panamik.
Blacktopping of link roads is demanded by all the villages. Few mohallas of Taksha village demands link road connectivity. In Panamik Gongma, incomplete link road of Zanbag to Barin needs completion.  In Aranu Yokma and Gongma, there is also a demand of new link road.  The road of Kobaid to Gombo also needs to be completed.  Tongstet village also demands of motorable bridge whereas, Aranu Yokma demands foot bridge between Aranu and Sasoma.
Villages like Warhi, Tongstet, Henachi, Changlung, Sasoma, Yentsa monastery and Sangyar are un- electrified and are depended on digi set and solars.  People also demand of the earliest completion of the LREDA Hydel project in a village like Henachi.
Being situated on the banks of the river people face a huge problem of water overflow, floods, and river diversion has caused loss of cultivable lands and property.  Warhi, Tongstet, Phukpochey, Hargam, Tirisha, Kuri, Murgi, Ayi, Khimi, Sangyar, Dong nyung and Gombo village demands protection bandh, channelization of stream and restoration of an irrigation canal and headworks.
Mobile tower facility is one among the foremost demand of the people. There is also a demand of medical center at Changlung, Ayi and Aranu Gongma. In Taksha, people demand of proper medical center building as it is functional in a rented house.
Sangyar is a newly settled village in which land development and basic necessities are a prerequisite.  People also demands of an irrigation canal. 
The constituency is not much explored from the tourism point of view. Places like Changlung, Yentsa monastery, Panamik, Murgi, Gombo has a vast potential to attract tourist.  Changlung has a hot spring water source which needs to be explored and get listed in tourist map. Yentsa monastery also needs to be promoted.  The rock art in Murgi also needs to be developed and promoted for its historical importance likewise Gombo needs a pilgrimage center. Panamik famous for its hot spring water also needs to be developed in a proper and systematic way. The place has been developed but needs to be renovated with the consultancy of an expert so that the source of water cannot be affected by the development. 
Councilor, Tsering Sandup: People of my constituency are mostly depended on Siachen Glacier porter. Education has far been not really developed; my priority is to strengthen the education system of my constituency.  Enrollment of school can be increased if we develop school infrastructure and the quality of education. I am putting my effort to add smart classes in every middle school.  Awareness is also very important to enroll students in the Government schools. 
Under Sarva Shiksha Abhiyaan I have taken up the matter to meet the demand of few villages and some are covered under BADP.
Secondly, as all the villages are situated on the banks of Siachen river lots of damages are incurred due to the flood, diversion and uneven path of the water washed away many cultivable lands.  In 2005-08 a survey has been done for the channelization and restoration. At that time it was estimated around ₹ 600 crore costs which have been escalated as ₹900 till now.  We have made a new project of ₹345 crore which has been submitted to the state government.  The project covers from Gombo to Shayok confluence.
Under District plan, ₹ 20 Lakh have disseminated annually which is very less and needs to be hiked if we plan for some solution. Permanent restoration is possible only after the approval of big projects.
Tourist permit has been allowed until the end for both the domestic and foreign the only thing is to explore more places and development of the existed areas.
The construction of Kobaid Gombo and Kobaid Charasa road was started in the year 2008 is incomplete due to lack of funds. The 30 km long road is half completed and this year it will be fully completed under NABARD.
The Khimi, Hindu and Murgi stream has been causing huge damage and loss every year, A total of ₹7 crore DPR for the channelization of streams has been submitted under CRF.
Regarding the mobile towers of Khimi, Tongstet, Warhi, Henachik, Changlung, Sasoma, and the demand has been taken up and hopefully it will be installed this summer.
Since a maximum of the people of my constituency is porters in Siachen glaciers there are many demands and grievances of them. The matter has been sought out by the MP Thupstan Chhewang.  Their main demand for the increase in salary was accepted and hiked by 20 percent. The insurance facility has been linked with the Jan Dhan Yojana.
For the electricity issues, Alchi project has been sanctioned to the Nubra. For the internal transmission line connection, I have proposed half under BADP and half under Deen Dayal Updhaya scheme. Henachik LREDA hydel Project will also be covered.
Under BADP fund, the 2km road of Tongstet and Henachik has been blacktopped and this year half will be also completed. More than 1 km link road of Takshha has been blacktopped.  The construction of new link roads of Aranu Yokma will be proposed under District plan.  I am also planning to complete the internal roads of Panamik Gongma under conversion.
A DPR is also being prepared for the Tongsted Medical sub-centre.
The channelization work of Tirisha, Taksha, and Shukshang stream will commence soon under Flood protection.  The canal of Ayi will also be completed.
For the generation of youth employment, a milk cooperative society has been initiated, the paperwork has been done. This will help the unemployed youths to explore dairy farming potential in the areas. 
Conclusion
Lack of drinking water facility has been a major issue for the people. Whether fresh or contaminated, people are largely depended on the stream water.  Talking about the risk of water-borne diseases, Councillor, Tsering Sandup stressed on the need of water quality check and survey to ensure clean and proper drinking water facility.
Since maximum people and youths are depended on the Siachen glacier porter, education has been somehow neglected. Awareness on education importance is very much needed to enroll maximum number student in the schools.  Councillor has set the strengthening of the education system as a priority in his tenure.
Permanent restoration and channelization of a stream are also one of the prime demands of the people as the Siachen River has been causing huge loss to their lands and property.
The constituency has a huge scope of tourism sector which needs to explored and promoted.