Can we stand united against malpractices during elections in Ladakh?
By
Tsewang Rigzin
Leh, Nov 21, 2014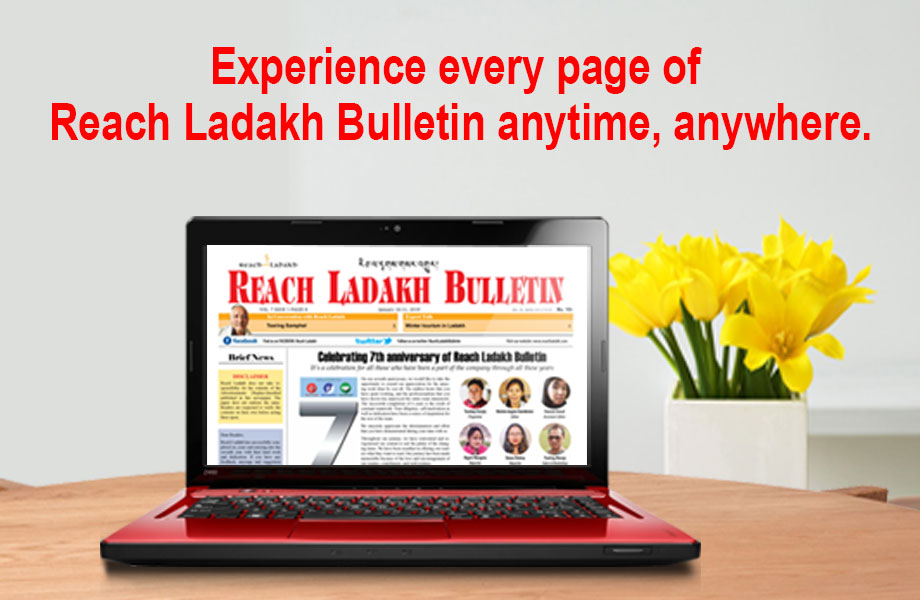 Leh :
The political culture of Ladakh, about which we used to be so proud of, once upon a time, is getting eroded with every passing election. And, one can't but squarely blame the politicians themselves for this trend. Of late, one has been witnessing a political blame-game in which the parties blame each other for the ills they are suffering from, instead of trying to come to a united struggle to free politics of all malpractices. If the present 'ugly trend' continues, then it may very soon become difficult for anyone with meagre resources to get into politics. Elections in Ladakh may become a game of the wealthy which might eventually lead to widen the gap between the rich and the underprivileged. This gap in itself can turn out to be a social crisis, one day.
What prompted me to write about this issue was that many of my friends in the political circle in particular and outside the political arena in general have been advising me, "You need to earn a lot of money to spend during campaigns if you are intending to contest an election."  This indirectly means distribution of cash and use of other undemocratic means to entice the voters. It could also mean buying of votes. A small place like Ladakh will be very soon ruled by a few corporate houses if we remain silent witnesses to such developments. 
At times, I feel that comments like,  "You need money and resources to contest an election", are used by some insecure leaders to scare youngsters from joining politics so that a bunch of individuals can retain their political strongholds, or by those who wish to get into politics by spending huge amount of money to achieve their own selfish ends. If some people manage their entry into politics with the use of undemocratic means, then what can the public expect from such persons once they are elected?
Would we like our parents, children and relatives to sell their votes for a few hundred rupees? No, we don't. Even the general public will never like this. Let us discourage such means. Before campaigns by political parties, a movement by religious and social leaders is required to awaken the masses about their political rights and duties. Why should the public let political parties and candidates host dinners and lunches and treat the public with Kalchurs money? I am also surprised to see that the use of 'khataks' during election is never seen as an undemocratic means.
It is, however, heartening to note that Ladakhi political leaders, regardless of their parties, have been held in high regards at the state as well as the national level for maintaining a high degree of integrity, transparency and honesty.  Ladakh has produced many selfless and visionary political leaders, including Padma Bhushan Kushok Bakula Rinpochey and Padma Shree Sonam Norbu. Ladakh's close- knit society with its century- old tradition of relatively honest society may have also been a reason for what our successive leaders have made us proud of.  In a country crippled by corruption, Ladakh can set a new trend.
It is great to realise that the incumbent Ladakhi leaders from all political parties still enjoy  high respect outside Ladakh for their integrity and honesty.  This tradition needs to be carried forward by all politicians, political activists  and the general public. The Ladakh Buddhist Association, Leh, and the Panchayat Coordination Committee, Leh, had initiated attempts to stop malpractices during elections in the past and such initiatives will be a success when each one of us takes an active part. 
We can learn a lesson or two from Mizoram where the Church- controlled Mizoram People's Forum (MPF) has listed the do's and the don'ts for political parties to ensure free and fair elections. All political parties of the state adhere to the instructions issued by the MPF. This initiative is hailed even by the Election Commission , and also by all political parties of the state as it helps Mizoram to conduct a free, fair and violence- free poll with a high voter turnout.  The state has the MPF platforms at the state level, district level and at local level, which keeps a strict watch on any kind of wrong doing during elections by any party. Can't we too, in Ladakh, replicate such a movement under the aegis of an all-religious organisation?
The whole purpose of writing on the issue is neither to hurt nor to offend any political leader but to generate a constructive debate on this important issue. Let us move ahead with manifestos having comprehensive policies and programmes to address emerging issues of our society. Let us pledge and say 'NO' to the use of malpractices such as alcohol, parties, cash distribution and even 'khataks' in elections.
The author is a Councillor of the Ladakh Autonomous Hill Development Council, Leh.  You can send your views at rigzinhimalaya@gmail.com