ARE BICYCLES, A WIN-WIN SOLUTION FOR LADAKH? I don't think so!
By
Sonam Wangchuk
Leh, Jan 18, 2014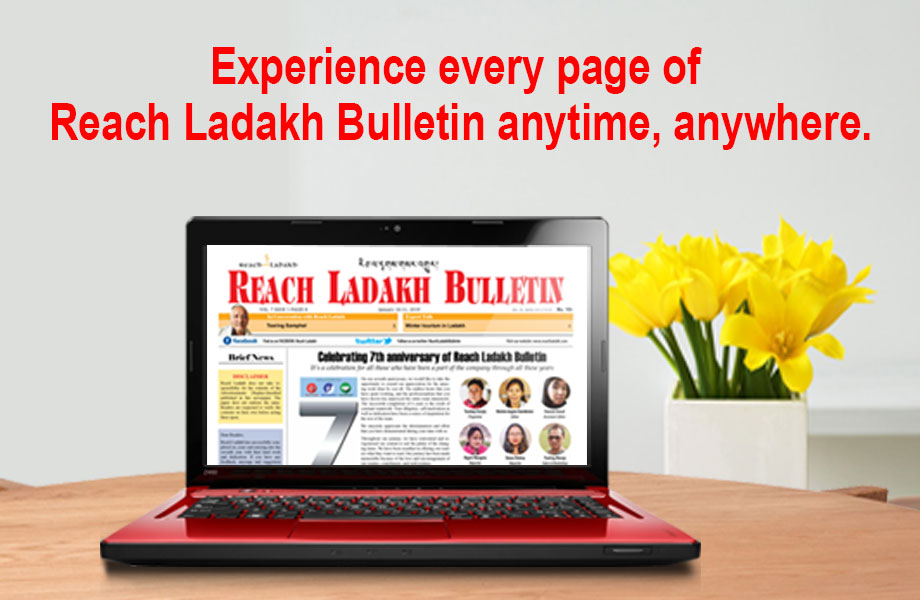 Leh :
Julay no nomo gun!
Recently I came from Sonamarg in Kashmir to Kargil in Ladakh on a small bicycle. It took me roughly 12 hours to reach Kargil town. Many of my friends asked me why I did this trip over the dreaded Zojila pass (3,549 m) in one short and cold December day.

First of all it was nothing pre planned or premeditated. I decided to do it almost the day before I did it . Well that was a part of the point I wanted to make. That using a bicycle shouldn't be a big deal, even in such conditions. And sure enough I was neither cold nor too exhausted by the end of the 120 Km stretch. And the fact that I am neither a sportsman nor very young proves that anybody can do the same.
SECONDLY this was my answer to all those friends who keep telling me, when I suggest bicycles for commuting in Leh city that it's too cold, too high, too tiring etc.

THIRDLY it was also to de-condition my own mind about the commuting I do, sometimes a little reluctantly, from Phey Campus to Leh city (17 Km with a steep rise). Well now, I hope to find that distance easy as a breeze by Birbal's theory of relativity. So those of us who live in flat and warm cities and still do not bike to school or work… I think it's a crime… literally!

Here's why. With my coloured glasses (green) I see a car as a tank, a chemical weapon to be precise that drops a kilogram of CO2 and many other deadly poisonous gases roughly every 4 to 5 Km of travel. Apart from contributing to global warming it does a lot of local violence… Kills old people years before their time, gives respiratory diseases to children and the poor little birds, bees and bugs, they flee our cities gasping for breath if they are not massacred already. And guess who is at the trigger of this deadly weapon? But of course you don't see it as a deadly weapon! You see it as a 'style statement', you think of its colour and its looks to show the world that you have 'ARRIVED' (…on the crime scene! If you ask me).

While Leh city is going blindly auto-mobile and killing the beautiful public transport system that we once had, I have decided to not join this war on nature. I would also like to save my fellow citizens from the sins of this modern day violence in the land of Buddha's teachings of nonviolence. Of course when you have to move many people or loads of goods we cannot avoid a car. I am not against the use of a car; I am talking about avoiding its misuse.

Apart from saving the environment and the lives of the birds, bees and the little bugs my bicycle saves me all the money I would waste on buying a car and petrol (India's biggest drain on foreign exchange). It is always faster than cars in city traffic and you get your exercise on the way. So it burns away my excess fats (to fuel my heating system in winter) and gives me pure muscles in return. And fitness of course saves you from future debilitating diseases and all the doctor's pills and bills. Just ask a heart patient or diabetic on deathbed about the choice they would have made… between 'comfort' and a bicycle, if they knew this was coming… ten years ago! Well lucky for you! Your time for that choice is now!

So you see bicycles are not a win-win solution! They are a WIN WIN WIN WIN WIN WIN WIN solution.
Some of you may have concerns about safety issues while cycling. Sure 'Safety First'! Don't be a dumb rider setting bad examples for others. Always ride with a helmet, brightly coloured safety vest and lights. In India this will also earn some respect for the cyclist. Next know that you are more likely to die prematurely from complications of an inactive lifestyle than from cycling. WHO says each year 1.3 million people are killed in road accidents (all combined), while inactive lifestyle kills 5.3 million. Thirdly when the number of cyclists is significant, strict laws can be passed that make hitting a bicyclist a serious crime – this way the trucks will be scared of cyclists, not vice versa.

One last thing! Every time I commute on my bicycle I can smell the fresh air, I can hear the sounds of the winds blowing and…and I can almost hear the birds, bees and the cute little bugs smiling at me and saying … thank you! :) .