A place with a heart for animals
By
Rinchen Angmo Chumikchan
Taru, Feb 16, 2019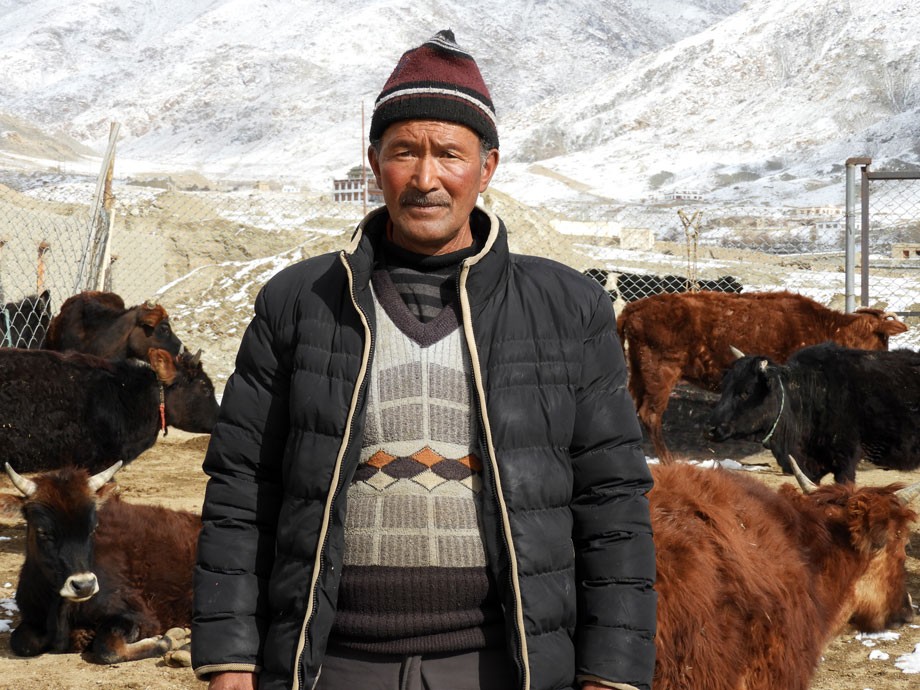 Taru :
In today's age when time is both precious and money, it is heartening to see someone trying to make a difference of a different kind. 
Tsering Dorjey, 57, started an animal shelter in 2013 in his village Taru, out of sheer compassion for animals that had nowhere to go to except the streets. A mason by profession, he gave up his work six years ago to take care of animals in his village. As a mason, he had visited many villages and observed that oxen were not taken care of.
Dorjey narrates an incident when he saw a mini-truck loaded with animals, headed to Kargil. The incident left him in shock and he decided to have an animal shelter in his village.
"I was waiting for a vehicle in Basgo village. I saw 5-6 mini-trucks carrying animals, headed somewhere. I asked a shopkeeper, and to my surprise I was told they were being taken to Kargil for slaughter.  He mentioned about 8 to 12 such mini-trucks plying every day with full of animals. I asked myself how I can save them? We cannot advice or force people to take care of them but we need to be compassionate towards all the sentient beings."
And thus he started his animal shelter in 2013.  Today the shelter has 70 animals, including sheep, cows, donkeys, 'dzos', and 'dzomos'. 
 He requested his villagers for a piece of land for building a shelter, which was given. Thereafter, he started giving shelter to animal not taken care of. The villagers also brought their animals to his shelter. He narrates an incident when one of the villagers sold a 'dzo' to a family in Phyang to be slaughtered. He bought it back and kept it in his shelter. Later, villagers from Liker, Basgo, Spituk, Alchi, Choglamsar and Martselang also started bringing their animals to the shelter. 
"Our ancestors were poor, and yet despite all the challenges they would take good care of their animals. Today Ladakh has developed in many ways, so people should take care of their animals. It is very important to put yourself in the shoes of animals and think over seriously." 
'Life release' (tsethar in Ladakhi) is a Buddhist practice of saving lives. By buying animals that are destined to be killed and releasing them in their native environments, 'tsethar' puts compassion into action. Unfortunately, most of us hardly realise that as human beings we have this precious opportunity.
Realising the mounting challenges in the management of the shelter, he, along with the villagers of Taru, formed the 'Taru Gayphel Tsogspa Animal Welfare Society', last year, and also got it registered. The society consists of 15 members.
"We have been facing several issues including lack of funds and day-to-day operational issues.  Last year, I hired one more staff and I am paying him ₹12,000 per month from my own pocket. Sometimes people forcibly keep their animals at the shelter and I cannot say no to them", says Dorjey.
He is inspired by the teachings of His Holiness the Dalai Lama and believes that animals have as much right to live as we do. "Animals are considered in Buddhist thought as sentient beings. Moreover, the doctrine of rebirth holds that any human could be reborn as an animal, and any animal could be reborn as a human. There is a reason why we are born humans: Let us make it meaningful by standing up for the weaker species. We don't have the right to inflict pain or suffering on any living being, but we do have the right and means to stop it from happening," Dorjey adds.
It is not easy to run a shelter without the generous support of donors and the villagers, he admits. He recalls how he faced shortage of fodder in 2018 due to less snowfall. He had to take the animals to the upper reaches (Phu) of the village for about four months. 
Asked about his future plans, he says, "It is difficult to say if it would sustain  if more animals are accommodated in the future. We are planning to charge Rs 5,000 per animal in future. Our leaders who are at the helm of affairs should not only think about their position and power but also should think about the animals so that we can continue to save them. Our Hill Council has all the power and funds. It is difficult to run it singlehandedly." 
Message: 
"It is very disheartening to see cruelty towards animals. The street animals have nowhere to go. People have stopped rearing animals in the adjoining areas of Leh. Many donkeys and oxen are seen abandoned in and around Leh town. If anyone is interested in volunteering, he/she is most welcome. Also, people can donate and bring feed for animals."