In Conversation with Urgyan Phuntsog, State awardee Progressive farmer
By
Tenzin Dajon
Leh, Mar 01, 2022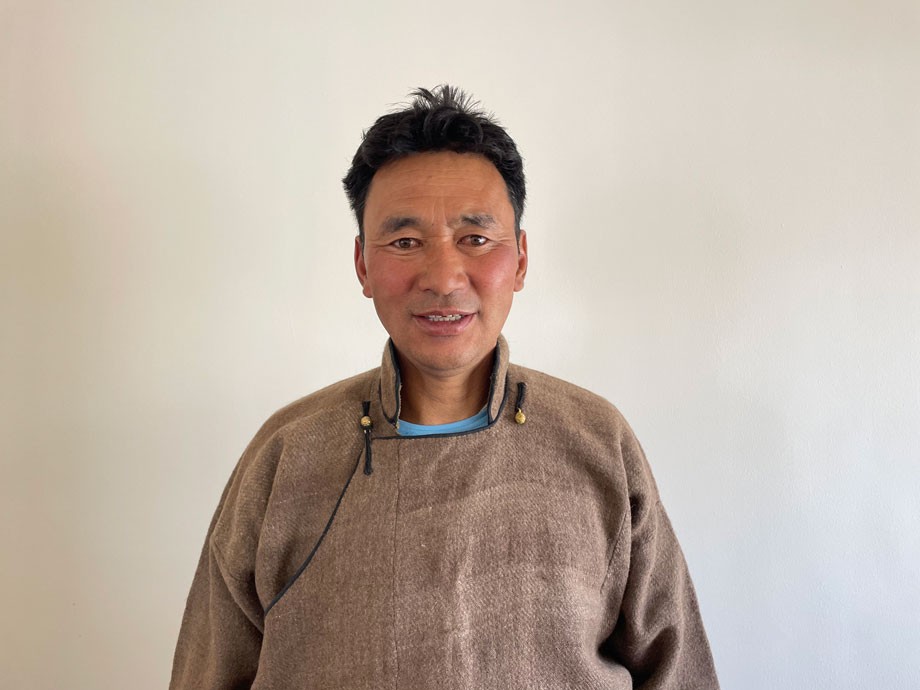 Leh :
Q. Brief us about yourself and what attracted you to farming?
I lost my father at the age of 12 and being the eldest my responsibilities towards my family grew. I had no choice but to learn all the farm activities to support my mother. I finished high school and got an opportunity to join Indo Tibetan Border Police but my mother used to have knee issues and considering that I had no other choice but to assist her. Fieldwork those days are not like today's, all the work are done manually there are no machines. I took the responsibilities of maintaining the family farm fully and use to grow potatoes, barley, peas etc. Earning income from the farm was very limited but we were self-sufficient. 
In the year 2010, I had an opportunity to attend a 10-day exposure tour organised by the agriculture department in collaboration with the horticulture department. I learned that there is a possibility of growing a variety of crops. Later I got support from departments like agriculture, horticulture, KVK and animal husbandry which boosted my interest in farming. 
I got an opportunity to participate in various exposure tours in agricultural universities, where I learned about growing various crops and methods of farming. Using the greenhouse, I started cultivating new crops. Today, I cultivate broccoli, cauliflower, onion, cabbage, fennel seeds, garlic, turnip, cucumber, lettuce etc. 
 
Q. You have been engaged in farming for years, what changes you have observed with time? 
Elders in the village used to tell that they used to experience very cold and harsh climatic conditions. There was no proper food, clothes or shelter and life was very challenging. Farming was a real tough job because of the lack of technology. It takes months to complete the harvesting and ploughing and in addition, the yields are very less. Though they have plenty of water and manure but lacks seeds to sow. They used to take grains on loan at a very high interest and get entangled in the vicious cycle of debt. Today, farming is free from debt and compulsion. But the process of farming was quite difficult even a couple of decades ago when I started the journey of farming. The situation is changed, nowadays with the help of machines farming has become much easier. Not only the yields have increased but the variety of vegetables cultivated also increased in Ladakh. Today I cultivate around 32 types of vegetables. 
 
Q. Apart from farming, what other activities do you do?  
Apart from farming, my family is also dependent on livestock. I own16 cows, 435 goats and sheep and 8 horses. During summer I used to go as a horseman and helper with trekking groups. All of my family members are involved in various activities, my wife does pashmina work and my sister rears goats and sheep. I also generate and use vermicompost and sold around 300kg of worms to the agriculture department, and 180kg to KVK. Earlier the worms were procured from Kashmir for Rs.600 per kg but I sell them at half rate. I have trained around 400 youth, which includes youth from Ladakh, Japan and other parts of India. 
Compost and vermicompost are different, in compost, we can put any biodegradable things but in the case of vermicompost, we usually avoid sugar and bones for a reason as it attracts ants and dogs etc which destroys it. Compost is quite necessary for organic farming and it is good for sustainable farming. Therefore, for sustainable farming, domestication is a must. The manure of goat and cow is considered best for farming as it absorbs water in it. 
I have also developed a small farm at my old house to display the traditional lifestyle of Ladakh. Almost all the traditional works are done here like traditional handicrafts using ancient methods and tools.
 
Q. What is the biggest challenge faced by the farmers in Ladakh?
I believe challenges as a part of success and every work has challenges. Nowadays, farming has become easier than in earlier times because of high tech farming tools, equipment and government support. We do not need huge family members to work in fields like in earlier times. UT administration and LAHDC has many solutions if one has an interest in farming. 
 
Q. How important is it to engage educated youth in agricultural activities. 
First, it is necessary to bring change in our society regarding farming and agriculture. I feel proud as a farmer because I don't have to depend on others for vegetables and many other products. I think like doctors and engineers there should be a degree for farmers. We can do PhD in farming. In short, I mean to say that we should see farming as a profession.
For centuries our ancestors were dependent on farming and domestication. Therefore, youth must realise that it is an important part of our culture as well. In the coming years, the Zojila tunnel will be opened and there will be a huge opportunity in the farming sector as we can reverse the supply chain. If youths neglect the sector then we have to be completely dependent on inorganic supply. Therefore youth must engage themselves in agriculture activities and must do farming at a commercial level. 
 
Q. You are honoured with the state award last year on Republic Day. How important is it to recognise farmers like you by the government to boost their morale? 
Farmers in Zanskar and Changthang will have to face more difficulties than me as I live just 75 km away from Leh. They do not have easy access to departments and officers etc for support and guidance. There will be better farmers than me in those regions. Therefore, I believe that recognising their effort is very important. But one must remember that one's effort should not end after recognition because his/her responsibility gets double. to work even harder and better as the world will follow your work. I think like me it will also motivate my fellow farmers.
I used to think that no one asks about farmers but I am deeply honoured and happy to hear my work mentioned by Prime Minister in the 'Maan ki Baat'program. It has been 17-18 years engaged in farming activities and I think it is the result of it. Each member of my family has contributed to it. I feel we must focus on our work, recognition will follow. 
 
Message to the readers 
"Ladakh is at a very crucial stage. We have not yet lost the farming glory but it will hardly be going to take a decade to lose it if we neglect the sector. Time is to act before it's too late because we might be left with only memories and stories to tell."