In Conversation with Tundup Gyaltson, Constable, Jammu & Kashmir Police
By
Tsering Dolker
Leh, Oct 24, 2019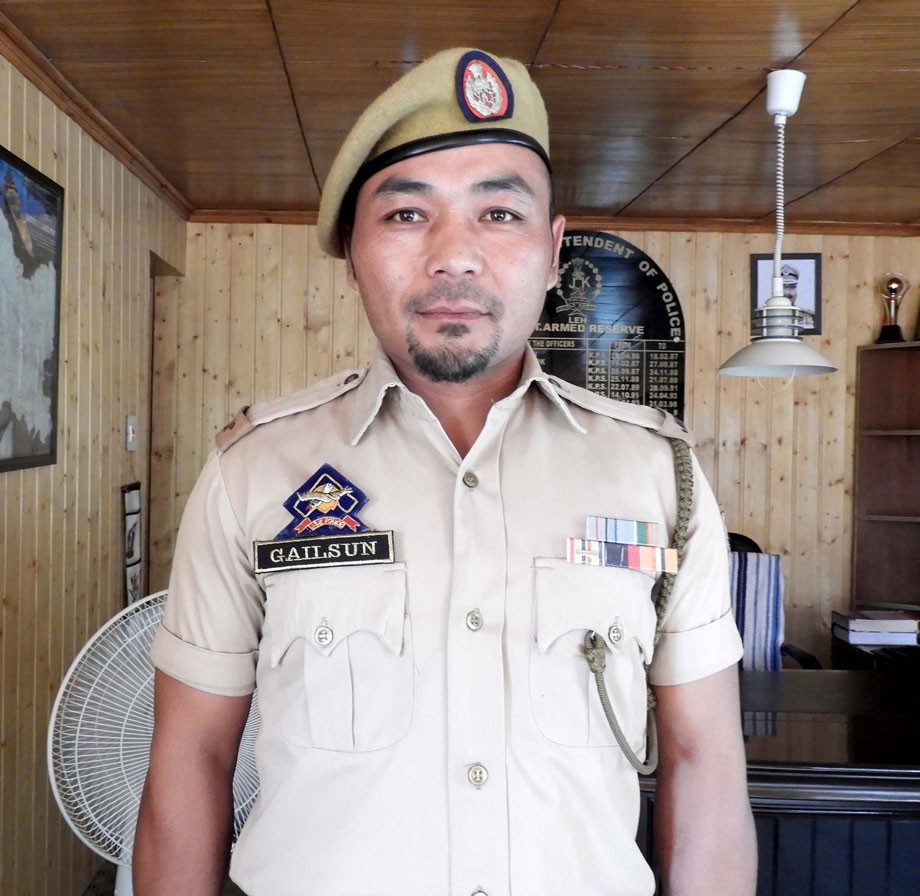 Leh :
Q.Congratulations on receiving District Award for your sincerity and dedication. How do you feel about it?
This is for the first time I am being honoured for my sincerity and dedication towards my job. I am overwhelmed and feel happy to receive this district award. It will motivate me for the rest of my life to work diligently and with more honesty. And I am sure that this will also inspire many others like me to work hard.
I want to take this opportunity to thank my mentor, Sargun Shukla, Superintendent of Police and Suraj Singh Dy. SP for recognizing my work.
Q. What inspired you to work hard and with sincerity?
I am working with J&K Police from the past nine years. From the first day of my joining as a constable, I have set my mind to work with full enthusiasm and dedication. The punctual nature of mine has always been a plus point while performing my duty. Besides, wearing this khaki uniform reminds me every day about my duties and responsibilities.
I never expected any awards all I know is to render service for the public wholeheartedly. I never step back from any of the tasks my officers have asked me to do whether it's a rescue work in times of emergency or a regular duty. Also, I chose to live in a staff quarter so that I will be available whenever my officer needs me for any task.
Q. What are your roles and responsibilities?
Unlike other officials, there are not much bigger responsibilities for me as a constable. I have not been posted at a police station till now and it's been three years since I am serving at Police line. I believe that with my good effort one day I will serve at a better designation also.
Talking about the department as a whole, it is a guardian of law and order. There are many responsibilities such as maintaining public order and safety, enforcing the law, preventing, detecting and investigating criminal activities. 
Q. Do you want to share some of your experience related to any public service?
I was one among the member of the rescue team during the Khardong-La avalanche incident in January 2019 when a group of people were buried under the snow. I served as an in-charge wet canteen and my role is to serve hot tea and beverage for those who were rescuing bodies under the debris where the temperature was -20 degree Celsius. The rescue work lasted for 3-4 days. 
Apart from that during the 2010 flash flood in Leh, I went to rescue people for a few days along with my team. On the first night, we rescued few children out of the mud while the other days went digging out the corpse and aiding injured people to the hospital.
Q. You have a job which needs 24 hours of hard-work and surveillance, what are the challenges you face?
 I don't think I have faced much of challenges in Leh, but when I was posted at Anantnag for 5 years, it was a fearful experience for me as well as my companions. Srinagar being a very sensitive place, we have encountered many experiences such as stone pelters, rebellion and agitations of militancy. 
Every day we were not sure whether we will come back safely or not, but by making out that service with success I feel proud and happy too.
Q. What are the most common cases in our society you have encountered?
Since I have never been posted to any police station till now I have fewer experiences of cases and issues. Serving at District Police Line we deal mostly with emergencies, rescue and some government assignments. 
As per my general observation, illegal selling of alcohol by some people is one factor leading to many road accidents, brawl among people and many untoward incidents. This also leads to a bad impact on our youths and causes domestic violence. Also, as the number of outsiders has increased in Ladakh our society is changing with some crime cases and also our moral value is being deteriorated with the pace of modernization.   
Q. How important is it to felicitate and honour people for their dedication and hardwork?
Disapproval and criticism often get very easily to someone who leaves many of the people helplessness, low confidence and limited thoughts. But appreciating them with awards and recognition can motivate them to work even harder, makes them feel better about themselves and urging them to go on with new vigor. 
I hope such awards shall push forward people to work for a good cause and honesty in the future as well. Highlighting such people also plays a big role. I am very thankful to Reach Ladakh for giving me this special place in your newspaper. This will encourage many others to work with a selfless attitude and a clear conscience.
Message to the readers
 "A policeman is a friend and a guide to the law-abiding citizen.  Peoples' cooperation with the police will enhance the development and helps in maintaining peace and harmony in our society."