In Conversation with Tsetan Wangchuk, Chief Representative Officer, Sonamling Settlement, Leh
By
Dawa Dolma
Leh, Jan 26, 2019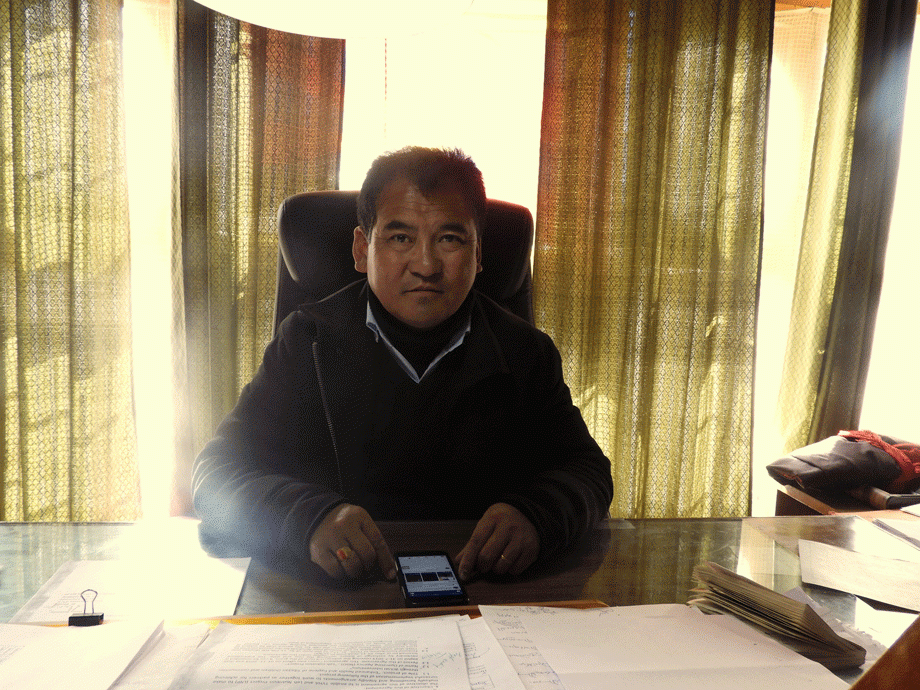 Leh :
Q. Briefly tell us about the history of the establishment of Chief Representative Office, Leh Ladakh?
The establishment of Chief Representative Office was dated back in 1960 under the Department of Home, Central Tibetan Administration, Dharamsala. Earlier, the Chief Representative Officer of Sonamling settlement was directly appointed by Central Tibetan Administration for one or two consecutive terms. But, it has been almost nine years that people of the settlement elect their representative. The settlement is commonly known as "Lhajhi" which constitutes twelve refugee camps in Leh and nine nomadic areas in Changthang. It is one of the biggest Tibetan settlements in India. 
The settlement possesses an elected Local Tibetan Assembly which holds the term for five years. The Local Tibetan Assembly holds session twice in a year and can raise the question and decide on any issues related to the settlement during the session. 
Settlement officer is in charge of overall control of running of affairs of the settlements. The Chief Representative acts as the liaison officer between the settlement and the Department of Home, Central Tibetan Administration and is the main source of information for the people in the settlement. 
Q. Since you are re-elected as Chief Representative Officer of Sonamling Settlement, what are the major goals to achieve within your term?
Chief Representative Office is running successfully with the blessing and guidance of His Holiness the Dalai Lama. Our main objective is to work for the welfare of people such as providing financial support, medical care, education and other miscellaneous. In case of education, the settlement children attend SOS Tibetan Children Village School run under the leadership of His Holiness Tenzin Gyatso and Ama Jestun Pema. 
Tibetan children do not have to pay a single penny for their education and accommodation. Despite the existence of TCV, CRO is also responsible to promote and look after the education of the children of Changthang and Leh. 
I was re-elected by the people for another term and there are certain goals that I want to achieve. However, most of the task is assigned by the Department of Home, Central Tibetan Administration and has to work accordingly. In my last tenure, we have worked on the issue of access to drinking water and sanitation in areas of Changthang and Leh. Similarly, we are planning to continue to resolve the same issue in other parts of Sonamling settlement which is my first priority.
With the funds and aids from various international organisations, I am further planning to get and grant sum amount of money to avail loan for unemployed youths to start a small business and to send them for entrepreneurship workshop.  We also take care of the elderly people who have no one to look after, nomads in Changthang who do not own animals to sustain their livelihoods and also maintaining the traditional mode of living.
Environmentally, we have been engaging for a long time in sustaining clean and healthy surrounding. The procurement of the garbage truck to collect wastes and moving it to landfills will be a great initiative of this year to keep our environment clean. 
Q. What are the key issues or challenges that you faced while you were in tenure? What more challenges do you see and how will you work on them?
In CRO we deal with different aspect of issues at individual, community, governmental and non-governmental level. 
Administratively, we have to work along with various institutions and organisations and many times fail to complete tasks due to appointment or transfer of new staffs. Furthermore, we face a major problem of putting into action while having a number of deliberations. 
Q. Now that you are re-elected, what will be your main agenda to bring more development in Tibetan society? Is there any particular issue that you think that needs more attention?
Well, there are many issues that need more attention but I have been focusing on stimulating quality education among Tibetan children in Sonamling settlement. Preserving Tibetan culture is on the list as well since there has been a drastic decline in conserving culture. Hence it is critically important to revive those cultures by establishing a cultural society to maintain our cultural identity. Additionally, mass support is obligatory in retaining Tibetan culture.
Q. What are takeaways from the previous term and how will you improve in this term?
One of the biggest takeaways from the previous term is definitely developing interpersonal skills and abilities to interact with other people adeptly as you attend to people from all walks of life. 
 Message to reader
"A journalistic interviews are one of the primary approaches to collect information that contains elicit facts or statements, and present opinions to readers, listeners or viewers."