In Conversation with Tsering Youdol, Artist
By
Stanzin Dasal
Leh, Aug 19, 2019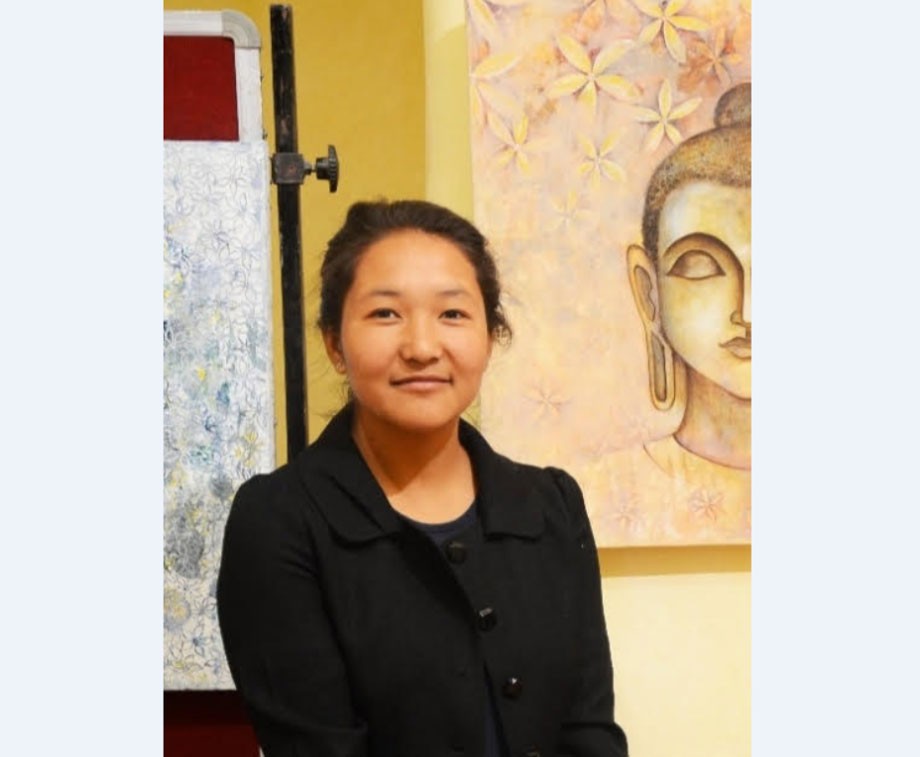 Leh :
Q. What first drew you to painting? And how did you learn?
I remember drawing since I was in school, especially those science diagrams, painting the walls of a village school with colourful chalks. I could get my hands on, any flat surface. I used to draw diagrams of my classmates in exchange for colours. I grew up seeing my father doing wonderful calligraphy works, the handwritten invitation cards for army official and the beautifully designed notebook covers with flowers and petals. And the most important part is the pencil portrait he did in shading which was beyond amazing, and his words that eyes are the most important and difficult part of the portrait. I guess I am very much inspired by the work of my father.
 
My journey with art started in 2015 when I pursued my BA having Fine Arts as one of my subject from Government Girls College, Chandigarh. I am pursuing masters in Visual Art from Himachal Pradesh University, Shimla. 
Painting, in particular, attracted me because of its nearly limitless possibility.  For me, painting is a passion, meditation and an infinite space in this finite world for being with oneself. I feel it is a process of thanking nature and people of my native land. I strongly believe that simplicity and sticking to basics are key to content life and I try to pursue these philosophies in my work. 
Q. You have exhibited your work in several group shows. Can you share your experiences?
I have exhibited my works in groups at All India Fine Arts and Craft Society (AIFACS) Delhi, Shimla, International Roerich Memorial Trust (IRMT), Kullu, Himachal Pradesh,  Khajuraho, Jaipur, Jammu and Gallery GIB in Japan. Few of my artwork is selected for All India Art Exhibition at Shimla and Jammu. Apart from exhibitions, my work is in private collections in India Germany and USA. I also attended several workshops. When working in a group we realise what we are good at and weak in?  This is how I realise the status of my work and subject as compared to others and how I can improve it.  It's all about learning and giving the best. 
Through these exhibitions and workshop, I got an opportunity to explore different styles of art, interact with people from different regions and cultures which provides a platform to share different ideas and thoughts.  These exposures also give me a chance to roam around different places which gives the best experience while learning about the place, culture, tradition and its people. 
Q. Tell us about your process of making the paintings?
First is choosing a sheet when working with watercolour, I mostly use Waterford and Fabriano.  Sometimes, I wet the sheet before drawing. Then I choose a subject, prepare the colours that represent the subject which gives depth to it. While painting a portrait of a local person I have to get that local texture. As in watercolour, there is two technique wet on wet and wet on dry, I use both accordingly, rest is just playing with watercolour.
Q. What style of art would you classify your work and on which medium you work?
I would call my style figurative and portraiture. I love working with watercolour apart from trying other medium as well. What I paint or draw is always related to Ladakh or Buddhism. As an artist, I draw inspiration from our little universe Ladakh, its people and their lives. Portraying the raw beauty, purity, innocence and piousness of our people had been my favourite. I feel Ladakh is called heaven not just because of beautiful landscapes and historic monument but of the people who live here and their loving nature.
Q. What are the differences you see in artworks of then and now?
The difference in artworks of then and now is that earlier it was purer, more like meditation, devoted and less commercial. And now it's little more commercial. 
  
Traditional art in Ladakh is degrading; we are losing our art to machines and outer tradition. Earlier most of the things in a house from spoons to pillars, walls, lamps, and doors were handcrafted and designed traditionally which is now can be seen in museums and heritage. 
Q. What is your advice to a new artist? Do we have a scope in this field?
Art is no less than meditation. When you paint you get the inner joy and satisfaction. With art, you express yourself and also earn from it. Paint what interest you and seek validation from inside.
Yes, we have a scope in this field. If you work there is scope in rarest of rare subjects, but if you don't then there is no scope in any field. 
Message to the reader
"Art is an integral part of our culture. From the making of our traditional attire to jewellery, local cuisines to folk song and dance, thanka painting to building monasteries are all art which involves our emotions, ideas and much more. Art surrounds life, it's not a new subject, it's the most basic and common thing we share."