In Conversation with Thamchos Gurmeet, Designated Officer, Department of FSSA, Leh and Kargil
By
Interviewed by Kunzang Chosdol
LEH, Oct 20, 2018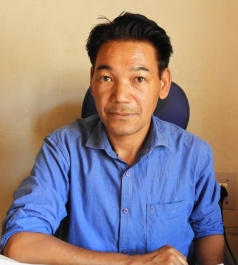 LEH :
Q. Brief us about the department.
After the repeal of Prevention of Food Adulteration (PFA) Act 1954, the Food Safety and Standards have been promulgated in Jammu and Kashmir from 2012. In Ladakh, it was implemented since August 2012. The department tries to ensure safe and hygienic foods for the consumer by inspecting the manufacturing unit like restaurant, storage system and other places of food stalls and according to the need we take food samples for laboratory test.
Q. How the department is maintaining food safety here in Ladakh?
Under Food Safety and Standards Acts, we have been inspecting food business operators to check hygiene and sanitary condition, health condition of the food handlers, personal hygiene, and check whether they are following the system of 'Good Manufacturing Practice' (GMP).
From processing on the farm to practices in the kitchen, human activities play an important role in food safety. It is important for people to understand their behavior and activities contributing to food safety and how they can decrease the risk of food-borne illness. The concern for food safety is from FARM to FORK.
Q. How do you ensure the hygiene at the roadside food stalls? Who looks after the safety measures of roadside vendors?
The roadside vendors always remain an issue and how to register them under the Food Safety Act is a question, as they are not localized. However, we inspect the sanitary condition and personal hygiene of the food handlers. We are also taking up this issue with higher authorities to bring them under Food Safety Act.
The food handlers must follow the condition of food safety and standards but there is a lack of awareness among them about how to maintain food safety and quality assurance.
To check all the food items in the market, we have provided a mobile food testing van which will be plying during the inspection to test the sample on the spot.
Q. How do you carry out the checking and what kinds of offenses are common in the district?
In Leh district, we have been carrying out inspection with the support of other departments like Legal and Metrological Department, Municipal Committee and Food Civil Supplies and Consumer Affairs Department. There are no fix day or time for the inspection, we carry out inspection and market checking at any time.
In most of the cases offenses like selling expired items, the issue related to the date of manufacturing/best before date, lapses food and misbranded food items in the market are seen. The main reason for expired food items with food business operators is that they have to store all food items for winter stocks. While in restaurant, hotels and canteen etc we find many of them under insanitary condition.
Q. How the food safety law is in the district?
The laws related to food safety are strict under Food Safety and Standards Acts but we are facing a shortage of manpower to implement it accordingly in Ladakh.
Following are the penalties for the defaulter in the different business category.
1. Under section 50 of Food Safety Act, selling food, not of nature or substance or quality demanded shall be liable to a penalty up to ₹ 2 Lakh.
2. Section 51 penalties for sub-standards Food is upto ₹ 5 Lakh.
3. Section 52 penalties for misbranded food items is upto ₹ 3 Lakh.
4. Section 53 penalties for containing extraneous matter in food items is upto ₹ 1 Lakh.
5. Section 56 Penalties for un-hygienic or un-sanitary preparation of food is upto ₹ 1 Lakh.
Q. What are the responsibilities of the consumer in understanding the food safety measures?
Everyone is responsible for food safety as we must know how to choose the right quality of food with respect to contamination, leakage, adulteration etc. Consumers should carefully read and understand the information given by the (FBOs) Food Business Operator on food labels which contain nutritional value, expiry date, logos of vegetarian and non-vegetarian etc. Date of manufacture, expiry or best before date is most important things which ensure the freshness of the food items that all costumer must check before buying. Be sure that the food you consume is before the lapse of the expiry date.
Meanwhile, there is a misconception among the people of Ladakh, and say it's okay to consume expired food items in a place like Ladakh because of the cold climatic condition. The need of time is to give up the habit of consuming expired items saying it's OK.
Q. Enlighten us about the different food label and how important is it to check while buying things by the consumer?
Yes, label plays an important role while selecting the food items. The consumer must see FSSAI License number for all packaged foods and beverages, ISI mark for packaged drinking water and certain processed foods, 'Agmark' for all agricultural products, green dot for vegetarian and maroon dot for non- vegetarian food including egg and F for fortified foods. These labels are important because it is being issued only through various laboratory tests and considered superior.
Q. Can you brief us about the process of issuing licenses and registration to the shopkeepers? How many business operators have registered so far?
There are three types of License which are being issued to Food business operators under Food Safety and Standards Act,
(a) Those FBO's (Food business operators) having annual turnover upto ₹12 Lakh need only registration.
(b) Those whose annual turnover is above ₹12 Lakh to ₹10 Crores need State License,
(c) Those whose annual turnover is above ₹10 Crores need Central License
Till today we have issued about 130 states license for hotels, restaurant, distributors, wholesaler and retailers in Leh. About 1,530 of registration has done in Leh district for different food business operators. However, being an Incharge of Kargil, I have been issuing registration and license at Kargil also.
Q. What are the challenges faced by the department?
The Department of Food Safety and Standards Leh faces many challenges in terms of manpower. Till date, we have only one Designated Officer (DO) and one Food Safety Officer (FSO) for the entire Ladakh region. As per Food Safety norms, each block must have one Food Safety Officer and one Designated Officer at District level but it's not there.
There is no facility of laboratory technician & driver for our mobile testing van also. In terms of a food sample, we have been facing difficulties of not having a food laboratory in Leh. The food samples have to send to Srinagar which takes more than a month to get the result.
Q. In many cases, we see retailers selling sub-standard items in their shops, what are the action and penalties against such defaulters?
During our inspection, we find many vegetable sellers selling sub-standard vegetable, particularly in the winter season. We destroy sub-standards items on the spot and with the support of Municipal staffs, fine is imposed on them accordingly. In the last two years, we have fined the defaulters under various section of FSSA and collected ₹ 42,800 from it.
Q. We see that many shopkeepers illegally sell tobacco and related products in the market and even we are facing students addicting to such ill products, so how do you check the sellers in the district?
Yes, there are many shopkeepers who sell tobacco and related products illegally under the different brand name such as 'Cool Lip' and many other brands of foreign cigarette. We even received complaints from the various principal of Government and Private Institutions regarding the consumption of 'Cool Lip' and other tobaccos products by the students.
We in collaboration of Health and Police Department have seized and destroyed many banned tobacco product packets and other misbranded cigarette and fined the defaulters. We are carrying out checking drive not only in Leh area but also in the far-off area of the districts also.
Q. Do we have a food testing laboratory in Ladakh? If not, where do you send the food samples for testing?
No, there is no food testing Laboratory in Ladakh. We send the food samples to Food Laboratory Dalgate Srinagar. In the last three years, I have collected about 60-65 food samples and sent for laboratory test among which 8 resulted as misbranded and 5 as substandard. We routinely collect the food items for analysis purpose but due to non-availability of Food laboratory in Leh, it is difficult to get the result on time.
Message to the readers
"Food safety is everyone's responsibility to avoid illness. The consumer should carefully read and check the label displayed on the items such as expiry date, logos of vegetarian and non-vegetarian and best before date. In case of any issue related to food safety, people can contact us immediately on 9419188476 and 9469125803 and can write to us on foodsafetyladakh@gmail.com and FB: foodsafetyladakh."