In Conversation with Tashi Namgyal, Commandant, ITBP
By
Rigzin Wangmo
Leh, May 20, 2019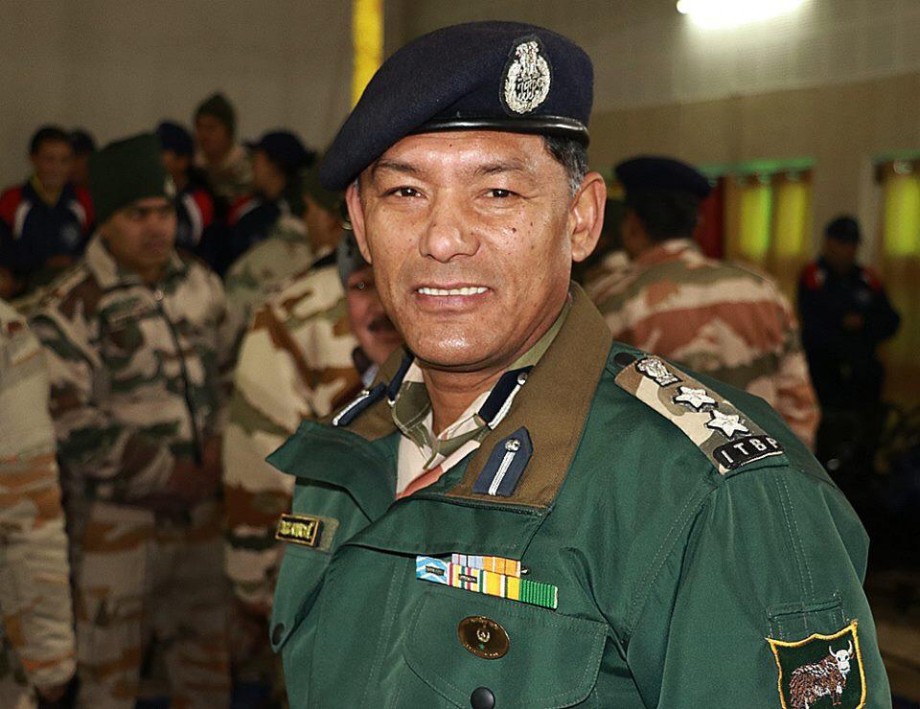 Leh :
Q. Brief us about yourself.
I did my elementary schooling from Government Primary School Taru and studied in Vishesh Kendriya Vidyalaya, Delhi till matriculation. After which I returned to Leh. I completed my graduation through correspondence courses from Delhi University.
Along with my education, I was pursuing Archery, and represented India in International tournament and won medals for the country.  I remained active with the Indian Archery team from 1988 to 1993 and then appeared in (Central Police Organisation) CPO's examination conducted by SSB, which is now being conducted by UPSC. I joined ITBP as an Assistant Commandant in October 1997.
My first posting was in Leh during which I mostly served in borders as Company Commander.
In 2001, I was transferred to Patiala and in 2005 transferred to Delhi as Deputy Commandant after which served with 5th Btn. ITBP, Leh from 2007 to 2010. I also served in Chhattisgarh on promotion as Second in Command, a unit in Chhattisgarh on Anti Naxal Operation. In November 2013, I was promoted as Commandant to 21 Btn. ITBP at Srinagar Pantha Chowk and served till 2016.  From April 2016 to February 2019 served 37 Btn and recently transferred to Force Headquarters ITBP.
Q. Ladakh being a strategically important region, what are the roles and responsibility of Indo- Tibetan Border Police (ITBP)?
ITBP was raised on 24 October 1962 and deployed on border guarding duties from Karakoram Pass in Ladakh to Jachep La in Arunachal Pradesh covering 3,488 km of Indo-China Border and manning Border Outposts on altitudes ranging from 9000 to 18,700 in the Western, Middle and Eastern sectors of the Indo-China Border.
Q. ITBP has been organising Bharat Darshan Tour for the students, especially of border areas. What is the primary focus and how does it contribute to the participants?
Bharat Darshan tours are being organised under the civic action program of Government of India. The Ministry of Home Affairs allocates funds to various Central Armed Police Force for organising Civic Action Program. This year we emphasized on school children of remote areas for the tour. The aim is to connect people and children of remote areas of Ladakh with the rest of India and to enrich the knowledge of Indian culture, heritage, and history. At the same time, to inculcate a sense of belongingness towards mainstream India and experiencing life in plains particularly the coastal areas.
Q. Do you see any positive outcomes from these tours? Give us a few examples?
There are lots of positive outcome from these tours such as the children gained confidence, though it is premature to say but definitely their horizon has increased with such exposure tours. The children, teachers and even parents have requested us to organise such tour in the future. The biggest take away from these tours was the relation which the children of the area developed with ITBP. 
Q.  How one can choose a career in paramilitary forces. What are the procedures?
There are three levels of direct entry in paramilitary forces like ITBP, CRPF, BSF, CISF, and SSB. First at the level of constabulary, second at the level of Sub Inspector and the third at Officer Level as an Assistant Commandant. For the first two levels, exams are conducted annually by SSC and for the officer, the exam is conducted by UPSC, which are advertised regularly in Employment News and on the website of concern forces. 
Minimum qualification for a constable is 10th pass and for Sub-inspector and Assistant Commandant minimum qualification required is graduation. 
Besides academic qualification, it also requires certain physical standards and the candidates need to undergo physical efficiency test.
Q. What are the challenges you have come across while being stationed in the tense borders?
Officers and men of ITBP are well trained for tackling any situation which they may come across while performing Border Guarding duties. However, the biggest challenge on the border in Ladakh particularly for non-Ladakhi soldiers are not the adversary but weather, terrain, altitude, and solitude. As an officer, it is a big challenge to keep these soldiers motivated.
Q. What do you have to say on the outrageous terror attacks in the valley? Do you think there is a solution to stop the disturbance?
My view is that there is a solution to every problem and Kashmir is not exceptional, it has to be holistic and not one-dimensional. Strong-arm tactics alone will not put an end to such troubles. The radicalization and indoctrination of the youth of the valley have to be stopped, and they are required to channelize into the mainstream.  
Q. How would you define the feeling of serving the nation?
Every patriot serves his or her nation in some way or the other. I am fortunate enough to be in uniform forces which are visible and obvious too.
Message to the readers 
"Whatever career the young generation of Ladakh chooses or aspire to become, one should do it with conviction, sincerity, and thoroughness. Ladakhi's are known for their sincerity, humbleness, and honesty, the legacy should continue."