In Conversation with Stanzin Noryang, Sub Inspector, Border Security Force (BSF)
By
Stanzin Dasal
Jun 16, 2018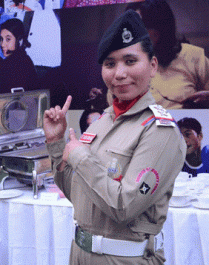 Sub Inspector Stanzin Noryang led the BSF's biker women contingent 'Seema Bhavani', the 113 daring women squad on 69th Republic Day.
Riding a 350 cc Royal Enfield Bullet Bike and displaying acrobatics and daredevil stunts was an example to the entire women folk that anything and everything is possible if you believe in yourself.
She did her schooling till matriculation from Government High School, Hemis Shukpachan, Higher Secondary from Khaltse and pursued graduation from Government College for Women, Jammu.
In the year 2014, she joined BSF as a Sub-Inspector. After completing one-year basic training, she got posted to Samba district, Jammu for almost two years. In October 2016, she joined the daredevil team, the women biker contingent of BSF.
Today she is an inspiration for many young Ladakhi girls, who wants to pursue a career in Army.
Q. What inspired you to join BSF and how challenging it was?
I was born and raised in a small village called Hemis Shukpachan, about 50 miles away from Leh. I love being adventurous and staying fit and that pushed me towards opting BSF as a career. In 2013, I appeared in the SSC CPO for the post of Sub Inspector and joined it in the year 2014. Also, I never wanted a cocooned workplace, I wanted to explore and experience a lot of things along with performing my duty.
The service offers refuge to the nation and I am proud of my profession and contributing my part to the nation and its people.
You face many hurdles. I have gone through a tough time physically as well as mentally during my initial days, but, those troubles and hardships are the cherishing moments of my life right now.
Q. Do you think women enjoy equal rights as men in our society?
I have been working outside for so long and I met women from different parts of the country. As compared to them, the status of women is way lot better and I feel proud and lucky to be from Ladakh. However, if we look into the matter deeply there are certain parameters which will raise a question of equality and woman empowerment in a real sense. There is a need for exposures, facilities, support and awareness to empower women in the real sense.
Even though women of Ladakh are excelling in every field, there is less presence or participation of women in policy and decision making.
It is true that there is a lack of women's participation in policy and decision-making in Ladakh. The first and foremost thing I feel is their (women) willingness to stand and lead. There is a need that women should come forward and dare to do things, coming out of the comfort zone, which is very imperative to grow. Secondly, the support at all levels. When a woman comes to do something new, many let her down, which compels many of them to give up. There is an immense need that women should support each other, the sense of unity among the women is very much necessary.
Q. What measures could or should be taken to improve women's status in the society?
Women's roles are changing gradually with time. Today we see them coming forward in various fields and excelling in them, but still, there is a need to uplift women in remote rural areas, explore their hidden talent and empower them.
They should be given opportunities in every field and the society should encourage them. A woman herself should be strong and bold enough to overcome the challenges. More NGOs should come up to help women and work on issues related to them. Strong policies are needed to empower women in a real sense.
Q. What kind of challenges do you face in your job?
Being a woman commander in BSF, which is a male dominating force, there are many challenges. Once you are part of it, you need to coordinate with male senior commanders and troops, stand together and perform duty shoulder to shoulder on the ground, to manage troops and to create positivity among troops to cope up with the gender differences.
There is no easy way out, once the path is chosen you have to deal with the challenges. The most important thing is that you are respected for your skill, work; gender and rest of the things don't really matter.
Q. In Ladakh, lack of career guidance hinders youth from choosing various fields?
Yes, it is indeed a very big problem. Many a time they (youths) fail to pursue their field as a career because of the lack of support at all levels. I was very much interested in sports. I won state championship twice in wrestling and participated at the national level also. Sadly, I wasn't able to continue it because of the lack of support and facilities at all levels. This isn't a story of just mine. There are many other youngsters who are struggling in various field.
Ladakh is progressing at all level and some NGOs are helping youths get opportunities and facilities to pursue their goals. Also, we are in the digital age and one can tap all sorts of information from the internet.
Q. How important is career counseling to explore more opportunities and fields?
Proper career guidance is very important and is much needed to shape and excel in different fields. Youths of Ladakh are mentally strong and talented but their skills and talent remain untapped due to lack of guidance. Thus, it becomes very important to ensure proper guidance at a right stage of a life so that the morale of the youth can be boosted by understanding their requirements. More opportunities can be explored and excel in different other fields using their talent and skills.
Proper guidance is needed from the school and its importance need to be felt because right career will be chosen only after opting for the right courses. Students should be made aware of the different streams; the subjects included opportunities and their abilities. If guided in a right way from the very initial, the problem will be not too big to handle.
Q. You led the BSF women biker contingent on Republic Day and displayed daredevils and acrobatic on the 350 cc Royal Enfield Bullet Bike. Tell us about the training and experience.
After completing my one-year basic training, I got posted to Samba, Jammu where I was for almost two years. On October 20, 2016, I joined the daredevil team 'Seema Bhavani', the 113-member squad that had women aged between 25-30 years from different parts of the country. We were trained under the guidance of 'special' BSF instructors and followed a rigorous training regime.
After a persistent practice of almost one and a half year, we were able to perform various mega events. I felt so proud while I was performing at Rajpath, standing on 350cc Royal Enfield bike, saluting to the president and leaders of ASEAN countries. I am overwhelmed by the waves of appreciation, respects, and love from all directions especially from the people of Ladakh.
It is a matter of pride because I never thought of riding a motorcycle but today I can perform stunts. Practice, determination and hard work can overcome any obstacles.
Q. Tell us about the opportunities for women in armed forces.
There are many scopes for women in armed forces. One can pursue under various categories through NCC, NSS, SSB, UPSC and SSC examinations.
Women too can serve the nation equivalent to a man. There is a need to explore and seek opportunities.
Q. What measures should be taken to prevent crimes against women?
It is very unfortunate that over the few years we have witnessed serious crimes and violence against women in Ladakh. Strict law and action are needed against the culprit to avoid serious crime in future. Also, I feel that we should raise voice against wrong. Many a time, we don't lodge complain or try to resolve such issues internally, thus encouraging more such crimes. People need to change their careless attitude and come up strong against what is wrong.
Besides, awareness campaigns and Self defense classes are also very important for girls.
Q. What advice or message would you like to give to the youth?
Youths of today should be passionate about their dreams and work hard to achieve it. There is no shortcut to success and one should have patience and faith. We usually give up if things get too hard. Giving up is not an option if you want to succeed.
Message to the readers:
Leaders of Ladakh should focus more on providing exposures and quality education in Government schools of the region. Also, a support is required at all levels especially by the government to the youths who are talented in different fields to help them excel and shape up their career.