In Conversation with Stanzin Donsal, Flying Officer
By
Stanzin Dasal
Leh, Aug 02, 2022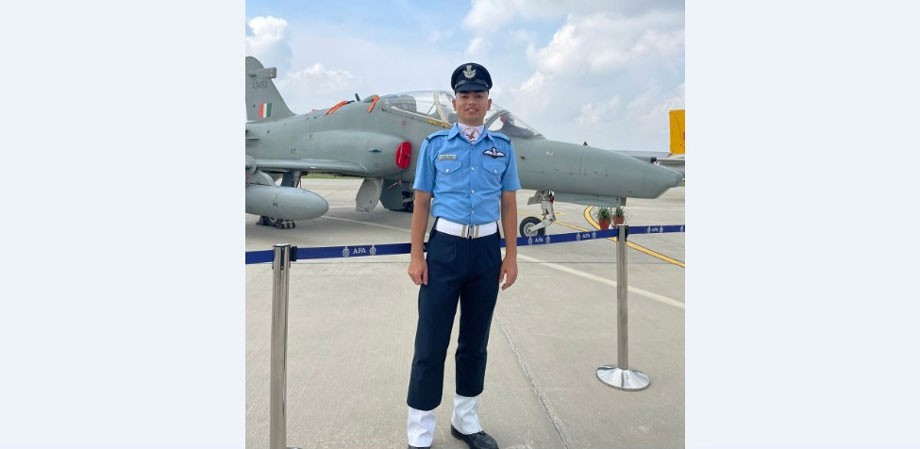 Leh :
Q.  Brief us about yourself. How does flying interest you?
I am born in Tashak pa family in Choglamsar village.  I studied till 6th grade from Ladakh Public School in Leh and after that joined Sainik School Nagrota. After finishing my class 12th I prepared and opt for National Defence Academy and studied for 3 years and joined the Air Force wing. I did my flying training at Air Force Academy, Dundigal, and Hyderabad.
I always wanted to become a pilot but was clueless about how to pursue it.  In Sainik School, we are taught "One aim one goal NDA" where we are motivated, nurtured, and prepared to join the Armed Forces.  After joining NDA I realized that I can become a pilot. I was nervous when I applied for Air Force because many were dropped because of medical and other issues; fortunately, I cleared the entire test and got selected.  I chose to fly a fighter because it's a very respectful and challenging job.
Q.  What are the challenges you faced while pursuing the flying career?
Limited exposure is the challenge that almost every Ladakhi student faces.  Since I joined Sainik School, Nagrota at a young age, I got an opportunity to interact with students from different parts of the country which was a plus point for me. Clearing NDA examination, and extensive interviews by the Services Selection Board covering general aptitude, psychological testing, team skills as well as physical and social skills, along with medical tests were a bit difficult for me. 
The initial one month was hard during my flying training because it's a new subject but gradually I learned, got used to it, and started enjoying it with time. 
Q. What should one pursue or prepare, and who aspires to be a pilot?
Interest and hard work are keys to pursue anything in life.  For those who want to become an Air Force pilot, National Defence Academy is the best option. After the 12th, you can clear the NDA exam directly where you'll get trained for three years and can join the Air force academy. Also, if you have completed your B.tech then you can apply for the AFCAT examination. Air Force Common Admission Test commonly known as AFCAT is an entrance examination conducted by Indian Air Force to select eligible and desirable candidates for multiple posts in Flying and Ground Duty (Technical and Non-Technical).  Mathematics and Physics is an essential subjects.  
You will also get three options to choose such as Fighter, Transport, or helicopter. Each has different challenges and learning.
Talking about the expenses, there is a lot of expenses in civil airlines but in the Air force, there are no expenses.  At NDA, we don't get any salary and we don't pay any money. After entering the Air force academy, we get a stipend along with doing the training. 
Q How important is it to have an aim in life and also a parent's support to pursue it?
It's really very necessary for one to have an aim in life. It can get difficult with big aims but we need to overcome our challenges and keep moving towards success. If you have dreams and dedication then everything is possible.  Family support is very crucial because it gives you encouragement and motivation to work hard and the strength to overcome any challenges.  Even if you fail, you get the strength to rise up and do even better. 
I am very fortunate and express gratitude to my parents who have always been very supportive and believed in my dream. Once I asked my mom about what should I do in my future and she said that I can become whatever I wish to be. 
Q. What is your future plan?
So far I don't have any plans as I have one more year of training at Air Force School Bidar Karnataka.  The training will be done on the Hawk aircraft. During the training performance and personality traits are evaluated by the flying instructor based on which further opportunities will be given. There are other opportunities to fly supersonic jets such as MiG-21s, Sukhoi, etc.  I wanted to fly Rafale.
Q.  What advice you will give to the youths of Ladakh?
Exposure is very important because in Ladakh it is very limited. Since Ladakh is a Union Territory, people are well aware of the region, and the question of where is Ladakh, and whether people stay there or not is not being asked now. So we are in the mainstream and competing with the rest of other students of the country. We all should have an aim in life to study and work on it. Without aim, we will be like sailing on a ship without radar. An aim in life boosts us to work hard and achieve it.  It doesn't matter which field you are in, the only thing matter is to work with passion and dedication. 
Message to the reader 
"Set your aim in life to be successful. There will be challenges in whatever you do; you should work without fear and dedication as there is nothing that can stop us."