In Conversation with Sonam Gyaltson, National Teacher Awardee
By
Stanzin Dasal
Leh, Sep 19, 2020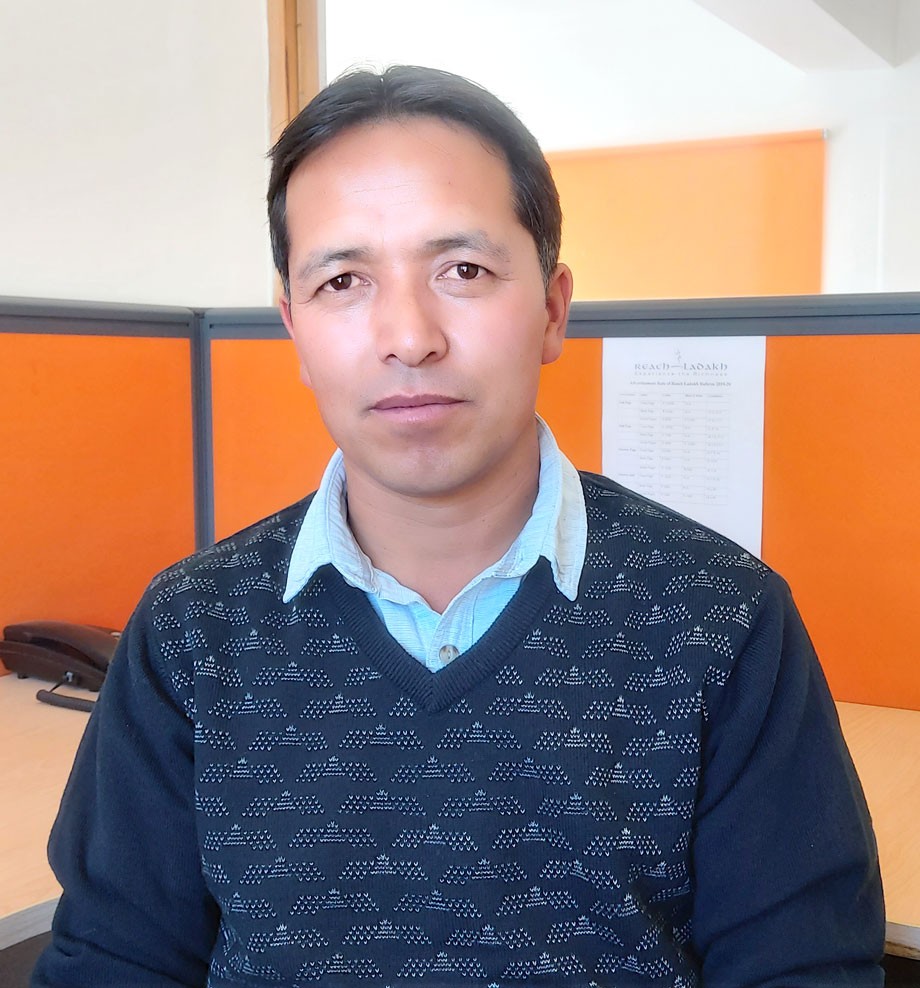 Leh :
Q. Heartiest congratulation on receiving National Teacher Award. Share your experiences serving as a teacher and what was your first reaction on receiving such a coveted award?
I joined the education department as a teacher in 2003 and was first posted in Nyoma Mudh. During my three years of service, I worked with the best of my capabilities, introducing some changes in the school which was appreciated and recognized at all levels. This made me move forward and work with dedication and clear intention. After Mudh, I got transferred to Sakti village, then to Middle school, Shang. I also worked as a Zonal Resource Person under Sarva Shiksha Abhiyan, which gave me opportunities to take part in different training at all levels.
In 2016, I got posted in Middle school Taknak, Sakti. The school was in poor condition with only 4 to 5 students. I renovated the school and started doing a survey, seeking suggestions and ideas from different schools and teachers. With the help of colleagues, friends, and family, I worked on it and expected an increase in the enrollment of students. In the initial days, only a few turned up, reason being lack of confidence in government school among parents; they were reluctant to send their kids to a government school. I approached the parents of every child requested, and make them understand. It was important for me to gain their confidence, thus, enrolled my daughter in a government school and along with it, many others followed the same. This is how people started enrolling their children, and every year the number of students started increasing. Today we have 104 students in the school and had to stop the admission because of the limited resources and space.
The National Teacher and Zonal level best teacher award during the 71st Republic Day celebration is not just my achievement but every Ladakhi. It was an honour to receive the award and I am grateful to every person who helped and encouraged me throughout the years and recognized my work.
Q. You have adopted many innovative methods to transform Government schools. Brief us about that.
Making the school attractive with all needed facilities is as important as having academic excellence. The first and foremost thing was designing the classrooms with wall paintings, student creative work, learning aids etc. A well-designed classroom and environmental aspects can boost the learning process so I worked on campus beautification to make the school environment welcoming, peaceful, and attractive. One interesting part is that we introduced a subject-based classroom in the school. 
The concept is that the respective subject teacher stays in the classroom and the student shifts. To make a difference, we changed the name of the school as Council Model School, changed the school uniforms, started exposure tours, movie screening, winter camps, free tuition, etc. And to handle and manage small children we clubbed ICDS centre within the campus. To arrange a transport facility for students, I took a Bank loan of ₹ 15 lakh and bought a bus. The loan EMI is being deducted from my salary.
My vision is to make Government school infrastructure at par with the private school.
Q. We are witnessing that most of the Govt. schools in Leh District are being closed. What do you think are the reasons for it and what can be done to retain the Government School?
There is a misconception among the public that private schools are far better than government schools. Students studying in government schools are considered incompetent and backward. I feel that to retain government school it is very important for each one of us to play our part. If the government schools are run by the villagers itself, importance and value will come naturally. There is a need to enroll every child in a government school no matter which background and class they come from. Along with it the department can implement and update different schemes and benefits.
Q. Amidst COVID-19 lockdown, online lessons have emerged as a solution to push ahead academic calendar. How successful it is in Ladakh?
Digital education in Ladakh is not that successful especially in far-flung areas where a network or telecommunication service is an issue. During this pandemic time, the online classes initiated by the department through Doordarshan and Radio are definitely of great help. The programs are reaching out to students staying in far off villages. Also, some teachers are visiting schools in rural areas and trying to reach students personally.
Taking about digital education, I would like to say that it is a must to monitor students while handing over smartphones to children for online classes because technology along with advantages has many disadvantages also.
Q. How do you view the education system in Ladakh? 
 
We need government schools with the best of infrastructure and facilities, a building designed as per the climatic condition and topography of Ladakh. Ladakh being a Union Territory and with the introduction of the New Education policy, I feel that the education system of Ladakh will be carved as the best one. Also, there is an immense need for parents and communities to strengthen the whole system.
 
Message to the reader
"I request everyone to strengthen government schools and it's better to have one best school in every village than to have many with no qualities."