In conversation with Skalzang Angchuk, Pilot, Air India
By
Kunzang Chosdol
Jul 21, 2018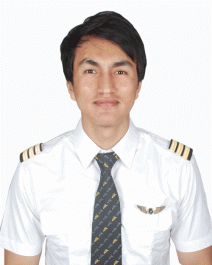 Skalzang Angchuk set an example for the youngsters of Ladakh when he got selected as a Pilot with Air India last year.
With exposure and experience in a very tender age, the boy worked as an actor in many films and commercial ads but along with all this, all he ever dreamt and aimed was to become a pilot. He did his schooling till 10th from Moravian Mission School Leh and completed his 12th standard from Lamdon Model Senior Secondary School Leh. After passing out 12th in 2014, he joined Government Aviation Training Institute Bhubaneswar, done his single and Multi-engine training and got the license from DGCA on June 11, 2016. In December 2016, he got selected as a pilot with Air India.
Q. Brief us your journey in Aviation?
After completing 12th I joined Government Aviation Training Institute (GATI) Bhubaneswar. I took classes to clear all my DGCA (Directorate General Civil Aviation) papers after getting my SPL (Student Pilot License). Then I did my single engine flying training from GATI itself and completed my multi-engine training from Chimes Aviation Dhana. After getting my license from DGCA I started preparing for Airline exams for about six months and got selected in Air India. I have recently completed my simulator training with Air India from Jakarta, Indonesia.
Q. So, Why Aviation? What interested you in this field?
I wanted to become a pilot from the very beginning. Seeing the planes fly by on a clear sky always made me stare at them with awestruck. Whoever used to ask me my aim in life, I always told them of becoming a pilot. Since freedom, beauty, adventure and what more could be asked in life? Aviation combined all the elements that I loved. I have seen that our ambition keeps on changing with time. Many of us lack the confidence to achieve high, we should always be focused towards our goal and the doors of opportunities will open on its own.
Q. since childhood, you have worked in few movies and advertisements. Have you ever thought of making a career in acting?
I got the opportunity to work in movies, commercials as well as in serials too and I learnt that few people are bestowed with acting skills, lots of creativity and power to bring magic through their acting skills. I too loved acting but I always knew that I have a different goal to achieve. Flying was something close to my childhood fantasy. Also being an elder brother always brought great responsibility. So, I worked hard to make myself financially independent in the future.
Q. When did you get your license and for how long is it valid for?
I got my license on June 11, 2016. Commercial Pilot License is valid for 5 years. After every 5 years, it has to be renewed. Renewal can be done by check or recency. In renewal by check as the name suggests you need to give a check ride whereas, in renewal by recency, the license is automatically renewed if the recency requirements are met. This in lay man's term the pilot needs to fly for certain required hours in the preceding 6 months prior to apply for renewal.
Q. What's the difference between a private pilot and a commercial pilot?
There are lots of people who are attracted towards aviation as a career. CPL and PPL are the licenses for if you wish to become a pilot. Although both coveted and popular, there are some differences in what pilot license can offer.
PPL (Private Pilot License) is the license for the aspirants who are interested in flying. It is mainly for those who wish to take flying as a hobby or those who own an aircraft. For getting the license they must undergo 40 hours of flying training, clear some papers and should have medical fitness as per the standard rules.
CPL (Commercial Pilot License) is a qualification that allows its holder to play a role of a pilot. It is for people who wish to take flying as a career with an airline or a charter. For CPL, 200 flying hours is the requirement plus the Directorate General Civil Aviation (DGCA) papers and should have medical fitness as per the standard rules.
Q. How long does it take to complete the whole training?
Roughly speaking it takes 2 years but it depends on so many things. Firstly, it depends on the student i.e. how long he or she takes to clear the DGCA papers. An average student takes around one year. Secondly, it depends on how long he/she takes to learn the procedures, callouts etc at the time of flying. Then it also depends on the availability of slots for flying because there are so many people but very fewer aircraft. Weather also plays a huge role. In winters, the visibility is too low to fly. In monsoons, heavy rain makes flying difficult.
Q. You have become a role model for many youngsters of Ladakh. What advice would you give them?
'The more you learn, the more you earn' that's so true. Look at successful people like Bill Gates, Steve Jobs, Oprah and any other highly successful people. They are successful because they use their time right; they are successful because they are committed to learning new things every day.
Think about this, you have ₹ 1 lakh to spend every single day, but when the day is over the money disappears and you can't get it back. Wouldn't you try to spend all of the money before they disappear? Wouldn't you try to use it wisely? Use it as best you could? The sad part is we only have 86400 seconds in a day and most people take this time for granted, they let the time disappear without a second thought, and we will never get this time back. We must use it wisely and be productive. Instead of wasting your time on meaningless things, use it to learn new things.
A lot of students stop chasing their dreams, because of one failed test. The fact is most students don't even try their best when they take a test because in their mind they have already failed the test. They stop believing in themselves and once the belief dies, the dream is killed.
If you have a dream, you must do everything to make it a reality. It doesn`t matter how many times you fail. Never ever stop believing in yourself. Life itself is a test. Sometimes you will fail. But the only way you can be a failure is if you stop trying. Whatever dream you have, use all your energy to make it into reality. Push yourself to become the person you are destined to become.
My instructor used to tell me, that once Bill Gates was once asked which superpower he would like to have, he said the ability to read a book faster. Success is not about the money, fame or a big house. It's about becoming the best version of you.
We should create a mindset that does not allow us to quit or stop believing. If we quit on your dreams and give up, we will never know how great we can be.
Q. What skills should a pilot have in order to cope up with the emergencies?
A pilot should take the responsibility for the safety of people in the air and on the ground as well. He should be self-disciplined and consistent in applying good judgments. He should be very mature, while some people are young and very mature, some are old and not mature. A pilot should have strong mature decision making and communication skills.
He should be able to work under pressure, staying calm during emergencies. Emergencies are very rare but they do happen, so he should be able to take control of the situation in a calm and organised way.
Q. Many youths of Ladakh are unemployed today due to lack of vacancy in different government departments. What are your views on government versus private jobs?
Ladakhi people still crave to get into government jobs. The level of comfort, as well as the prestige and the security, has no match. These days a lot of graduates as well as postgraduates opt for various government jobs. People still want to work in the government sector more than private because of the number of reasons like lesser workload, fixed holidays and vacations, job security, job stability, pensions and so many other benefits. However, we cannot out rule the private sector as something that does not offer any benefits to the employees. There are so many advantages of working in the private sector like there are target driven jobs which mean that there are certain goals to be fulfilled by each employee. Also, there is always a greater scope of growth in this sector because there is no restriction on the position at which an employee can reach.
Q. How important is to set goals in life and work on it?
Well, imagine having to shoot an arrow without being given a target. Where would you aim? I think goals are essential for your development and success. They always create a roadmap for success, the root of all motivation or inspirations that we have ever felt in our entire lives are goals. If we set some goals in life it will help us focus on our purpose and whenever we measure our goal's progress, we can stay on track and experience the excitement of achievement that will propel us to reach our goals.
Message to the readers
"Do what you like. Your dedication to work is actually an opportunity for you to move forward in your life. Enjoy what you do. When you choose your passion as your career, your work will become a source of joy and you will enjoy your work."