In Conversation with Rinchen Lamo, Member, National Commission for Minorities
By
Stanzin Dasal
Leh, Apr 02, 2022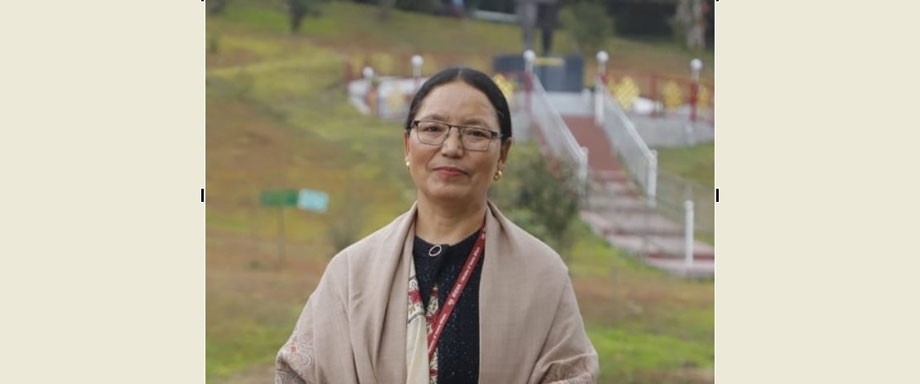 Leh :
Q. Congratulations on being appointed as a Member, National Commission for Minorities.  Brief us about your work and what are your plans and priority?
National Commission for Minorities consists of a Chairperson, a Vice-Chairperson and six members each from Muslims, Christians, Sikhs, Buddhists, Parsi and Jain communities. Starting from the year 1978, Kushok Bakula Rinpoche served as a member of the commission for around 10 years. Later, Ladakhi's including Lama Chosphel Zotpa (2006-2009); Spalzes Angmo (2009-2012) and Tsering Namgyal (2013-2016) served as a Member of the Minority Commission. 
The commission evaluates the development of minorities under the Union and States, monitors the working of the safeguards for minorities provided in the Constitution and in laws enacted by Parliament and the state legislatures, ensures that the Prime Minister's 15-Point Programme for the Welfare of Minorities is implemented and the programmes for minority communities are actually functioning, makes recommendations for the effective implementation of safeguards for the protection of the interests of minorities by the central or state government etc.
There are end number of schemes introduced by the Government for the welfare of minorities and my first plan is to make all these schemes reach every beneficiary of both Leh and Kargil districts.   Also, to implement all the plans and proposals made for the benefit of minorities in UT Ladakh.
Q.  Share us about various schemes for the welfare of minorities.
Govt. of India has introduced various schemes for education, economic empowerment and infrastructure development. There are scholarship schemes for the pre and post-matric students, pension schemes for senior citizens, widows, specially-abled persons etc.  Likewise, there are many other schemes that are introduced from time to time. It is true that many people are unable to avail benefits from such schemes because of the lack of awareness.  During my meeting with the stakeholders and officers in both the district, I stressed making people aware of such benefits and facilities so that maximum will be benefitted.  I as a member of the commission will definitely ensure that all the schemes are implemented on the ground and all the people leaving in remote far-flung areas are well aware of such schemes. 
Q. One of the functions of the National Commission for Minorities is to make recommendations for the effective implementation of safeguards for the protection of the interests of minorities by the central or state government.   Ladakh after the Union Territory status, people are demanding safeguard for land, job, culture and identity. What is your stand on this demand?
After Union Territory status, there are a lot of concerns and confusion among the people and it is understood and well stated that Ladakh needs a safeguard. I feel that we are still not sure what we are demanding in the name of safeguard. At one point in time, we demanded the inclusion of Ladakh under the sixth schedule of the Indian constitution and now we are demanding statehood for Ladakh. Coming together of Apex and KDA to demand statehood for Ladakh itself is confusing because the members of KDA are the one who demands restoration of J&K state and Article 370.  All of these are contradicting and could be a reason for the delay in granting safeguards for Ladakh.   
It took nearly 70 years to get the Union Territory status demand fulfilled and before demanding anything we need to analyze and understand. Demanding statehood is not wrong but we have to check whether it is right to demand it or not for Ladakh.  For a state there are many criteria, such as the source of revenue to run a state, can Ladakh fulfill it? We need to brainstorm and decide what is best for Ladakh. I am in support of the safeguard for Ladakh and will work for it. 
Q. Though women in Ladakh are excelling and leading in various fields their participation in policy and decision making is almost absent. What do you have to say about it?
Without women's participation in policy and decision making the development of a society or a region seems incomplete. Women can understand the grievances and issues of women better. In Hill Councils we don't have women elected representatives so far, only one nominated seat is available.  I have been always raising and will strive for a 33 percent women reservation seat in Hill Council like in other states of India so that we can have women's say also. 
The misconception about women cannot lead needs to be changed because it is a woman who runs a family or a home in a more efficient way. When a woman can balance her profession and family work then why do many people feel that she cannot lead? Women's decision power cannot be compared with men's because they have more clarity, understanding and patience to deal with situations. Today, women are taking part in politics which is a good sign and I feel that more and more women should be encouraged and supported to lead.
Q. Caste-based discrimination is one of the major issues faced in the society of Ladakh. What you will say about it and how important is it to change these evil practices.
Fundamental Rights are guaranteed to all persons by the constitution of India without any discrimination of caste, religion, sex etc. These rights entitle an individual to live life with dignity. Article 15 states that the state shall not discriminate against any citizen on grounds only of race, religion, caste, sex, and place of birth. Still, if we practice such discrimination we are going against the law and there is a punishment as per law. Not even it is illegal but is against the very spirit of Buddhism.  If anyone in the society faces such discrimination, they can report it to the National Commission for Minorities. Many feel insecure to go to court or any other institutions with their grievances but National Commission for Minorities can be easily accessed. The commission will serve notice to the one against whom the complaint is made failing to which he/she will be summoned and necessary action as per law will be recommended. The situation is changing now and I feel that religious organisations, social activists, and educated youths can play a vital role in bringing change.
Message to the readers
"Time has come to motivate and support women to take part in politics actively. Equal representation of both men and women in Hill Council is a must."