In Conversation with Rinchen Angmo, President LBA Women Wing
By
Kunzang Chorol
LEH, Feb 02, 2018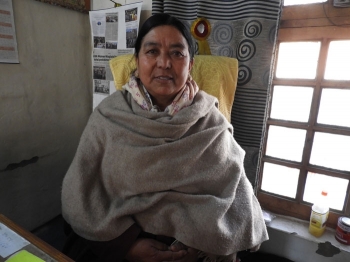 LEH :
Rinchen Angmo has worked in Women Alliance, Leh as its member till 2010. She served as the President of Women Alliance Leh from 2010-15 and president of Ladakh Phandey Tsogspa from 2016-17. On December 16, 2017, she was appointed as the President of Ladakh Buddhist Association, Women Wing.
Q. Brief us about Ladakh Buddhist Association women wing. What are the role and responsibility?
The LBA women Wing was formed with an aim to uplift and work towards women empowerment and to take up various issues related to women in Ladakh's society. Apart from that, we contribute to the preservation of Bhoti language and assist its parent association (LBA) in conducting various events. We encourage women and educated youths to join the association and serve our society as it is a non-political organisation, working for the welfare of the Buddhist community.
Presently, we have five executive members including President, Vice-president, General Secretary, Secretary, Cashier and some members. After every three years, the executives are reshuffled.
There are various wings of LBA in all villages of Ladakh region, each village has executive members like us. These days, we are appointing new executive members in the nearby villages.
Q. As you are elected as the president of LBA Women Wing, how do you view this platform?
I have got an opportunity to work as the president of Women Alliance Leh which also works for the empowerment and upliftment of women. But this platform is much bigger and has more responsibility as I am representing the whole Buddhist women. Being in such a position I will definitely give my best and work for the empowerment of women in Ladakh.
Q. What are your priorities and plans? What new changes do you want to bring in during your tenure?
We are focusing mainly on education and to put an end to the Dowry practice in our society. These two are linked. If someone is educated he/she can understand the ill effects of Dowry in our society. If we don't stop it now, then the day is not far when the women from poor families will face the same problems like female foeticide and dowry deaths which is rampant in other parts of the country. The need of the hour is to educate the society and stop such evil practices.
Since we are new in the office, we are looking forward to work on the issues to bring some good changes. LBA Women Wing has done some great work in the past. We are going to organise health-related programs with the support of local doctors in different villages of Ladakh.
Q. How do you look at the status of women in Ladakh? What role does LBA Women Wing play in empowering them?
As compared to rest of the world, women in Ladakh enjoy a better position and are equally educated and excelling in many fields.
There is a notion among elders in our society that all should get a government job. But we do have lots of schemes from the government through which one can establish their own venture. There are many examples of women entrepreneurs who have proved themselves. Each one of us has different capabilities and talent which one must identify and use it.
In the past, LBA Women Wing has supported and uplifted many underprivileged women; many were helped to generate income by supporting their business. Such initiatives and support from our side will continue in the future.
Q. Being a women leader do you feel that women in our society are given equal importance and right? Does the association raise women inclusion and participation on all platforms?
Yes, I think women are given equal rights and importance in our society as compared to others. However, there is a need for more participation from women in all activities and at all platforms. Our participation is important to raise women related issues. Today we have woman DC and woman SSP, hence it becomes easy to discuss issues of women with them. Likewise, if we will have more women representatives in the Hill Council and women leaders and bureaucrats, the issues of women will get highlighted in a better way. We are going to demand reservation for women in the Council.
Q. Does Women Wing also settle woman-centric disputes? If yes, what are the common issues and what are the reasons behind it?
Yes, we do solve the issues of women internally, be it domestic violence, divorce and maintenance cases. Among them, domestic violence is common. Many people came to us to settle disputes and we helped them. But there are some cases we fail to solve despite our efforts.
Q. Many, despite taking legal help, approach the association for help in time of distress. How the matter is resolved and does that help?
We call the relatives of the victim, investigate the cause and discuss it with them. We try to educate and advise them about the implications of such disputes. There are many issues related to women that have been solved successfully by our association and they are grateful for it.
Q. Tell us about the safety of women in Ladakh? What is the association doing to curb the problem? And what kind of help is extended to the women who get victimized?
If we talk about women's safety, we cannot say that Ladakh is a completely safe place for women. But in comparison to other places in the country, it is safer. Today many crimes are taking place in Ladakh and it's not like what it was in the past. Here education is again one of the most important things that will help reduce crime against women as well as various kinds of crimes in our society.
We don't have Women Cell in Ladakh and in this regard recently we met SSP Leh Sargun Shukla and she ensured that Leh would get it soon. People of Ladakh are hesitant and shy by nature, they do not share their problems openly. If we have women police, then they can share their problems openly and their problems will get solved easily. We also raise our voice for the justice of victims of rape and molestation and will continue to do so.
Q. LBA Women Wing has initiated in making Leh a dry district, how far has it worked and what changes were brought?
Yes, in the past years, LBA Women Wing has worked on banning the consumption and sale of alcohol in Leh district. Alcohol has many negative impacts on individual, families and the entire community as a whole due to which many crime, accidents and family-related issues are growing in Ladakh's society. This initiative has greatly brought changes in our society. Today we get to see less consumption of alcohol in every kind of celebration. However, some people are still using it on various occasions. We are putting every effort to minimize its use.
Q. What are the future plans of LBA Women wing?
Since we are newly appointed executives we haven't framed any future plans as yet but this time we are focusing on education. We are going to organise campaigns in all the villages to aware people about the importance of education for the all-round development of the society. Education is the only thing that can help bring positive change and remove all kinds of negatives in the society.
Message to the readers
"Women of Ladakh should come forward and participate in policy and decision making and highlight the issues and demands of women. Today, women can equally compete with men, all we need is to come out and prove it."