In conversation with Rigzin Dorjai Yarma, Project Coordinator, Live to Rescue
By
Stanzin Dasal
Leh, Dec 16, 2021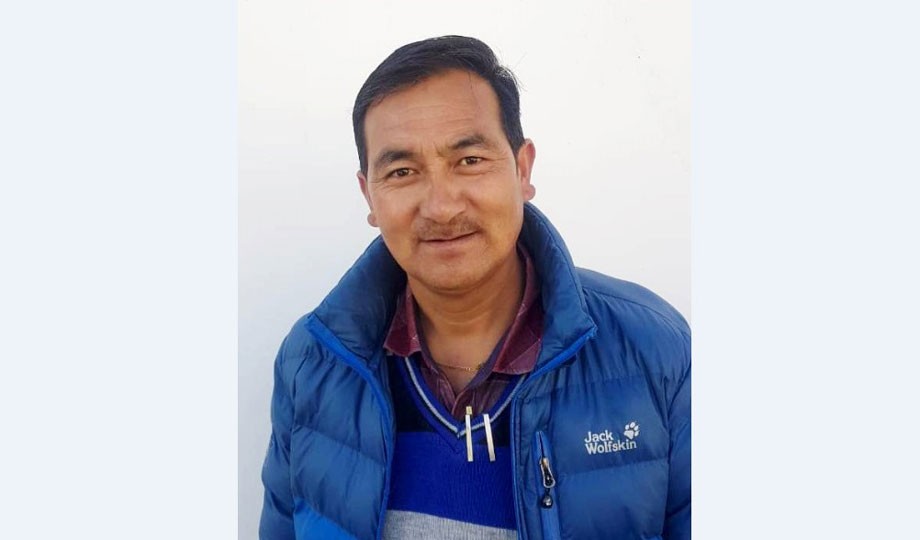 Leh :
Q. Brief us about Stray Animal Care and Management Centre (Live to Rescue).
In the year 2014, fatal dog attack cases were reported in many parts of Leh district and the rising cases resulted in a human-animal conflict. The lives of stray dogs were under threat, many innocent animals were poisoned, thrown in a river, etc. The inhumane attitude of the people towards dogs and rising dog attack cases saddened His Holiness Gyalwang Drukpa and emphasized strongly to curb the feral dog population through Animal Birth Control and to rescue, treat, care, and shelter injured, sick, and abandoned dogs. Stray Animal Care and Management Centre came up with such aims under the guidance of His Holiness Gyalwang Drukpa and His Eminence Thuksey Rinpoche. The centre was established in Nang village and the land was donated by the villagers of Nang to His Holiness. 
At present around 260 dogs are taken care of and apart from that 70 other animals including donkeys, horses, goats, bulls, cows, and other animals that are abandoned or injured are taken care of. 
Sick, injured, and abandoned animals recommended by Vet doctors of the Animal Husbandry department are sheltered at the centre. Live to Rescue is available round the clock to attend to animals that are in distress. We have gone to Nyoma village of Changthang region, Khaltse in Sham belt to rescue animals. 
The centre continues to work with the help and support of His Holiness, His Eminence, Animal Husbandry Department, Municipal Committee, Leh, and volunteers. We get a sufficient amount of feed for the animals from different parts of Ladakh, leftover food from Grand Dragon hotel, small donations from people. With everyone's help and support, we will continue to help the voiceless. 
Q. Stray dog menace is one of the concerns in society. How Live to Rescue is working on reducing the dog menace?
Partnering with Hill Council, Leh, Animal Husbandry Department, Municipal Committee we are working proactively in dog population management. A clinic for animals mainly catering to animal birth control (ABC) of stray dogs has been set up in Changspa, Leh. Pre and post-operative care of the neutered dogs are taken care of at the clinic including treatment of stray dogs and animals. Also, we have a small solarised OT at the centre in Nang with a needed facility to perform the sterilization of dogs. The doctors are from the Animal Husbandry Department have supported us immensely. 
Q. What are the challenges faced by the Stray Animal Care and Management Centre.  
We are working with limited resources and manpower as compared to the area size. It becomes quite challenging to reach out everywhere on time. Sometimes two accident cases are reported at the same time in different localities; in that case, it becomes difficult to reach on time and people complain about it. We have come across people who argue and start blaming which is one challenge we face while on the ground. We still need more manpower and facilities like ambulances etc. Abandoning the dogs and puppies near the centre and clinic in Changspa is also a concern. We have also witnessed that many groups carry out dog adoption campaigns in which they collect puppies from different localities and keep them for adoption. After the campaign, the puppies left are abandoned on the streets and few of them were even left near the camp of our clinic in Changspa. This is also a concern because it increases the workload.  
At present, I feel that we are the only active organisation working for the welfare of animals so there will be challenges but we are striving hard and working actively on the ground. 
Q. People of Ladakh are known for compassion and kindness. Are they equally compassionate for the voiceless? Share your experience.
Abandoning animals such as donkeys, bulls, and horses is a big concern. In the time of need, these animals are sheltered and later when the work is done they are left on streets and roads. This is very disheartening because these abandoned animals are left out get attacked by stray dogs, hit by vehicles, and roam around in garbage piles for food. Also, in a day we come across three to four accident cases and many animals are left injured on roads. Many people refuse the ownership of abandoned animals also. 
There are different people in this world; some are concerned about animals while some are least bothered.
Q. Brief us about the plans of Live to Rescue. What advice will you give to the people?
We are looking forward to aware people of animal rights and welfare especially in schools but due to COVID the programme is held up. We had a meeting with Hill Council, Leh, and CEC, Hill Council, Leh Tashi Gyalson assured all kinds of support to keep the work ongoing. Live to Rescue aims to shelter every animal that is left abandoned. Apart from us, there is a few more organisation who are working for the welfare of animals, together we all can make the animals also live in peace and harmony. 
I would like to appeal to people to be kind to animals and while feeding the stray animals kindly keep the food away from roads because it is one reason the animals are hit by the vehicles. 
Message to the readers
"Treat animals with love and compassion. Rush injured animals for medical help or contact us. With everyone's help and support, we can continue animal rescue and care services to all the stray animals."