In Conversation with Rigzin Dolker, Everester
By
Stanzin Dasal
Leh, Sep 02, 2022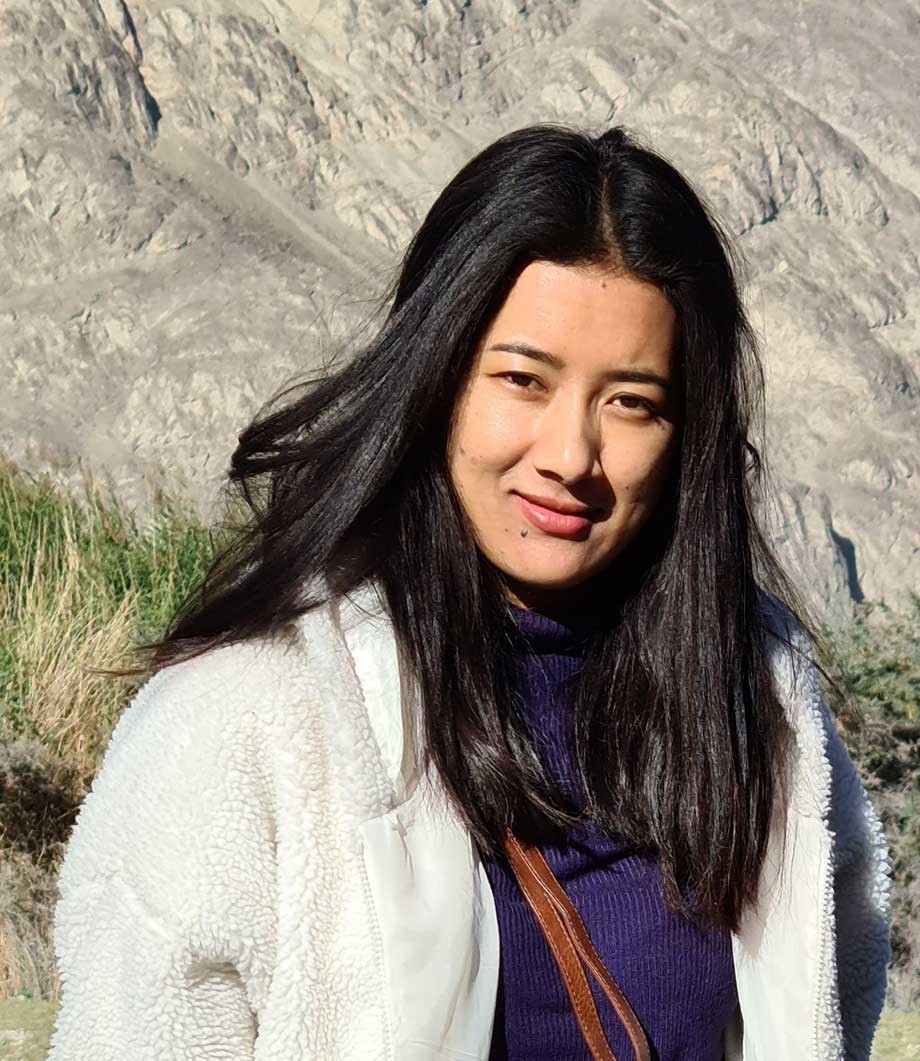 Leh :
Q. You are the first woman Everester from the Nubra region. Tell us about yourself and your journey of Mountaineering.
I am from Tertsey village of Nubra valley. I did my schooling at Moravian Mission School, Leh, and Army Public School, Phyang. I pursued my higher secondary at Army Public School, Dakshai. I was interested more in sports and fine arts. During my college days in Chandigarh, I joined NCC because I wanted to become an army officer.
Mountaineering came into my life without any plans. It was after joining NCC, that a campaign for the selection of girls for mountaineering came up.  At that moment I have no idea that the selection is made to climb Mount Everest. Many told me that I will achieve nothing after climbing mountains etc. but there was this inner call that pulled me towards mountaineering. Without thinking much and I did what my heart says.
All India trials at 25 selected hubs were carried out and 100 girl cadets were nominated to undergo the customized mountaineering course at the Himalayan Mountaineering Institute (HMI), Darjeeling, from January 7 to February 3, 2014.
Based on their performance, 40 girl cadets were selected for the first pre-Everest expedition. Pre-Everest Expedition to Mount Deo-Tibba at 19,688 feet near Manali in Himachal Pradesh was conducted for 40 cadets in April and May 2015. A total of 15 cadets were selected for the next phase based on their performance. In August 2015, the team set off on the second pre-Everest expedition to Mount Trishul at 23,360 feet and helped in selecting 10 girl cadets for the final Everest expedition. The culmination of pre-expedition activities was winter training at the Siachen Base Camp from January 11 to 31 2015. The training camps exposed the team to extreme cold conditions and further refined ice craft skills.
40 cadets took part in the pre-Everest expedition to Mount Deo-Tibba at 19,688 feet near Manali in 2015. 15 cadets were selected for the next phase based on their performance. 10 cadets were selected for the final Everest expedition. On March 9, 2016, Minister of State for Defence Rao Inderjit Singh flagged off the first-ever all-girls National Cadet Corps (NCC) Mount Everest expedition from New Delhi.
At present, I am working with Indian Mountaineering Foundation and as a Vice Chairman of Ladakh Mountaineering and Adventure Club. I am also a member of the Ladakh Mountain Guide Association and Advisor, Ladakh Paragliding.
Q. Was it an easy decision for you to make? How did your family react to it?
I never knew that I will be one among the 10 girls for the First-ever all-girls National Cadet Corps (NCC) Mount Everest expedition in 2016. I was confused initially when the first selection trial came out because I was participating in a Fine Arts competition. At that time I got different opinions and suggestions from people which confused me more. Then, I thought that Mountaineering and Everest Expedition is different than participating in Fine arts. Thus, I chose to climb Everest.
After completing my training at Siachen Base Camp, I told my mom that I got selected for the Everest expedition and have to go, 
she cried a lot and was not willing to send me because she feared that I won't come back. 
My decision was right and everyone is proud and happy about my achievements. In 2017 on Republic day, I received a State award for mountaineering under the category Award for Outstanding Sports Persons.
Q. Share with us your Everest expedition experience. How challenging it was?
When I first started there were so many things in my mind because I chose mountaineering leaving my academic career in between, convincing my mom, and ignoring so many suggestions and critiques of many people. But all these thoughts on one hand were good as they strengthened me to move on without giving up. Along with physical strength, mental strength also plays an important role. At one point in time, I felt like giving up seeing dead bodies in various places along the Everest routes. But then again I pulled myself back and determined to move forward along with my team. 
Coming from a mountainous region we adapt to so many situations. E.g. many of my team members during expeditions face oxygen level issue and takes time to acclimatize but we Ladakhis don't face that many issues which is always a plus point for us. The vigorous training and pre-Everest expedition helped me a lot. The training has made us so stronger that it helped us to do the Everest expedition smoothly. 
Q. Any moment or incident during the expedition that is still on your mind.
When my mother got emotional and tried to stop me from going on the Everest expedition is something that I can't forget. Also, before reaching the top of Everest, around 20 steps before, I was exhausted and tired, the blister on my feet was also troubling and I can't take off my shoes also, that time I fell asleep for a while. I felt someone waking me up at that time which I am not able to erase from my mind. 
Q. What do you have to say about mountaineering potential in Ladakh and what needs to be done to promote it?
Ladakh being a mountainous region there is ample scope and opportunities. Children of Ladakh are born and grew up in these mountains and I guess the mountains are in our genes. Today, in Ladakh we have 114 open peaks and there are many which are unexplored. There is an utmost need for the Mountaineering institute in Ladakh which will not only boost adventure tourism in Ladakh but will encourage many locals to pursue the course professionally. Ladakh is blessed to have various ranges of peaks to carry out the course in one place. We can do a glacier course at Stok Kangri, basic climbing at Shey, etc. 
At present, there are some associations like Ladakh Mountain Guide Associations, Ladakh Mountaineering, and Adventure Club who are working towards the promotion of mountaineering and we are very hopeful that in the coming days we will also have a mountaineering institute. 
Q.Any advice for all those women trying to go mountaineering?
Many say that adventure is for men and women can't do it. When I chose mountaineering, I was often told, "What you will achieve climbing a mountain? You have to get married and have children, mountaineering is not meant for girls." But, I say there is nothing a woman can't do, even after getting married if she chooses not to climb a mountain, she can work as an instructor in institutes. The basic thing is to always set a goal for yourself, and work towards it. There will be challenges and obstacles but never give up. There will be extreme pain, but only when you come out of that pain, will you achieve success.
Message to the Readers
"Women should keep going forward and keep achieving newer heights. There will be obstacles, don't stop just walk ahead with full confidence."