In Conversation with Rigzen Wangmo, Educationist
By
Tenzin Dajon
Leh, Apr 27, 2022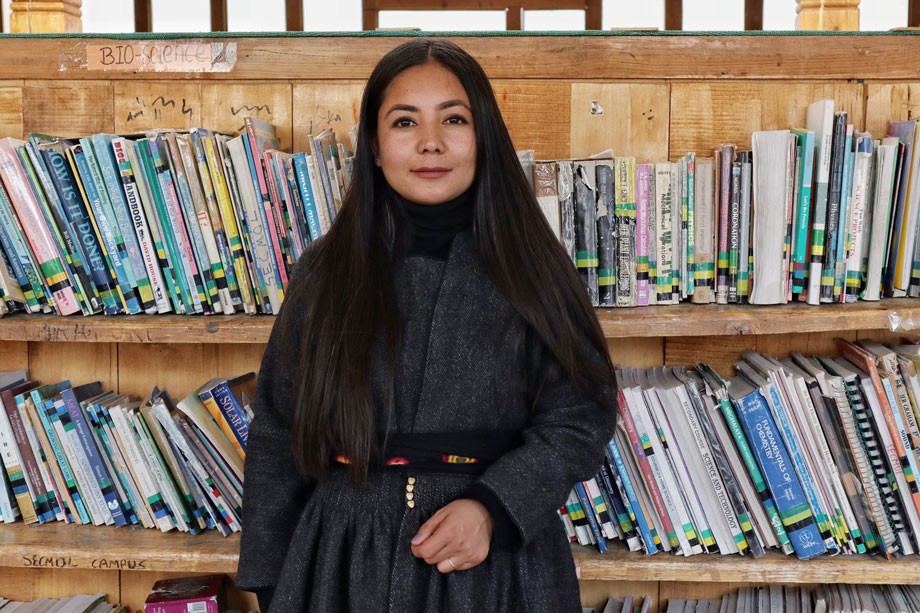 Leh :
Q. Congratulations on getting an opportunity to study at Harvard Graduate School of Education. Brief us about the course and what is your plan after completing the course at Harvard
Harvard has many schools like Harvard Business School, Law School and Medicine School etc. I applied to the program: Teaching and Teacher Leadership at Harvard Graduate School of Education. The program emphasizes the critical role that teachers play in the Education ecosystem. I have been working on teacher training and teacher education for the past few years during which I realized that if we could improve the elementary education system and work on teacher development then we can bring concrete change to the education system which would lead to better student learning outcomes. 
Through my program at HGSE, I will acquire knowledge, skills and mindset to work for the development of our teachers. It has always been my belief that if we strengthen the elementary education system, it will enable students to become independent learners in their later stages. Therefore, my goals are to Strengthen the Elementary education system and Teacher development. 
 
Q. How do you see the education system of Ladakh? 
 
The Standard of education has improved to a great extent as compared to earlier days. There was a time when the pass percentage of schools was very low, even below 50 percent; today we are seeing better results in most of the schools.  Seeing this we can say that there is an improvement but the overall education system still needs improvement. Our system is based on grading only. We need to adopt other parameters to understand whether the system has improved or not. So it is difficult to conclude.
 
I have a keen interest in elementary education. In my five years of experience in the field of education, I have seen that unless a child has a good foundation he/she struggles even in their higher studies. They are unable to understand the concepts and are not even able to choose a career. The solution is to improve elementary education by providing students with better foundational education through activity-based teaching practices. Also, we need to focus on teacher-centric approaches along with student-centric approaches for better learning outcomes. 
 
Q. How do you see the teaching skill status in Ladakh? How important is it to develop the skills, and teacher training programmes?
 
Now the recruitment process has become rigorous it would be wrong to say that our teachers lack skill, it's just that there's a lack of effective training and support.  Earlier one could become a teacher even after matriculation. Now the government has modified the selection process and made it better, comparatively. Teacher's training is important even after landing in the profession because it is vital to remain updated. For instance, the pandemic has taught us the importance of technology in education and teachers were forced to use it regardless of their expertise and exposure. Evolution in teaching skills is natural with time and these skills can be imparted through training and other additional support. It is good that many young teachers are in the teaching profession in Ladakh and are willing to get trained and re-equipped with the required skills. We must provide them with platforms where they could upgrade their teaching skills, share their concerns and seek support. 
 
Teacher training is one of the vital contributors to effective student learning outcomes.  During my two years of fellowship at Teach for India, I learned about different pedagogical aspects, which led to better learning outcomes. This opportunity allowed me to understand some of the deeper correlations between the two. In the second year of my fellowship, my co-fellow and I started a Teacher Training Project in my school, aimed at introducing innovative teaching practices, envisioning a holistic approach toward addressing the different needs of the school. There was a noticeable positive change in students' classroom learning. 
Q. We often talk about reviving government schools. How can we improve enrolment and quality of education in government schools?
 
The government is spending huge resources on education including infrastructure and human resources. Sometimes I think that we are wasting these resources. Recently, I went to a village called Ursi and asked the villagers about their school. They said that the school has been standing there without students for three years. Now it is important to know why parents are not sending their children to government schools. Even if the quality of education does not match,  abandoning government schools is not a sustainable solution. Our economic situation is very fragile. Therefore, all the stakeholders including elected representatives, parents, teachers and villagers could collectively solve this issue.
 
We need to understand that 'quality education' is not about getting 100% marks. Rather than focusing on marks and grades, we should focus on meaningful education. In this regard, rural areas have more resources than urban areas as children can learn traditional knowledge along with academics.
 
Q. Schools of Ladakh are now affiliated with CBSE. What is your take on this development? Are we prepared for it?
 
I heard that our teachers are going to get 3-4 day training. I believe it is not enough, maybe they will get a glimpse of the board. The basic content of CBSE is not very different from J&K Board but the rigour surely is. That's why we need to be well equipped to meet that rigour. The pandemic has already created a huge gap in learning, now the change of board could be stressful to the students. Therefore teachers should be well trained and well equipped. Regular teacher training is important with follow up.
For students, we should give additional support, counselling, and an inclusive teaching environment. In this way, we will overcome the stress and adapt to the new system with time.
 
Q. You have trained the teachers of both monastic and non-monastic schools. What are the challenges they are facing?
 
Apart from having a  weak foundational education, one thing that lacks in rural education is exposure. Working in SECMOL I have noticed that many students clear matriculation, 12th and college but their foundation remains weak, they are unable to understand basic things. This poses a huge question mark on the education system. Foundation is not only about learning textbooks; instead, we need to use additional resources. By connecting textbooks with the real world, by focusing on application and activity-based education, we can strengthen the foundation.
 
Many changes have occurred in monastic schools now, and their teachers are willing to learn and get trained. However, they seem to be lacking in a few aspects like science and technology, communication and modern teaching practices. Similarly, the non-monastic schools lack spiritual education, which is again an important component of education. Therefore both systems have some gaps yet to be fulfilled.
 
Q. What reason do you see that most of our students are introverted? How do you deal with such students at SECMOL?
We still have that colonial mindset resulting in an inferiority complex. In my observation, students who speak English are more outspoken and students who cannot speak English automatically feel less confident. Many students come to SECMOL, instead of judging them based on their English speaking skills, we try to identify their strengths and skills. You will be shocked to know that when a student joins SECMOL they are not able to tell his/her name. This is because they have always been left behind in their learning environments.  Neither do they get any platform nor appreciation from teachers. Thus, they consider themselves worthless and lack confidence, so we provide them with open platforms to work on their skills and provide them support, space, and opportunities and gradually they develop courage and self-esteem. The whole process requires a lot of reinforcement. 
 
Q. Besides school and teachers, how important is the parent's role in child education.
Unfortunately, many students are living in hostels, and junior students living in a hostel are more unfortunate. We have a tradition of sending our children to hostels right from the LKG due to which they remain cut off from the indigenous knowledge and parent's involvement. Parent engagement is very important to provide a wholesome education. A parent should not only focus on results focus should be made more on the overall growth of a child. Education is not only a task of teachers and students. It requires support from policymakers to the parents.
  
Message to the readers
"Ladakh could be a role model to the world in providing an excellent education if all the stakeholders work collectively."