In Conversation with PD Nitya, SSP, Leh
By
Stanzin Dasal
Leh, Jun 16, 2022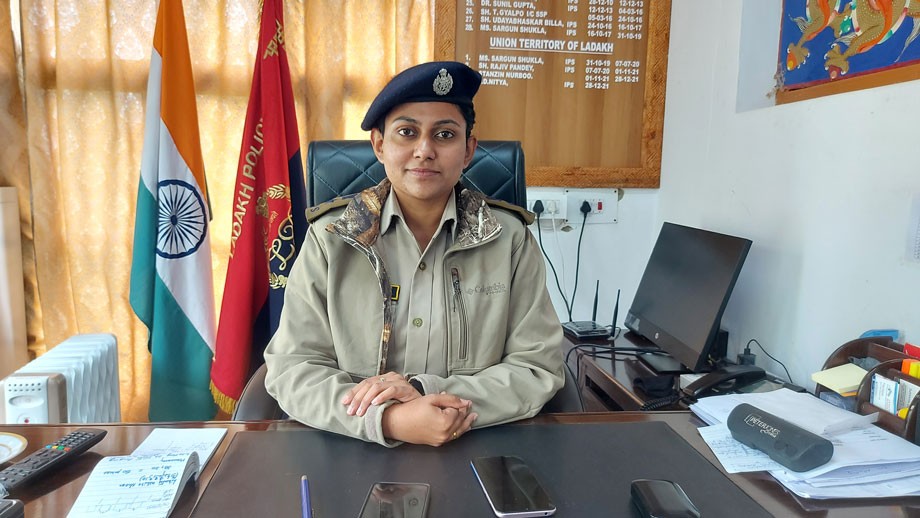 Leh :
Q. Brief us about the functioning of the Police Department, Leh.
After Union Territory status, a whole new separate police establishment has set up as Ladakh Police, following which many new wings were created. Apart from two district police units, many new specialized units are established such as the security wing, traffic police wing, CID wing, etc. 
At the district level, three specialized units are created for investigation namely, the cybercrime unit, financial crime unit, and anti-narcotics unit. These units are created within the district to fight against the specialized crime, which was not able to deal with properly during day-to-day policing. Police establishment has grown enormously as compared to the set up in an erstwhile state of J&K. Skill development and training are being organised for the specialized officers and personnel to enhance their skill in fighting the challenges.
There is a challenge of manpower since the whole Ladakh Police setup has been created with the available district resources. The manpower crunch is being addressed step by step. 
Q. Talking about the youths in Ladakh, many are indulging in anti-social behavior like drug addiction and alcohol. What steps have been taken to correct them?
When I first joined the district, I was told that there is a problem of drug addiction and due to lack of clear data, the numbers, types of drugs and to what extent is not known. There is a communication gap because people here are bit reluctant to inform the police. Also, Ladakh is geographically situated near Kashmir and Himachal Pradesh, and we can see a lot of people and vehicle movement between these regions. Thus, the region has a transit route for drug smuggling. Secondly, we have a kind of smuggling in which tourists generate an artificial demand if they are looking for drugs  and also some students and youths who have been studying outside and are exposed to drugs tends to expose others.
Over the last few years, we have seen that the availability of drugs has become easy which is a challenge. The main focus of the Leh police this year is to target the local peddlers who are bringing these substances in small quantities and selling them to the local population. This will send across a strong message that police won't spare anyone who is involved in selling drugs. We are also targeting the transit drug that has been taken from Manali to Kashmir or vice versa. 
A drug-free portal is also active to generate information.  The anonymity of the informer is ensured. People can inform about any drugs related happenings freely and action will be taken against the culprit.  Lots of awareness is being spread among the children about drugs because abuse will happen more if we won't talk about it.  Children are needed to be aware of so that they can stay away from it. Drugs are not just limited to a certain class of society or in metropolitan cities, it is penetrated every section/ class of the society. Thus, awareness is very much important. 
I will not say that the drug addiction status in Ladakh is very serious but we cannot also rule out that it will not become extreme in the coming days.  Timely action and collaborative measures are necessary to root out such anti-social behavior.
Q. Cybercrime is becoming one of the issues in the Leh district. How many such cases are registered and what steps police have taken to curb them. 
Talking about this year, we have more than 80 cases registered. (Data till May 2022). We received the cases from the National Cyber Crime Reporting portal; emails, telephone, and some from cybercrime units and police stations.  Financial crime is becoming an issue and a new thing for Ladakh Police. We have a special cyber crime unit in Ladakh and are trying to solve the issue here only and in some cases, we have recovered the amount. 
Time is the factor in such cases.  As soon you get to know that the money has been fraudulently deducted from your account you have to immediately inform because there are very high chances that the money can be recovered because it takes time to track if there is a delay.  We try our best to recover the amount deducted and are very actively working on such cases.
Again, awareness is very important because many innocents who are less aware of the technicalities and follow less internet hygiene fall prey.
Q. What are your plans and initiatives for the Leh district?
My priority is to ensure a smooth season and extend all the help and assistance to the tourist who requires help. Since the tourism season is going on and there is a heavy influx of tourists, we have set up tourist assistance booths, vehicles, and ambulances on highways and areas where network connectivity is not there. A separate tourist wing has been established who is taking care of the tourist-related issues.
Simultaneously, I am also focusing on the drug issue and giving my best to apprehend culprits who are involved in such crimes and make Leh drugs free.  Then for women's safety, a women's police station, and 112 helplines has been set up to redress the grievances of the women.  These are the top three priorities for this season.
Q. How important is it to build a cordial relationship between the police force and the public? What mechanism is carried out to make the system more effective?
Police do policing on people only and it is very important to have a cordial relationship between the two. We want the cooperation of the people to maintain law and order and keep a check on crime rates. Until and unless people tell us about what is happening in society and what needs to be done, we won't be able to coordinate well. We have made all the processes and work related to the police department people-friendly. E.g., the process to get a character certificate is made much easier than before, one can give the application to the nearest police station and within 2-3 days the certificate will be issued. Now, no one has to come down to the SSP office for a character certificate. 
We have also opened the communication numbers of all the officers so that people can easily approach to redress their grievances. 
Message to the readers
"Ladakh Police has always been people-friendly, and we welcome all the constructive feedback and suggestion to improve our work."