In Conversation with Padma Shri awardee Tsering Namgyal, Woodcarver
By
Tenzin Dajon
Leh, Mar 30, 2022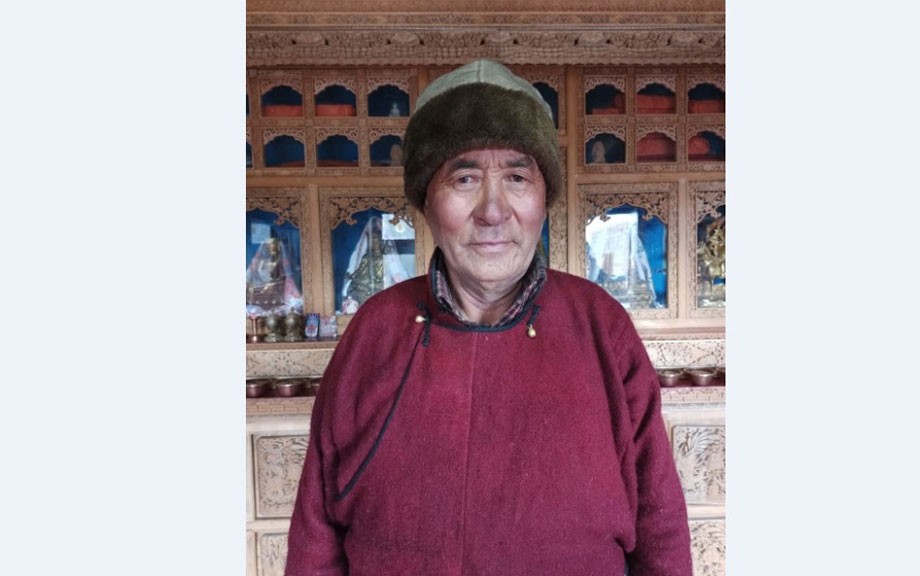 Leh :
Q. Congratulations on receiving the Padma Shri award. Share with us about your life and work?
 
I am from Wanla and worked as a carpenter initially. Since there were not so many woodcarvers in Ladakh at that time, I decided to learn wood carving along with carpentry work. Observing and copying the old wooden arts and designs, I learned the art by myself. Also, I got an opportunity to work and learn wood carving from  Tsering Stobdan under whom I stayed for one year.
In the year 1988-89, I shifted to Leh town and focused on wood carving. There was a huge demand and got so engaged with work that I didn't get time to go back to the village, thus leaving the carpentry work.  I worked in more than 25 monasteries all over Ladakh such as Chemdey, Hemis, Thiksey, Shey Naro photang, Jevetsal, Sankar, Phyang, Likir, Tingmosgang and Bodh Kharbu. Made wooden interior designs of monasteries, statue case/ frames, scripture cases, thrones and seats of high lamas etc. Also, I made all the interior wooden arts in the Chowkhang Vihara which took almost a year to complete. In the year 2019, I also worked in a Vietnam monastery for almost nine months.
It has been more than 20 years now working as a woodcarver. Despite having a primary school in the village, I did not get an opportunity to go to school because back in those days' education was not given so much importance. Parents used to engage their children mostly in agricultural and household activities. But I know how to read religious scriptures very well because my grandfather taught me Bhoti.
 
Q. How are you feeling as a Padma awardee?
 
I neither was aware of the award nor hoped for such recognition. I received a call on 26 January from Delhi and they asked my name and told me to hear the news in the evening. I feel happy and honoured and express my gratitude to the government of India for recognising my work. I believe that it is a blessing I receive after serving the monasteries in Ladakh for years and the result of my hard work.
 
Q. Can you tell us about wood carving in Ladakh?
 
The beautiful arts on the wooden pillars of the majestic Leh Palace and other old monasteries tell us that there were excellent woodcarvers in Ladakh. But I think there had been very few woodcarvers in the past. Few small arts were also brought from Tibet and China, which clears the shortage of artists in Ladakh. 
 
When I started the journey of wood carving there was a lack of tools as it was all self-made. Thus, a lot of time was taken to complete a project. All the work is done manually. But today it has improved and progressed a lot. Now there are many good artists in the field unlike before. Except for a few many tools are also available in the market or on online platforms. Today we use machine tools for cutting and grinding purposes, thus, saving a lot of time. But I prefer using self-made tools for some designs.  
 
Q. Can you tell us the potential and challenges of wood carving art in Ladakh? What changes in needed to promote it further.
 
Wood carving art is an important part of our culture, as designs like Phagnatukul (name of a wood carving design) over doors and windows in houses and monasteries are the identity of Ladakh's architecture. Because of the mushrooming hotels and guest houses in Ladakh, the demand for wood carving is also growing.  But the challenging part is to complete the projects on time as wood carving is quite laborious and time-consuming as it needs precision while carving. Also, arranging them according to the drawing and measurement is quite challenging. 
 
I would say that youth must also explore other wooden arts like statue carving (wooden sculpture), for example, ThunPa Pun Ji (Four Harmonious Friends) etc. Along with this, they must also learn the drawing and painting part to ease their work. It is good to use modern tools, but we should not forget that handmade arts have more value and demand, especially among foreigners. 
 
Q. How many students you have trained so far and are the youths taking interest in this art?
 
If we talk about interest in youth, I think the response is a mix as some are doing well but some leave it in between. I have many students, and a few are very good, even better than me. But few have left the training mid-way thinking that what is there in the wood carving. I have trained more than twenty students. I could not train enough trainees as I have to travel from monastery to monastery. Therefore, I could not open a centre here even after getting suggestions from many.  
 
 Message to the readers
 
Youths of Ladakh should come forward and adopt art as a profession because if we fail to carry it forward we will not just lose part of our culture but this lucrative market to the non-locals.