In conversation with Mohd. Amin Lone, Assistant Director, Fisheries Department, Leh
By
Kunzang Chosdol
LEH, Oct 30, 2018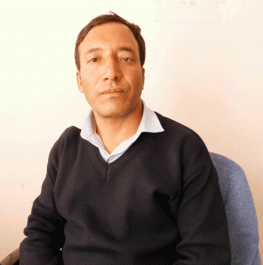 LEH :
Q. What are the roles of the fisheries department?
Our role is to conserve and protect fish fauna in Ladakh region- prevent illegal fishing and poaching. Measures are being taken to replenish the livestock affected due to the construction of hydropower projects, major irrigation canals, pollution, and the rise in temperatures due to global warming.
Fish culture is being promoted to provide quality fish and to address unemployment issues. Recreational fisheries and angling are also promoted to boost the tourism sector.
Q. Brief us about fish production and its marketing in Leh.
Fish production by the department as well as the private fish farm is gaining pace from the last couple of years. Many private fish farms in Muslim dominated areas of Ladakh region are initiated. They provide fresh and healthy fish to the locals at their doorsteps.
Department has sold more than 9 quintals of trout fish in the last financial year and hopes that more than 10 quintals of fish will be sold in this financial year. Because of the lack of proper fish market in Leh, fishes are sold directly from the farm.
Q. What are the scopes in fish farming?
Ladakh is bestowed with a large number of water bodies with clean fresh and highly oxygenated water which is suitable for trout fish culture. Trout fish is a high-quality boneless fish having great market value. The adoption of trout fish culture by youths will not only solve unemployment issues but will also provide high-quality protein to the local population.
To promote fish culture in the private sector financial assistance to the aspirants are provided. Centrally sponsored scheme like Blue Revolution, Rashtriya Krishi Vikas Yojana (RKVY), Agricultural Technology Management Agency (ATMA) and other schemes provides financial assistance to promote pisciculture. Fish seed and feed, technical support, equipment, drugs, and market facility are provided free of cost.
From last many years, youth are taking interest in fish culture and coming forward to adopt it as a source of income. More than a dozen such units have come up in Leh and Kargil districts in recent years and many are actively working.
Q. What are the challenges in fish farming?
There are few challenges which need to be addressed to make fish culture a profitable venture. Presently, the fish seed is being procured from Srinagar as it is not available in Ladakh. Transportation of fish seed is organised in oxygenated tanks which incur a huge sum of money and often the livestock suffer huge mortality during this process. Thus, a limited quantity of fish seed is being supplied to the department which is not sufficient to cater to the demand. Fish feed is a special feed which is made of carbohydrates, proteins, fish meal, mineral mix, and cod liver oil. It is prepared in a specialized feed mill in Manasbal, Srinagar. This feed is also supplied in a limited quantity because of the short shelf life. Storage for longer periods during winters affects the fish growth.
Although there is no significant disease seen in fisheries of Ladakh, nonavailability of laboratory facility to investigate diseases may pose threat to fish farming in remote areas. In order to overcome these problems department is constructing a hatchery house in fish farm Chuchot which can help in the production of fish seed locally.
Problems related to the religious sentiment in some areas are also making youth reluctant to adopt fish culture as a profession.
We are striving hard for the installation of a mini-feed mill and laboratory within the district to cater the local demand for feed and disease investigation. Due to the non-availability of funds, this project is pending and hopes to get established in near future.
Q. How many types of fishes are available in Ladakh?
More than 32 species of fishes are available in Ladakh including, Schyzothorex species (snow trout, Tibetan trout, and Kinnaur snow trout), Rainbow trout, Brown trout, and some other minor fish species.
Q. Due to the religious perspective, a section of people avoid taking fish. Does it affect the practice of fish farming or do you have some other alternatives to balance the whole system?
Yes, a large section of the population due to Buddhist faith consider taking fish as a sin and they are reluctant to adopt fish farming activities but a large section of people especially in Kargil district takes fisheries related activities.
Respecting the religious sentiment, the department has stopped selling fish from Fish farm, Shey which is being located near Shey Palace. As per the instructions of LAHDC, Leh, the fish farm has been converted into a study-cum-awareness centre. A mini aquarium has been constructed along with a museum. A large number of tourist, visitors, school and college students and locals visit this aquarium and get acquainted with the fish fauna of Ladakh region and the state as well.
Q. How important is it to adopt pisciculture as a source of income by unemployed youths?
Considering the unemployment issue in the state, it is very important for youth to come forward and adopt pisciculture also as a source of income. A number of schemes are available which can help the youth to excel in this sector. Awareness programmes under state and centrally sponsored schemes are organised from time to time in order to attract youth towards these new type of employment opportunity. Adoption of recreational fisheries which includes the establishment of aquariums, supply, and breeding of aquarium fishes and angling can promote high-end tourism in Ladakh and provide employment avenues.
Message to the readers
"Young generation should come forward and adopt fish culture activities and tourism-related recreational fisheries as their career so that they can earn a better livelihood. There is a great contribution of fisheries in the environment and the ecological balance of our water bodies. So the youth has to come forward and make their contribution on this front also."