In Conversation with Mipham Otsal, Director, Ladakh Theatre Organisation
By
Tenzin Dajon
Leh, Oct 30, 2021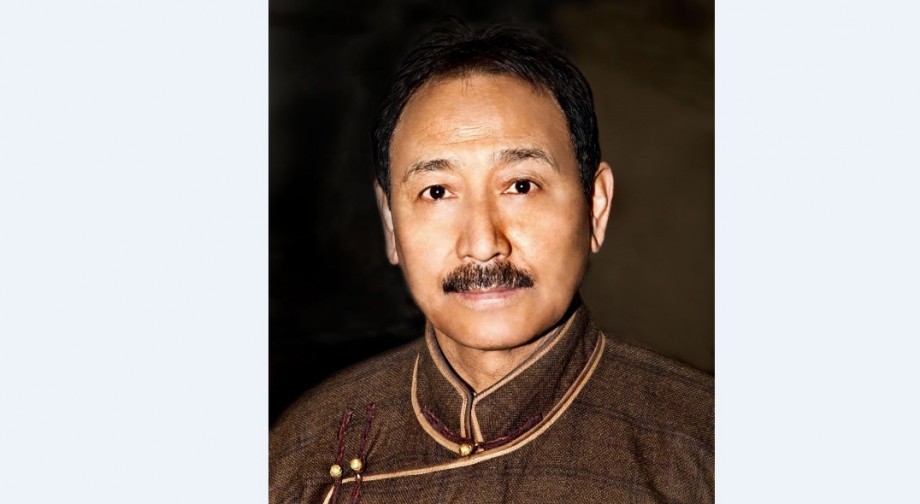 Leh :
Q. How did you discover theatre? Share with us your journey in the theatre world?
 
I have always cherished being in drama and plays. I got selected in the National School of Drama, New Delhi, and got exposed to the world of drama and taught about body movement, speech, makeup, music, and whatnot. I got an opportunity to learn and work with experts of theatre and worked in French and Greek plays such as George Bernard Shaw and Shakespeare etc. In the year 1982, I graduated from NSD. At that time it was very easy to join films and television but, I chose to come back to Ladakh and work. I directed plays like Nangsa Otbum, Idthok Lhamo, Ney Mitsey, Horling, Phaksub, etc. 
 
In 1971 there was neither film nor television, only some theatre associations in Ladakh such as Lamdon Zosgar Tsogpa, Friends Dramatic Club, Cosmos Sports & Cultural Org, etc. There was a trend of staging Namthar, (Jataka tales). People of Ladakh were not aware of theatre but that didn't stop me to work. I constantly worked on theatre, got an opportunity to work with a cultural academy, and learned more. 
 
I am happy that my work and contribution towards promoting theatre got recognized and received Sangeet Natak Akademy Award, the highest award in performing art in India. 
  
Q. Brief us about the brief history of theatre in Ladakh?
 
Ladakh is rich in culture, and historically there is a dedicated field for theatre known as Zosgar Rigpa. Unfortunately, there were no Ladakhi scholars in the field of theatre and it is difficult to find something in the name of traditional or folk theatre of Ladakh except Manepa and Achey Lamo. 
Later in the 1950s scholars like Tashi Rabgais and Ishey Tundup started showing Namthar to the public, which was neither theatre nor drama. I realized that these Namthars have riveting stories, which can be given a theatrical shape. I wrote a few of them in theatrical forms like Nangsa Otbum and Idthok Lhamo. In 1995, I founded a group called Ladakh Theatre Organization (LTO), to improve theatre in Ladakh which is still doing its bit.
 
Q. What are the challenges and scopes in theatre in Ladakh? 
 
Theatre is a great medium to transform society with mental, physical, and spiritual development in individuals. It is one among the ten great knowledge of Buddhism (Rignass Chu) and, therefore, it has a great role in shaping a civilized community. Theatre has been the part and parcel of our society playing a great role in preserving the heritage values but due to lack of interest and support by the society, Ladakhi theatre is facing various challenges such as limited resources, income, and infrastructure. Unlike film and television, theatre is non-commercial. Nowadays people have very limited time for art & theatre. In addition, the government has no plan to develop it. In developed countries, theatre is given immense importance. For example, California Theatre Art Association, which is completely supported by the government. In Ladakh, we don't have a single theatre platform to perform, good infrastructure, and not even a basic facility. I think people also take this art lightly and give it the least importance.
 
Despite challenges, the scope in theatre can't be ignored. Theatre makes a person not only an artist or an actor but a complete human being. It teaches discipline, manners, and sincerity towards art. Theatre not only eases the way towards film and TV but develops his or her personality. It develops many skills in youth like set & costume designing, scriptwriting, direction, etc. 
 
Q. How does theatre plays an important role in the preservation and promotion of Ladakh's culture? 
 
With change and development, people are failing to keep the culture intact. It is necessary to have change but along with it the cultural preservation and promotion are a must. Ironically, the development and cultural identity does not go hand in hand in Ladakh. The culturally very rich Ladakh is now going through a cultural disaster. People should change with time but not at the cost of one's identity. We are losing our language, manner, and art, etc. 
If we talk about theatre's role in the preservation and promotion of Ladakh's culture, I would say Theatre brings revolution. Like I have said before, Theatre includes 10 streams of knowledge and is categorized into classical, contemporary, and folk traditional. It contributes largely to an individual's life by improving rational thinking, language, and many other aspects. Also, it helps in spreading awareness among the people. Theatre can bring change and revolution to society. 
  
Q. Brief us about the importance of theatre in education.
 
I call it Theatre Importance in Education (TIE). It is already functional in metro cities like Mumbai, Kolkata, and Delhi. TIE is a very important part of NSD. TIE teaches students to learn things happily through theatrical aspects, which develop their body, speech, and mind. 
 
Recently I got an opportunity to interact with L-G Ladakh and CEC LAHDC Leh and told them if we want to give our youth a complete education then we must introduce theatre in our schools. Though I have been raising my voice since 1982, no positive result is seen to date. I request the government to make TIE a part of education policy because organizing festivals only will not work.
 
Message to the readers
 
"We need to develop a reading culture in Ladakh. Complete dependent on mobile and the internet is not wise; it reduces our mind's capability. Reading develops visualization, imagination, and intellectual. It is an art in itself. In theatre, we say a good reader is always a good artist. Be a reader."