In Conversation with local Potter, Lamchung Tsephel
By
Stanzin Dasal
LEH, Dec 02, 2017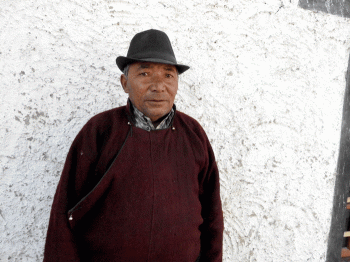 LEH :
Lamchung Tsephel, a local traditional potter from Likir village has been carrying out the ancestral work from a very young age. At the tender age of 15, he first started his journey as a potter to support and help his mother. From the last 43 years, he has been working as a Potter and is still continuing his work with same the determination and energy to preserve the traditional technique of pottery.
District Administration, Leh recognized and felicitated him for his meritorious and outstanding service rendered in the field of Art and Craft on Republic Day in 2013.
In this issue, he discusses the recent developments, the role of the potter in today's society, and the future of potters.
Q. Tell us about the tradition of pottery making in Ladakh.
Pottery making in Ladakh is a traditional practice which was adopted during the reign of kings. At that time use of earthenwares was at large since no other materials were introduced. It is said that the king assigned people of Likir village to settle down at a place named Nimmo Ronjuk and make potteries, villagers of Ney to collect cow dung and Nimmo to collect grass. Thus, the tradition of pottery making started in Likir and at that time everyone was engaged in it.
It was also a time when the schools were not much established and the education was not developed, thus the art has been carried forward from one generation to other. But with time, employment opportunities increased and young educated youths prefer to look in for other job and got engaged in it. This has lead to the decline in pottery making which was once carried out in every household. At present, there are only two old men left in our village who has been working on it for many years. But because of the age, they are not being able to carry forward it any further. Probably, Likir will be the only village in Ladakh where the tradition is still alive.
Q. How did you fall into pottery making and how long ago was that?
Pottery making was an ancestral activity and I started working on it at the age of 15. You can say it as accidental because my father passed away when I was small and the family suffered from huge loss, debt, and burden. My mother faced very hard days and because of the situation, my mother advised me to carry out the work which has been carried out by the elders of our family. This is how I started and it's been 43 years now.
I approached an elderly man of the village Meme Eshey Morup to learn the art but he didn't take me seriously and but I used to follow him and watch him while working and that's how I learned.
Q. Do you feel your approach to the skill has changed since you first started?
Earlier, the art of pottery making was plain and simple with not so much of work and variation but with time and taste of people, my work has also changed. Earlier there was a demand for big vessels but nowadays demand for smaller items are more generally for the decoration purposes.
I learned to create new designs and embellishing the vessels with small pieces of red stones and flowers to make it look more attractive. Tsering Spon taught me to make the dragon design on the spout of a teapot (tibril). Likewise, many things have been redesigned and created according to the need and use.
Q. What all have you made and brief us about the procedures of making it?
I generally make all the traditional things and the vessels are mainly decorative pieces, incense burners or large simple vessels for grain storage and offerings.
The procedures of preparing them to a final condition when it's ready to sell take huge time and hard work. The main ingredients or the raw materials required is the pottery soil locally known as rdza sa, clay deposits which are collected from mountains of Nimmo Rong juk and two other areas in the Likir village.
The clay and fine sand are mixed together with appropriate amount of water after which it is kneaded to ensure moisture content throughout the body. Once kneaded it is shaped accordingly as per requirement and left for drying up in the sun. After sundried the wares are then fired in a cow dung kiln. Inside the kiln, the pots are placed systematically and are lit in the evening around 6:00PM and burns overnight. The firing gets complete around 8:00 AM in the morning. Roughly around 200 earthenware pieces are fired at any given time.
Q. Does the pricing of the finished product is good as compared to the hard work required to make them?
The pricing is average, neither a huge amount is earned nor a loss is there.
Q. What are the changes witnessed over the years?
Earlier, from the collection of raw materials, preparing and selling the finished products requires huge manpower and hard work as compared to the recent days. The products made were plain and simple and are demanded different uses.
In the past, potters had to travel carrying the wares loading on a donkey to sell. At present collecting raw materials is easy and accessible and selling the products have become very easy.
I don't have to travel and sell them because now a day people demand as per their needs and collect it from home as finished products. The plain and simple use wares are found in attractive pieces and often used for decoration pieces.
Q. Do you conduct workshops or train individual in this art form?
I have trained individuals as well as women groups. With the help of Handicraft department, I have conducted workshops in which mostly women were trained. Very less young people participate. It is very difficult to say the outcome as many women who learn the pottery making are unable to give their time completely because of the engagement in their household chores, field, and other activities. But I have trained my son and now he also make pottery.
Especially the women folks show interest in learning it but patience and hard work are needed to be successful.
Q. Pottery making in Likir is considered as an endangered art heritage. To revive and maintain the ancestral work what are the things that need to be developed and encouraged?
Traditions are gradually disappearing with the older generations. Revival and preservation of the ancestral work in the contemporary society has become important because today we are on the verge of losing many arts.
There is a need for serious approach to revive the ancestral methods and significance of these arts, by providing training among the villagers and awareness about the art heritage especially among the younger generations. Competition among our own people needs to be increased so that out of the competitive atmosphere people start making these items more efficiently.
Market opportunities and exposure are needed to encourage people in sustaining this heritage.
Skill development programmes in tune with contemporary designs and patterns could be another initiative so as to build confidence and enhance income. Also, the people who are excelling in different art forms need to impart and transfer the knowledge to others so that it can be kept alive. Not only at the local level, the wares are demanded from different parts of the country and there is a huge scope. Facilities, funding are needed which will enhance the contemporary artistic skills, interest, determination, and community togetherness.
Different initiatives at all levels will increase the visibility of these artists to formal markets.
Q. What do you hope for your future as a potter, and for the future of pottery making?
There is a huge potential in this art form if taken seriously and can be upgraded and promoted at different levels. There is a demand for different kinds of products by the people and many foreigners come down to learn about pottery making. It has a scope if an approach or programmes are conducted for exposure, new leaning and experiences so that we can add and inculcate in regular work to further enhance and promote it.
Q. It is said that the age-old wisdom of living life traditionally benefits human health. What are the benefits of using earthenware vessels in our daily life?
Earthenware is considered as one of the best medium to cook food and it not only results good taste of food but also healthier and friendlier to the environment. We often hear that certain materials like plastic and steels which are used very commonly used in our day to day lives are not safe because it releases toxins and chemicals into our food and water.
Secondly, in Buddhist practices, it is believed that the incense burners locally known as Sangspor which is used in monasteries and every household should preferably be earthen because it is more beneficial for all sentient beings.
Q. What is your advice to a new pottery making learner? Do we have scope for this art making?
Along with embracing the modern world, the value and importance of traditional arts are declining but I feel the scope for younger generation is more in this field if learned and excelled because one can innovate new things and redesign according to the modern needs. These art forms will become rare to be found in the days to come and the demand will be high.
There is a need for determination and interest to learn and grab the knowledge to further sustain it.
The traditional art and crafts of the region are becoming endangered heritages which are passed from generation to generation. We need to look for preservation and revival because with time we are gradually losing the traditional art and culture with the older generations.