In Conversation with Lobzang Rigzin, Coordinator, RMSA/ Incharge CEO, Leh
By
Kunzang Chosdol
LEH, Dec 02, 2017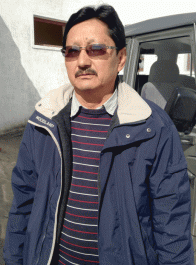 LEH :
Lobzang Rigzin has served in Education department for the last 35 years. He has worked as a teacher for six years in the education department, four years as a Master, sixteen years as a Headmaster, and nine years as Zonal Education Officer.
Presently he is working as a Coordinator of RMSA in Education Department, Leh and In-charge, CEO, Leh.
In this issue, he talks about issues, challenges and accomplishments in Ladakh's education system. He also highlights the ways to strengthen the education system of Leh in a more elaborate manner.
Q. How do you view the education system of Ladakh?
The present education system of Ladakh is good as compared to the past years. There was a time when the pass percentage of Govt. schools in Board Examination (10th and 12th) was only 5% and other systems (especially transfer system) were not in order. There was no proper norms and policy for transferring teachers/ministerial staff of education department from one station to another resulting in huge injustice to employees of the department and low morale among them. Now the department has adopted a transfer policy, prepared on the basis of topography, geographical terrain and climatic conditions of a particular area or village and service are rendered by an individual teacher who are from the same areas/ villages. Necessary modification/ amendment have been made from time to time. As such present transfer policy is more effective and sound as compared to the past.
At present, due to sincere efforts of the teaching fraternity and active participation of stakeholders, the pass % of schools in board examination (10th & 12th) has increased up to 50 – 70 percent and many schools show 100% result. As such we can say that education system in Leh district is improving and showing a positive result. But still, there are lots of loopholes in the systems which need to be identified and corrected/ removed.
Q. What is the literacy rate of Leh district? (Ladakh)
The literacy population of Leh district is 108885 which include 77619 males and 31266 females. With a total of 80.48 % literacy rate including 89.39 % male and 64.52% female, the district stands third highest literacy rate in the state after Jammu and Samba.
The low female literacy rate shown in the above data could be because of the low female population in the district as per 2011 census. However, at ground level, I see that parents give more emphasis to girl's education via enrolling them in a good educational institution in Leh district.
Q. How many Government and private schools are there in Leh district? How you ensure that these schools especially (private schools) are run with proper documentation?
There are 358 government schools and 45 private schools functioning in Leh district. All the private schools are running under proper control and supervision of Education Department with the affiliation to J&K Board of School Education or Central Board School Education (CBSE).
In order to run these schools with proper documentation, the department conducts a timely inspection and necessary direction is issued to fulfill the required formalities and documentation.
Q. Does the department inspect private schools in Leh to check the guidelines of the schools?
All the private schools are running with proper permission of the Education Department and at the time of expiry of permission period, the extension order for further running the school is issued on the basis of the report of inspection committee constituted by the department.
Q. What is the pass percentage of the last five years (both 10th and 12th) in Leh district?
The pass percentage in Board Examination (10th & 12th) of Leh district during the last five years is as under:-
| | | |
| --- | --- | --- |
| Year | Class 10th | Class12th |
| 2012-13 | 44% | 32% |
| 201314 | 77% | 56% |
| 2014-15 | 74% | 65% |
| 2015-16 | 72% | 47% |
| 2016-17 | 53% | 54% |
From the above data, one can figure out an increase in the pass percentage for class 10th from 2012 to 2014. But from 2014-17 onwards there is a slight decrease in pass percentage which could be because of more numbers of private schools with CBSE affiliation and parents even in villages prefers private schools over government schools.
Given the enrollment rate in 11th and 12th standard, pass percentage from above data shows an increase in trend till 2015 but the rates decrease in the year 2015-16 and with a slight increase in 2016-17. The reason could be because of the low base of students being upgraded. Also, often employees of education department are sent on deputation in other departments or assigned for some other task such as election duties thus, resulting in the diversion of their role and duties.
Also, there is a huge difference in pass percentage between 10th and 12th which is because of the low rate of enrollment in higher secondary as compared to 10th as maximum of the students prefers to go outside for further studies.
Q. Can you tell us how many residential schools are being run in Leh District?
There are 12 Residential Government Schools being run by the Department in Leh district, wherein students are provided free accommodation and food.
Q. Currently, most of the Govt. schools in Leh District are being closed. What do you think are the reasons for it? Do you think that this will result in an increase in the unemployment rate in Ladakh?
Yes, most of the Government schools are closed down and we see two main reasons behind this. First is the adoption of small family norms by the parents in our society as compared to the past, so there are very less children in our society and fewer enrollments of students in school and secondly, the opening of a large number of private schools.
There are at least two or three posts of teaching sanctioned in primary schools in Leh district. If a primary school closes, these posts of teacher would be wind up resulting in an increase in the unemployment rate in our society.
Also, emphasis must be given to preschool education which will not only help children to increase their mental ability (given the free environment and learning via activity) but would also generate employment.
Q. How can we bring change to retain the Government School?
As we know that some Government schools are showing excellent performance in both scholastic and non-scholastic areas. With the result, the enrollment rate of students in such school is increasing remarkably. So raising education standard by giving quality education to children is one of the important aspects to retain the government school.
All the stakeholders and government employees should be encouraged in enrolling their children in government school via some incentives and same should be replicated at the community level. This would help in raising the quality of government schools.
Q. What changes should be made to make the education system more effective? What is the role of parents and community in strengthening the education system?
Yes, there is a need to bring some important change to make the future of education system more effective. The first and foremost thing is the selection of candidates for the post of a teacher should be made on need basis of the department or school. The selected candidates should be trained for at least one or two years prior to the teaching service.
Moreover, all the in-service teachers should be categorized on the basis of the stage- wise (primary, middle, secondary and higher secondary) and subject wise specialization.
Parents and community must get familiarize with the present education system and play a proactive role in correcting the loops holes and shortcomings in the system. Though currently, village committees are taking a proactive role in strengthening the infrastructural need of the schools. There is a need to train them with basic rules and system of education so that they can act as vigilance at grass root level to ensure the quality of education and more punctuality and accountability on the part of teachers.
However, Government must strengthen digital communication system in order to fasten the deployment of biometric attendance system via BAPU. This will also help in ensuring e-learning in remote and far-flung areas.
Q. How many times do you carry out the inspection in schools? Do you inspect the hostel of residential schools to check the facilities and grievances of the students?
Due to scatteredness and inaccessible to villages in our district, effective monitoring and supervision is not comprehensive and self-satisfactory. Yet, we try our best to visit schools at least once in a month to check the availability of facilities and address the grievances of students residing in the hostel.
Q. What are the common problems faced by both warden and students?
The common problems faced by the warden and students are non-availability of proper heating arrangement in the residential hostel during the harsh climatic condition. It is also observed that dues/honorarium for the cook and foster mother of such hostel seem too low to cope with the rising inflation. Hence, no one is ready to work in the hostel on such low honorarium.
Q. What are the ways to strengthen the enrolment of government schools and where are the loopholes?
In strengthening the government school, community participation is an integral part of imparting quality education to the children. Unless and until community realises the importance of learning in family or village environment and owns the government school, it would be very difficult to increase the role of government schools. For which community should be mobilised by creating a sense of ownership and sense of responsibility among them.
It is also mandatory to remove problems/loop false such as:
1. Lack of quality textbooks.
2. Improper placement of mother tongue in learning.
3. No diagnostic remedial teaching.
4. No effective implementation of CCE Schemes.
5. Lack of innovations to make the teaching-learning process easier and interesting.
Q. Do you think that government schools have the equal quality infrastructure and teaching facilities as private one? How can we bring the government school at the equal step with private schools?
As you are well aware of the fact that most of the students studying in government schools are from remote areas, weaker section of the society and mostly they are slow learner. Regardless, the fact schools are showing satisfactory performance and the department is providing all the basic facilities in terms of infrastructure and teaching facilities in order to bring these schools at a satisfactory level. With an aim to ensure high-quality teaching staffs, the recruitment system has been carried out on the basis of merit.
Though our staff put day and night to ensure quality education to children but lack of motivation and sense of ownership among few are main irritants in ensuring quality education because one man can't be the master of all Jack. Rather efforts must be from all stakeholders and education giver. So, there is a need to raise the morale of teaching staffs via quarterly report and subsequent appreciation certificate or some incentives like posting at a preferable location based on performance. Also, the promotion system should be made merit and performance-based. This would immensely contribute to greater zeal on part of teachers.
Q. The schools in the village can't flourish without community support and interventions and it can be a tough task for the CEO to have a bird's eye view of all the schools in the block? So how you ensure smooth functioning of the schools in the villages?
In order to ensure smooth functioning of schools in the villages, we have many mechanisms at Zonal level, Cluster level for effective inspection of all schools in the block.
Q. How many schools in Leh district are adopted by the council as council model school?
There are 7 schools which have been adopted as Council Model School. These schools are being given proper attention and support by the community as well.
Q. Most of the students face problems when they go out of Leh for their further studies? What are your initiatives to ensure skill-based learning instead of spoon feeding to the students?
The education department has been organizing several training programmes for teachers from the last few years for using the methods like child centric/learning by doing/project in class room of primary/upper primary/high level respectively in which a student has to collect materials and information about a certain subject and then write about it. This will ensure the overall development of children which in the long run can help to cope up with the rest.
Q. Did the department works in providing training to the teachers? How important does a teacher need to be well equipped to provide the best of everything to the students?
In order to make the teacher resourceful and informative, the department is organizing training and exposure tour program for teacher frequently. Training indeed is an inevitable part of teaching curriculum to equip teachers with the latest resource to make the learning effective and interactive.
Q. Is the department working on framing the curriculum of the school to enable the students to learn in a stress-free environment?
No, the curriculum is framed by the J&K Board of School Education and the MLL, syllabus break up etc. are prepared by the Education Department.
Q. How important it is to implement career education concept in class and to carry out career counselling in schools?
Guidance and counselling are very important in a student's life for giving them the right direction. Activities related to career education concept and counselling are conducted at school, cluster, zonal and district level on regular basis.
Q. What are the schemes that the department is providing to strengthen the education system in Ladakh?
The centre and state government have been introducing various educational schemes to improve the education standard in schools from last many decades. Presently, the department is implementing schemes like Sarva Shiksha Abhiyan (SSA) and Rashtriya Madhyamika Shiksha Abhiyan (RMSA) to strengthen the Govt. schools.
Message to the readers
"Education should not only remain restricted to the theory of reading and writing but should also focus on imparting skills and building capacity for the Nation growth.
Education is quality and application of acquired knowledge and Literacy is about quantity and means of attaining education. Therefore, means and application must be comprehensive part of the learning process because education to one man or woman is equivalent to education to generation."