In Conversation with Konchok Stanzin, Executive Councillor, Education, LAHDC, Leh
By
Stanzin Dasal
Leh, Jun 02, 2020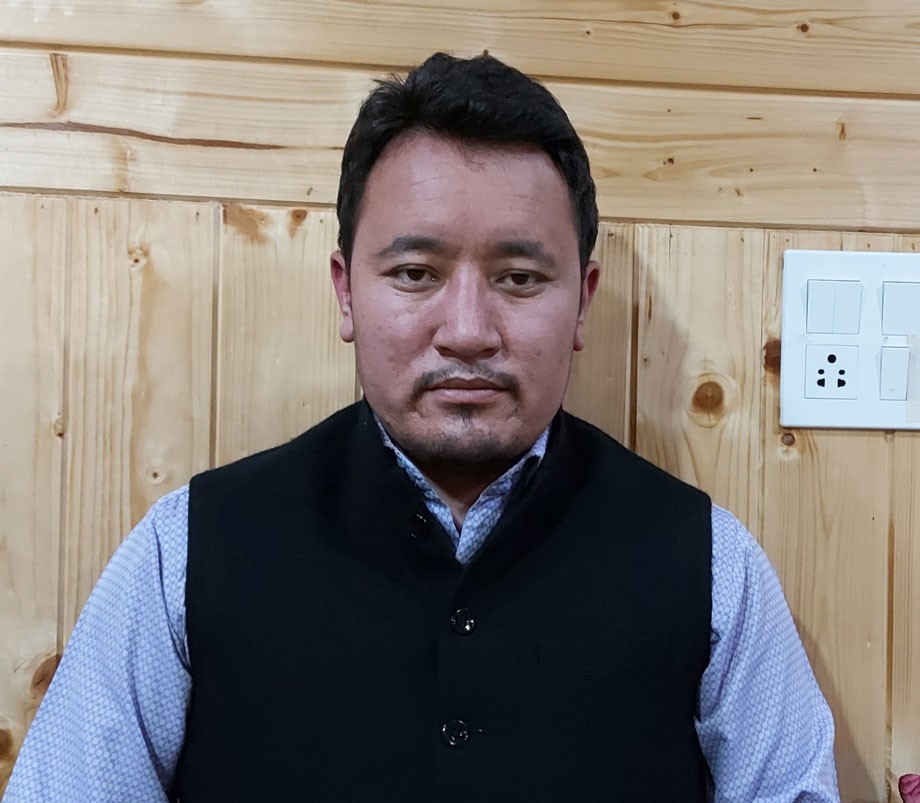 Leh :
Q. Tell us about the present education scenario of Leh district.
In Leh district, we have 358 government schools, including 185 primary schools, 123 middle schools, 33 high schools, 17 higher secondary schools, and 12 residential schools. A total of 7,782 students, including 3890 boys and 3892 girls are enrolled in different schools. Apart from this, we have 46 private schools.
Unfortunately, nearly 43 government schools, including 41 primary and 2 middle schools of Leh district were closed because of no student enrollment.  Out of which 2 schools in Nubra and 3 in Durbuk were reopened. 
If we talk about the funds allotment under the annual district plan for education sector, a sum of around ₹ 3 crore is allocated earlier which is meager. It has been now enhanced to ₹15 crore under district plan, focusing mainly on high and higher secondary school development. Apart from that, we have funds allocation under Samagra which will be mainly utilized in the development of primary and middle schools. Also, we have a plan to develop all residential schools and provide them with all basic necessities.
Many of our schools don't have enough important infrastructures such as multipurpose hall, laboratory, and library. So, there is a dire need to bring changes in that sector. It should be done on a need basis. Also, we are focusing to build solarized buildings in the future, keeping in view the geographical and climatic condition of the region.
The enrollment of students in private schools is comparatively more than government schools. It is not just because of the education quality but the lack of proper infrastructure also adds to the problem. We have well-qualified teachers in government schools now who are putting in their best effort, but the only thing which is needed is proper infrastructure. Secondly, awareness among parents and their co-operation is a must to run government schools successfully.
Q. Amidst COVID-19 lockdown, online lessons have emerged as a solution to push ahead academic calendar. How helpful and successfully implemented it is?
With the spread of coronavirus and countrywide under lockdown, relying on technology has become very crucial to continue the process of learning. Schools of Ladakh already remained closed for nearly 3 months in winters and because of the pandemic, it got extended causing major loss of academics. It becomes immensely important to continue the learning process and the online system is one way to keep the student engaged during this shutdown time.  
Schools are trying their best to continue the classes by using different technologies which is a positive aspect in this time of crisis.  
But the unplanned and rapid move to online learning with no training, lack of internet connectivity, and little preparation also is a challenge for many.
Q. Speaking about challenges, the digital shift is a matter of concern to the students who don't have access to the technology. What alternative provision is being carried out?
Along with the advantages of the online education system, there is a certain limitation also. 
In Ladakh, we don't have proper internet facilities and many areas don't even have the connection, which becomes a major challenge to reach out to students in far-flung areas. We have explored several alternative provisions to reach out students through offline mediums such as radio classes. The classes for the students of class 10th and 12th are commenced through the radio every Monday to Saturday from morning 10 to 11 am. The doubts of the students are even cleared through the phone. The same classes are also telecasted through free dish to benefit students who are in far-flung areas where the radio signals are not properly. 
Also, every teacher is asked to provide assignments to the students during these lockdown and in far off villages, teachers in a particular village will reach out to the students. Concerned officers, Zonal Education Officers, principals, and teachers of the Education department are directed to present a report of their activities being carried out during this lockdown period.  
We had a word with iDream education, a social ed-tech organisation for offline educational content for class 9 to 12 in pen drives or tablets. This is one alternative that can be used if the lockdown continues further. The charge is quite high to procure it. For financial assistance, a letter has been submitted to the UT administration and power grid to bear the expenses under CSR. The response is still awaited.
Q. Since all the schools are closed due to COVID-19 lockdown, there are many concerns regarding the payment of school fees. Any plans to formulate mechanisms to reduce the financial strain?
Yes, there has been much confusion regarding payment of fees among the parents since the schools are shut down. Waiving off the fees completely will be difficult as the schools need to pay the salaries of teachers and non-teaching staff. It is not a good idea to expect private schools not to take fees from students and hold back the salaries of teachers, who work hard and are also conducting online classes now.
In this time of crisis, both parents and schools are going through financial hardships and to manage the situation it's important now for both of them to work out in a balanced way. Thus, payment of tuition fees is one solution and in turn, no schools shall force or compel the parents to pay for the facilities which are not being used. Also, the genuine financial situation of parents should be considered. 
Q. A series of meeting was held regarding inclusive education policy for Leh district. Brief us about the policy?
LAHDC, Leh is working on drafting an education policy for ensuring inclusiveness and participation for all. Our stress is to include moral ethics, concept, experimental and research-based education system besides academic results. We had meetings before also with the educationist and senior intellectuals of Leh district to design the policy. To have an inclusive education policy, many research and discussions still need to be carried out and it's going to take some time.
All this time we have been moving forward without any concrete policy and now the time has come to move with proper regulation and plan.  
Message to the readers
 
"We all need to work together to strengthen government schools and improve the education scenario."