In Conversation with Jigmet Tharchin, Mountaineer
By
Tenzin Dajon
Leh, Aug 06, 2021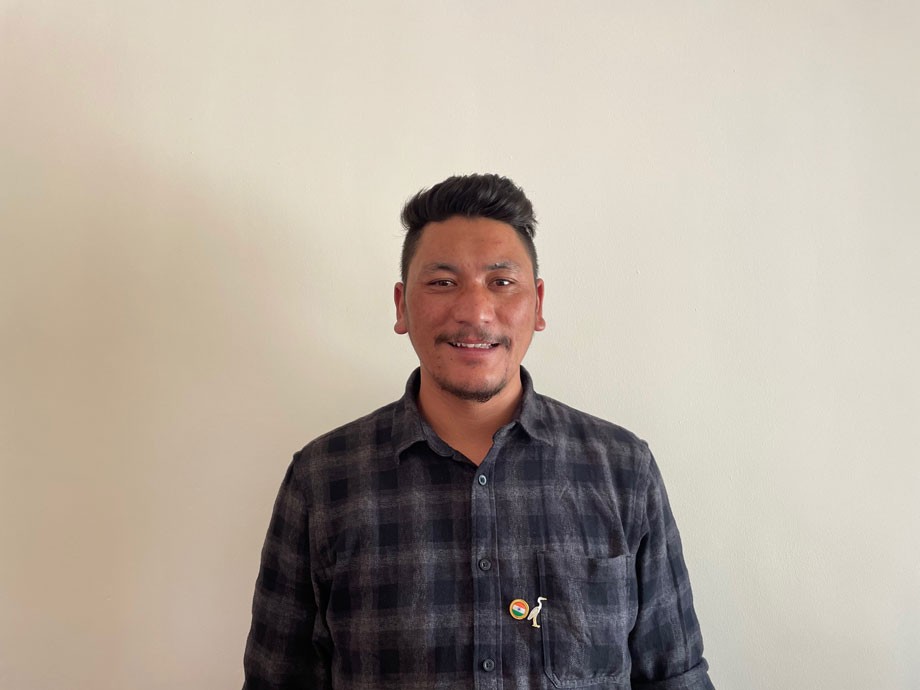 Leh :
Q. Congratulation on successfully summiting Mt. Everest. Share with us about the expedition.
 
First of all, I am grateful to Reach Ladakh for the positive exposure and for allowing my voice to be heard. Mount Everest is the ultimate mountaineering adventure, life most rewarding experience and aspiration of many mountaineers to achieve the summit. Summiting the peak is popular but the expedition cost exorbitant expenditure. Fortunately, I got support from UT Administration and LAHDC, Leh to scale the Everest. Before starting my expedition, I had to climb few peaks of low height around 4500m for acclimatization. Our team started the Everest expedition on May 8 and on 12th May, at 7:05 am I conquered the peak. There were challenges but I was quite lucky as my health remained good during the expeditions. The hardship, pain, and struggle faded away when I reached the top of the world. 
 
I express my gratitude to all the people of Ladakh, UT Administration and LAHDC for their prayers, support and motivation. 
 
 Q. Tell us about yourself. What made you get into mountaineering?
 
Being a village boy I used to take sheep's and goats from mountain to mountain for grazing. I love and enjoy climbing mountains since my childhood. Later, when I came to Leh, I heard about the Stok Kangri and got the opportunity to climb it as a guide. I did basic course and training on mountaineering from Uttarkashi in 2014, and an Advance and search & rescue course in 2017. In the same year, I went to see the Everest base camp, which boosts my desire to summit the peak. 
 
Summiting Everest was my childhood dream, but due to financial constraints, I couldn't make it. I participated in the Massive Everest Expedition, but my name was not on the final list. The drawbacks and failures never let me down. I approached UT Administration and LAHDC, Leh with a proposal to submit the Everest representing Ladakh. And this is how I got the opportunity and support to achieve my dream and make Ladakh proud. 
 
Q. What kind of preparation do you need to undertake for climbing Mount Everest? How difficult and challenging it is?
 
First, we have to prepare ourselves both physically and mentally. We will come across many people who will say that climbing Everest is easy, but it is wrong. Before climbing the peak I did a lot of preparations like doing exercise, running and cycling regularly. I climbed Khardongla many times to get acclimatized at a high altitude. Running on high altitudes and frequent climbing mountains was my daily routine. Simultaneously, I was finding sponsors as well because the Everest expedition is costly. 
 
Financial constraints were one of the most difficult parts and I think the exorbitant expenditure for the expedition is one factor that makes many climbers call off their Everest dream.
 
Q. Share with us your plan?
 
My next target is to conquer the Seven Summit, which is the highest peak of the seven continents. On 7 August I am planning to visit Russia to climb Mt. Elbrus. This year I am planning to summit the four peaks out of seven and the rest I am planning to a summit next year. 
 
 No Ladakhi has summited these peaks so far and I think it will motivate the youth of Ladakh in the field of mountaineering. Currently, I am seeking sponsors and few are ready for it. Both UT Administration and LAHDC are quite supportive of the youth and I hope they will accept my new proposal to climb the Seven Summit like my previous proposal.
 
Q. Brief us about the scope and potential of professional mountaineering in Ladakh.
 
Being a dweller of mountains we have many edges in mountaineering. We can easily be acclimatized as compare to people from the plains and can start the expedition soon. Headache and altitude sickness is very rare for us. Mountaineering is a beautiful adventure and I could see plenty of opportunities in future. There are many known and unknown peaks in Ladakh which we can promote through such expedition. Professional mountaineering has ample scopes and opportunities. One can become a guide at both the national and international levels.
 
Q. What advice do you have for climbers who are thinking about joining expeditions?
 
Work hard and follow your passion. After completing training one should not stay idle instead keep climbing and gathering information regarding mountaineering. Apart from looking for government jobs, we can also explore other opportunities and alternatives such as mountaineering where one can earn good and excel more. The youths from rural backgrounds are very active and good at mountaineering, but lacks awareness and basic knowledge. They should start their journey from guiding, where they will get the basic knowledge about mountaineering and later explore more. At my level, I will be happy to help anyone with my best. 
 
Message to the readers 
 
"We need to motivate and support our youth to follow their passion.  Stay optimistic; utilize the time to work on yourself."