In conversation with Gyal P Wangyal, Executive Councillor, Health, LAHDC, Leh
By
Stanzin Dasal
LEH, Aug 29, 2018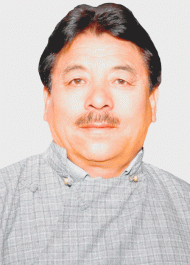 LEH :
Gyal P Wangyal a sports lover in his young age decided to join politics because of the inspiration he got from his father Late Sonam Wangyal (Former Minister) who is one of the great figures in the political and economic development of Ladakh.
It was in the year 1980, Gyal P Wangyal joined Indian National Congress and served as a President of District Youth Congress. Later, he along with other members resigned from the party for the demand of Schedule Tribe status for Ladakh. He has also served as District secretary of the National Conference party. In the year 2000, a turning point in the political history of Ladakh happened when all the political parties were disbanded and formed LUTF under the chairmanship of Thupstan Chhewang. Prior to the Hill Council election in the year 2005, the INC has revived again and the election was fought.
He was given the mandate to fight election from Sakti constituency for the first time in the year 2005 by LUTF. For the larger interest, members along with Thupstan Chhewang joined BJP.
Following the three mantras in his life, strong willpower, dedication, and patience, Gyal P Wangyal has won the Hill Council election thrice in the year 2005, 2010 and 2015 from the Sakti constituency.
On February 20, 2018, he was appointed as the Executive Councillor health.
Q. You took up the charge of EC in the year 2018 leaving only 2 years to work till the next election. Which sector (Health, Youth services and sports, Forest, Parks and garden, DIC, ICDS, PDD) are you going to focus on a priority basis?
Health is a very important sector and my prime focus is on it. I am taking up the issues of shortages of doctors, Dialysis ward and strengthening the medical facilities in the far-flung rural areas. Secondly, I am focusing on the power department which is again a basic necessity for the people.
Q. Since you took over an important sector, Health, tell us about the present scenario in Leh.
Health being a very important sector, several meeting was held with the officers of the department to understand the challenges and progress in the sector. After visiting Nyoma, Tangtse, Khaltse and Nubra, also various Primary Health Centers in and around Leh, I found that we are in short of doctors. We have 188 doctors post sanctioned out of which only 83 are in positions leaving 115 posts vacant. The SNM hospital is sanctioned for 150 beds but at present around 300 beds is catered because of which the shortage of doctors and staff persist. With the introduction of new wards including tourist ward, ICCU, orthopedic and dialysis ward, the intake of the patient is also increasing.
We have around 1,325 medical staffs and 1 district hospital that is SNM hospital, Community Health centre, 14 Primary Health Centre, 14 New type Primary Health Centre and 137 Medical Sub-centers.
But with the various challenges faced we have some achievements such as, the hospital delivery rate has increased from 98.03%, infant mortality rate is lowest in the state and 100 percent vaccination coverage. We have also organised a camp for the super specialty laparoscopic surgery, tuberculosis screening in the Durbuk block. The new transfer policy brought by Late Dr. Sonam Dawa, CEC, LAHDC, Leh has successfully implemented health camp in rural areas, the introduction of Amchi system, mobile health unit in border areas are some of the initiatives.
A dialysis ward in the hospital has been set up. The required equipment and machines are already procured. It will take some time to make it fully functional because it has lots of work related to pipes installation and drainage. Many patients go outside the region for dialysis spending a huge amount of money and time, but with the function of the dialysis ward, the problems will be sought.
Q. What is the plan of Hill council to ensure proper medical facilities and develop the health sector in the far-flung rural areas?
Proper medical facilities are very important for every section of the people and to ensure the facilities is our responsibility. Definitely, in far-flung areas, there is a shortage of doctors and staff but every effort has been made to ensure doctors, staff, and medicines. We are also looking forward and working towards to make the Primary Health Centre of Nyoma and Khaltse a sub-district hospital. The buildings are constructed as per sub-district hospital standard and almost all the infrastructural facilities are present only the post creation is needed to make it fully functional. The matter has already been taken up and under process in the finance department for post creation.
Q. What are the different Government health schemes for the people?
Under District plan, Non-plan and Centrally Sponsored schemes funding for the implementation of various health-related schemes are made. Among the provided schemes we have:
Rashtriya Bal Swasthya Karyakaram(RBSK) which aims in screening children from 0 to 18 years for 4 Ds - defects at birth, diseases, deficiencies and development delays including disabilities. The scheme will be implemented through dedicated mobile health teams who will carry out screening of all children including newborns, children enrolled at Anganwadi centres and Government schools.
Janani-Shishu Suraksha Karyakram aims to promote institutional deliveries. Under this free treatment is provided to the pregnant women including normal deliveries and cesarean operations and sick newborn in Government health institutions in both rural & urban areas.
Janani Suraksha Yojana (JSY) implemented with the objective of reducing maternal and neonatal mortality by promoting institutional delivery among poor pregnant women. A financial assistance of ₹ 1400 to the mother of rural areas and ₹ 1000 to the urban areas is being distributed.
Apart from all this, we have Amchi medicine, Adolescent Reproductive & Sexual Health programme, National Tobacco Control programme and revised National tuberculosis programme, Leprosy Control are some other programmes.
Q. We have been demanding a medical college for Ladakh from a very long time. Are there any plans to set up a medical college in Leh and what role it can play to improve the health system?
Yes, it's very true that we have been demanding a medical college from a very long time and we deserve it also. In the year 2015, the government announced five new medical colleges for J&K including 3 for Jammu region and 2 for Kashmir division and sadly not even a single medical college for Ladakh. The basic infrastructure required for a medical college is already available in the SNM Hospital, Leh. During the Prime Minister Narendra Modi visit this year, he talked about the medical college in Leh and in response to that we have sent a letter. Hopefully, we will also get a medical college in the coming days.
The establishment of medical college will not only improve and strengthen the health system but will bring a relief to many aspiring students who travel outside in big cities to study medical courses.
Q. Why there are still no proper infrastructural facilities in Leh even after our youths have represented in different sports at national and international level?
Sports is a very important part of everyone life specially students and we are very proud to see our young boys and girls excelling in different sports and representing at the national-international level. True that we don't have infrastructure facilities in Leh to train and groom them up but we are putting in every effort to provide the basic facilities to them.
The open stadium cum youth hostel near Spituk worth ₹ 20 crore has been left incomplete due to the funding issues. This year we have received ₹ 4 crores and we are trying to complete few rooms, sitting arrangements and ground leveling. Also, ₹ 4 crore is there for the indoor stadium at NDS ground. The work is in progress nowadays and we are trying to complete both the stadium. The work on NDS ground is in progress under District Plan and JK Sports Council has already spent ₹10 lakh for infrastructure on NDS ground.
Regarding the Ice hockey stadium, there is a fault in the designing of the stadium. The stadium needs re-designing and changes to make it feasible. The 4th LAHDC has signed an MOU with Ladakh Winter Sports Club in collaboration with International Hockey Federation. We are also trying to get some funds to complete the work.
Q. Are we neglecting the sports sector?
Provision of sports facilities is very less in government schools. I have proposed for the provision of sports equipment in all schools during the District planning meeting and plan was enhanced by 50 percent. The development of sports from the schools becomes imperative. The scenario of sports is changing in Ladakh with time. Last year sports department organised various games for students under 'Khelo India' for which J&K sports council provided ₹5.00 lakh for the same.
I am glad to inform that an office of the J&K Sports Council has been established in Leh for the very first time. With this, we can further promote and develop sports in the region. Through J&K Sports Council, a football tournament was organised under 'Khelo India' program. First professional football academy for both boys and girls are also formed to ensure proper training and further groom them up to compete at various level and J&K sports council has already provided ₹7.00 lakh for women Ice Hockey foundation, Leh. So, we can't say that it is getting neglected completely.
Q. Is there any short and long-term plan of the Hill council to promote and develop sports in the region?
We are planning to buy sports and band equipment for the government schools. A plan is there to promote and develop archery among the interested students. The equipment will be distributed among all the High schools and middle schools as per their enrollments. And most importantly we will be making the Physical education teachers and lecturers responsible and accountable. A performance report will be kept to monitor development and challenges. We will be sending a proposal for playgrounds under Khelo India to Govt. The DC/CEO has constituted a committee for scheme "Sports for peace and development" under Khelo India and will be implemented soon. Also, in the coming days, a cricket talent hunt will be organised in Leh by J&K sports council under the aegis of BCCI.
Q. Talking about the power sector, people are witnessing frequent power cuts and billing issues in Leh. What steps are you taking or taken to ensure proper facilities to the public?
Power is an important sector but the problem is that the power being a State subject, Hill Council cannot interfere because it is under State government. The council has to monitor it. Under district plan, around ₹ 45 lakh fund is allotted as per the needs and requirements.
The power supply definitely improved a way lot as compared to the past. Today the demand for power is increasing and through NHPC we get round the clock power supply. From the 45 MW capacity hydel projects our demand is 12 to 13 MW in peak season. So there is no issue of the power supply but yes at times we face power cuts in some areas which have many reasons behind it. The main reason behind the power cuts is the technical faults in the feeders which have somehow restored with the grading system in the mini feeders but there is still a room for rectification on over current issues to make it smoothly functional. But sometimes power do fluctuates because of the fault in transformer or electricity wires disruption, winds/rains or some other activities. In such cases, public cooperation is a must because many of us become restless even if the power goes for a while. Today we get electricity 24 hours and even if there is a power cut for two to three hours in total due to some reasons we should have some patience till it gets restored. The day is not far when the power grid comes up and electricity problem will be solved.
Regarding the issue of not receiving a bill on time, one of the issues faced by the department is the lack of manpower. In that case, it becomes very difficult for a person who checks the line and does meter reading also to deliver the bill at every doorstep. So, they drop the bill of every household who receives electricity supply from one transformer at a nearby shop.
From where the customer can collect their bills and in case if one does not receive the bills then we all know that every first week of the month we receive the bill so one can go to the power office and get the bill. Secondly, we can also pay online through www.billsahuliyat.jkpdd.net by registering the consumer ID. Also, the department is working on providing SMS alert to the consumer regarding their electricity bill. The work is under process and hopefully, it will get figured within a month.
I would also appeal the people to install meters and use electricity judiciously.
Q. Tell us about further planning in the power sector.
Various schemes such as 'Saubhagya Scheme', a central government initiative to provide electricity connection to every household, Deen Dayal Upadhyaya Gram Jyoti Yojana (DDUGJY) and Prime Minister Development Projects (PMDP) are implemented to electrify all the rural and urban areas.
Under these schemes are working on to partially electrify 44 villages. A total of 11 villages including, Waris-Fastan, Lhargyab-Pachathang, Hunder dok, Agyam-Digar of Nubra region, Samad- Rokchan and Tiri phu of Changthang region, Skyu Markha, Chilling-sumdha, Tar- Hipti, Lingshed, and Yulchung from Sham region will be electrified this year.
The 220kV single-circuit Srinagar (Alusteng)-Leh transmission line carried under Power Grid Corporation of India (PGCIL) is also under progress. The transmission line from Leh to Nubra and Kargil to Zanskar is already sanctioned but during the cost of the project PDD, DPR for ₹400 crore and REC for ₹1100 crore. So due to cost escalation the Design and planning wing is again working on it.
Q. The 5th LAHDC talks about corruption free society. What are the actions taken till now to curb this issue?
The 5th LAHDC believe and strive towards corruption free society. But I can't say we can make a zero corruption society because there are some loopholes. There is a need to understand that one who offers is equally corrupt as the one who takes. We all need to our fair part. The Executive Councillors are given charge of respective portfolios to monitor and check on it.
The digital method of doing work such as online payment, e-tendering etc. has somehow reduced the scope of all this illegal practice.
Q. We have seen that you have paid a surprise visit to the health and power department. What have you observed?
Yes, it was carried by the Executive Councillor of LAHDC to check the work and punctuality of the employees. I have visited SNM hospital around 10 am and till 11 am four doctors and 18 paramedic staffs were not present. In PDD, I went after lunch and found everyone in the office. Definitely, action will be taken against the defaulters as per norm. Presence of the officials in the office on time and to perform depends on the Head of the department and he /she should be competent and responsible.
I feel that such visit is important to ensure proper service and facility to the public.
Q. You won the Hill Council election from Sakti constituency for three consecutive years. What advice will you give to the youth who wants to join politics?
To get into politics and be successful there are three pre-requisites which are very important to stand and lead. Firstly you need to have a strong willpower. Secondly, dedication to work for the welfare of the society specially the weaker section and lastly, patience to go a long way.
I personally feel that it is a perfect platform to work for the welfare of the poor and downtrodden section of the society if one is willing to. Success in politics depends on how you work and perform.
Q. J&K being under Governor's rule, how hopeful Ladakh is?
The PDP-BJP Coalition governments have done and initiated work in the region but also there are many things which remained pending. Above all, the empowerment of the Hill Council was and is the prime demand. Since from the very existence of LAHDC, there is a need for some amendments to the LAHDC Act. The Council is not even empowered to transfer the employees whereas in the Act it is mentioned that employees will be under the control of Hill Council.
The representation of the same was submitted to the Mehbooba Mufti, the then CM by both Leh and Kargil Hill Council. It was kept delayed and no action has been initiated by the PDP. Now since the governor rule is there, we are hopeful that the Hill council will be empowered.
Message to the readers
"LAHDC is an institution to work for the people and whoever comes on the seat should be determined to serve the people. Work comes prior than the party. Also, I appeal to people that they shouldn't misjudge or spread wrong information that party differences come while performing the duty. We are striving and putting every effort to ensure best for the people."