In Conversation with Dr. Tsering Sangdup, Cardiac Surgeon
By
Stanzin Dasal
Leh, Jan 19, 2021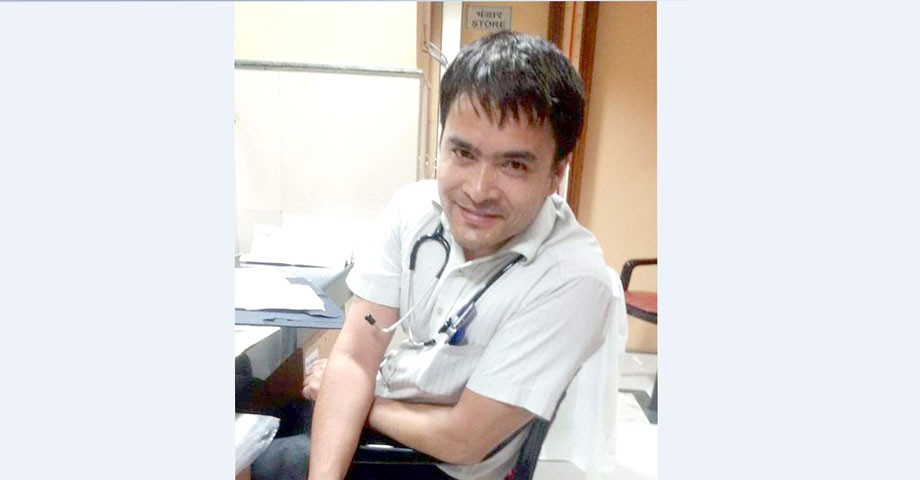 Leh :
Q. Tell us about yourself.
I was born and brought up in Skurbuchan (Suru-pa) & like every other village child, I spent most of my childhood days playing, herding sheep and goats, ploughing fields, and sowing barley in summer, and skiing in winter.
I passed class 10th from Govt High School, Skurbuchan, and 12th from Boys Higher Secondary School, Leh. I pursued my MBBS from Govt. Medical College, Srinagar in 2008; Master of Surgery (General Surgery), PGIMER, Chandigarh in 2012 and M.ch Cardiothoracic & Vascular Surgery (CTVS) from AIIMS, Delhi in 2017. 
Q. What inspired you to become a cardiac surgeon?
The curiosity of my mind met a high wave of tough & bloody challenges. The electrical rhythm & the synchronized mechanical pump in the chest of every human tickled & ignited the imagination in my mind to study its full potential & repair. My training in cardiac surgery started at AIIMS New Delhi. I was blessed to be mentored in the discipline & its method by a senior cardiac surgeon(Dr. AK Bisoi) & cardiac anesthesia head( Dr. S. Chauhan). 
Along with surgical skill, cardiac diagnosis, decision making & team building also matters & determines the success of a surgeon, patient healing & well-being. It is indeed a design of nature, hard work & luck that I get to operate & heal the heart of one &all be it young, old, man and woman.
Q. How many surgeries have you carried out and any interesting case to share.
With the core concept of the health warrior, I set out on the path, independently & determined to heal the suffering heart in plains. I have formed a health team and we decided to take the bull by its horn. In the last year, we were able to give help& care to about 2000 surgical procedures across its entire spectrum starting from 6 days old baby to an 80-year-old man. Each ailing heart was unique and challenging. 
A few of my experiences are, a 6 month baby of Madhya Pradesh suffering from complex heart disease. Parents consulted many hospitals but everyone said that the child won't survive. The father abandoned the child thinking it is a problem of his life. We performed surgery and treated her for 2 months. The baby has a smile on her face now and is like any other normal baby.
Another case is a 6-month-old girl child from Andhra Pradesh having congenital heart disease. They sent me details and operated; during surgery, we found he had a different diagnosis. We managed it, others believed that child won't survive. But the next day, she was fine and discharged on the third day.
A girl from Arunachal Pradesh was referred to AIIMS with a paralyzed left arm. She had a very big tumor in her left neck extending to her left chest. She keeps her long hair loose on her left neck& chest to hide it. It was so big that nobody was ready to operate and finally after many discussions between various departments, we operated and removed 2 kg tumor. Her hand function is improving and now she has short hair.
A 60-year-old man from Bhopal has a myocardial infarction with a severe leak in a valve. He had difficulty breathing and was bedridden. Everybody presumed he will die but we convinced relatives and hospital owners that we should take chance. We operated and it was successful.
With all these cases I wanted to share that the human heart heals excellently. It does not require heavy or huge resources or infrastructure. Even in the rugged mountain of Leh/ Kargil, where we have typically rural/simple upbringing, the resourcefulness of the human spirit and the straight forward living habit, healing touch for the ailing heart is always available. 
Q. What are the heart problems specific to the people who are residing in Ladakh?
There is organic & systemic difference in the heart problem that develops at high altitude inhabitants. First of all, it's rare in the traditional folks with a simple diet and lifestyle. A child who has a hole in the heart develops pulmonary artery disease early, which is different as compared to the children who are living at sea level. Heart valve disease is rampant in the people who are living along the Indus River and spreads to other people who live close to each other indoors specifically in winter. 
The average weight of people is increasing, consumption of sugar, trans-fat, red meat, high salt smoking, & other recreational drugs has gone up, also, people are having less physical activities, feel more stressed. All this behaviour leads to hypertension, diabetes & finally heart disease- specifically heart attack.
Q. Can you share with our reader, how to keep heart healthy?
Adopt a traditional diet, say 'No' to packed, processed food. Sugar is more dangerous than smoking. Eat less- do more physical activities. Meditate, eat a balanced diet, do a regular health check-up, specially for those who have a family history of sudden death or heart attack. Those who have already been diagnosed with diabetes- should monitor blood sugar regularly with their physician, take regular medicine, and those who have hypertension don't stop the medication. Most folk has 'Chalta hai' attitude. They fail to understand that these diseases are lifestyle disease, a kind of self-created, so should be careful.
People should use more apricot and walnut oil for cooking. Apricot has a high quantity of vitamin b15 which has a cardioprotective and cancer-protective effect. Our ancestors were not stupid to plant those trees in coincidence, they knew the medicinal properties.
From a village boy to the top institute of India and now a budding cardiac surgeon. What challenges you come across, and who guided you?
While in the village my father was sending me to join the army but my grandma stopped it. He failed to believe that I can become a doctor, and when I got selected in MBBS he is the only person in the whole world who cried like a baby in happiness and hugged me. 
The language was the biggest hurdle which is ok now. Adapting to the humid and hot environment of plains, and to break the clutches and bondages of belief, religion, dogma.
While in AIIMS my teachers, mentor & above all a friend- Prof A K Bisoi who trained me in every aspect of life and facing his vastly peaceful yet turbulent at the same time was one of the toughest things I have ever come across. Prof Sandeep Chauhan who is head of cardiac anesthesia taught me to tame the heat of an angry mind & Dr. Ramesh Menon, Professor in Pediatric CTVS inflamed my curiosity about everything in nature. I am blessed to have such great minds. Also, I would like to extend my gratitude to my wife Preeti who believed in me more than myself. She is the one who brought me back to the path, whenever I got deviated. Without her, I would have fled from AIIMS long back.
Q. What is your advice to young students who aspire to become cardiac surgeon?
I feel that you should be ready to spend your whole life reading and operating, without concern for food, home, and sleep. Dedication and hard work can master it.
Message to the readers
"Artificial intelligence & machine learning is going to drive the world, so youngsters should position themselves accordingly. Know how to celebrate & glorify failure."