In Conversation with Dr. Tsering Samphel, Medical Superintendent, SNM Hospital, Leh
By
Rigzin Wangmo
Leh, Jan 26, 2019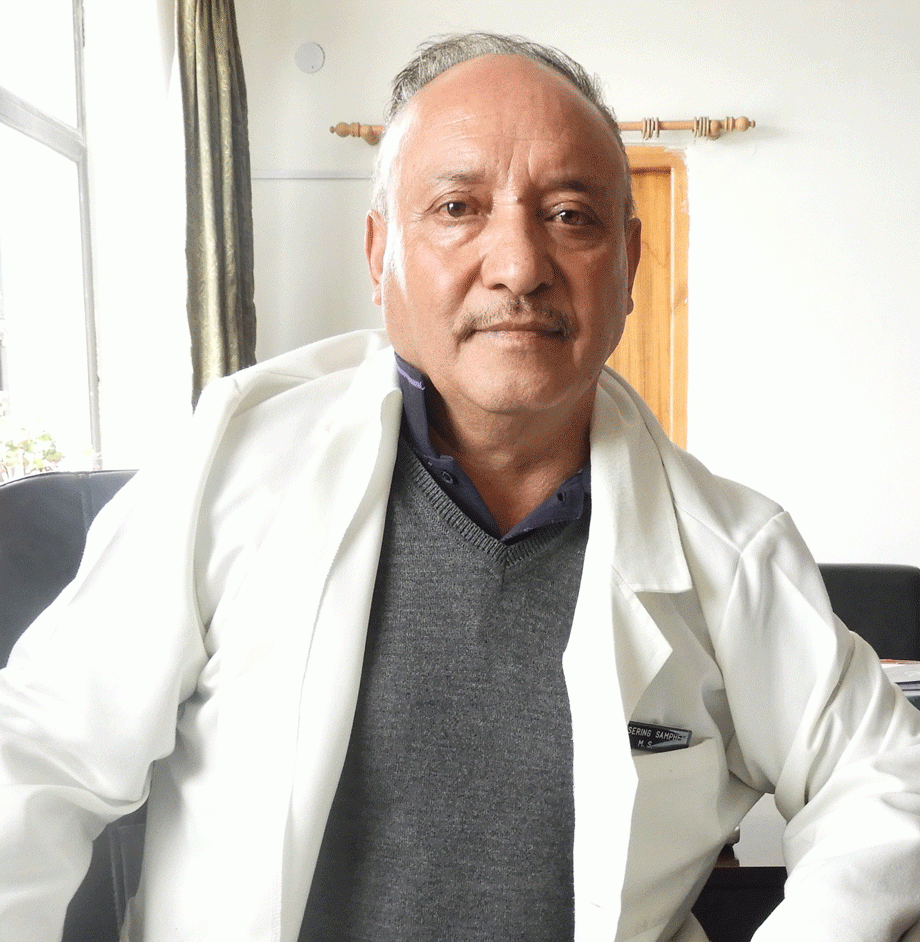 Leh :
Q. What is the carrying capacity and services provided in SNM hospital?
The District hospital SNM is also a second referral unit as patients from 5 blocks of Leh district is mostly referred here. In case of critical condition, the patients are referred to Sher-i-Kashmir Institute of Medical Sciences (SKIMS) and AIIMS.
The hospital meets all the service and facilities prescribed under Indian Public Health Service (IPHS). Facilities such as CT scan and Echo Cardiogram are available which are difficult to find in any other district hospital. Services and treatment are free of cost for pregnant women under Janani Shishu Suraksha Karyakaram (JSSK) and Janani Suraksha Yojana (JSY) schemes. Under these schemes, pick and drop ambulance facilities are provided to the pregnant women. Unfortunately, we find very fewer locals who avail the benefits.
Q. What are the challenges faced by the hospital and how to overcome it?
Initially, the hospital was sanctioned with only 150 beds and equivalent staff for the same but at present, with the existing staff, we are catering to 284 beds. The hospital is facing a manpower shortage. There is a need of 14 doctors, along with 4 specialists, 'A' grade physician, one 'B' grade surgeon, one radiologist, psychiatrist, 21 medical officers, 4 nursing supervisor, and 8 nurses. The posts are sanctioned but remain vacant.  
Secondly, we experience a lack of civic sense among the public. The leftover foods are thrown in the basin which blocks the sewage system and taps are often left open.  People should be responsible while using public property. 
Q. How important is to have a Medical college here and what role it can play to improve the health system?
Medical college is very important as the infrastructure and facilities will be developed. All kinds of sophisticated equipment will be introduced and more post will be created. To establish a medical college at least 20 acres of land is required and 10 acres to build a hostel.  It is a big project and a long pending demand but for now, 300 beds sanctioned for the hospital needs implementation. The hospital infrastructure is already designed to accommodate 300 beds.
₹ 3 crore has already been sanctioned for the infrastructure but as of now, we did not receive any notice. Also, there is an urgent need of staff for the proper functioning of the hospital. 
Q. Recently, a separate unit for dialysis has been introduced. How difficult it is to maintain the unit? Do you have any plans to accommodate more beds for the unit?
The Dialysis unit is opened under Pradhan Mantri Dialysis Programme (PMNDP) and is sanctioned in all the district hospitals. 2 doctors and 6 staff were sent for training at Medical College, Srinagar. We have 5 dialysis machines and all are functional. The unit is looked after by functional staff which includes a Doctor, a supervisor pharmacist, along with two nurses and a laboratory technician.
We have requested kidney patients to come for the dialysis but unfortunately nobody came except one patient. We hope more people would avail the facilities.
Q. Recently in J&K budget session, it was announced that the hospital is to be upgraded from 150 bedded to 300 bedded at the cost of ₹ 3 crore. So when will it be formally functional?
Till now, we have not received any notice. The 300 bedded institutions were announced by the governor in the budget session but no formal announcement has been made so far.
There is a need for more surgeons, physicians, psychologist, and psychiatrist along with a requirement of oncologist cancer specialist, Cardiologist, gastrologist, and anthologist.
Q. What are your future plans and the schemes that have been introduced recently?
The casualty department needs improvement. We are constructing an emergency ward and are planning to construct a trauma centre, Ancillary Medical Training School where paramedics will be trained and an auditorium where the old hospital is located.
According to Rogi Kalyan Samiti, the area under the hospital can also be used to generate income. We might plan to construct shops facing the roadside by forming a committee.  The income generated can be used for further development of the hospital.
Q. Tell us about the transfer policyof the health care department? How transparent and challenging is it?
We have a committee under the chairmanship of Chief Medical Officer where Medical Suprintendent is also one of the members. There are categories called ABCD according to area wise and have a point system same as the education department. The employees are transferred according to the point system.
Earlier, many court cases were reported due to transfer policy and had complained of irregularities. Now the transfer policy is transparent.
Message to the reader
I would like to request all the patients who are suffering from Chronic Kidney Failure or Acute Renal Failure or the one who are not able to go for the kidney transplant to avail the services from the Dialysis unit, SNM hospital, Leh.