In conversation with Dr. Subhrat Sharma, Scientist F, Centre Head, G.B. Pant National Institute of Himalayan Environment Ladakh
By
Stanzin Dasal
Leh, May 18, 2022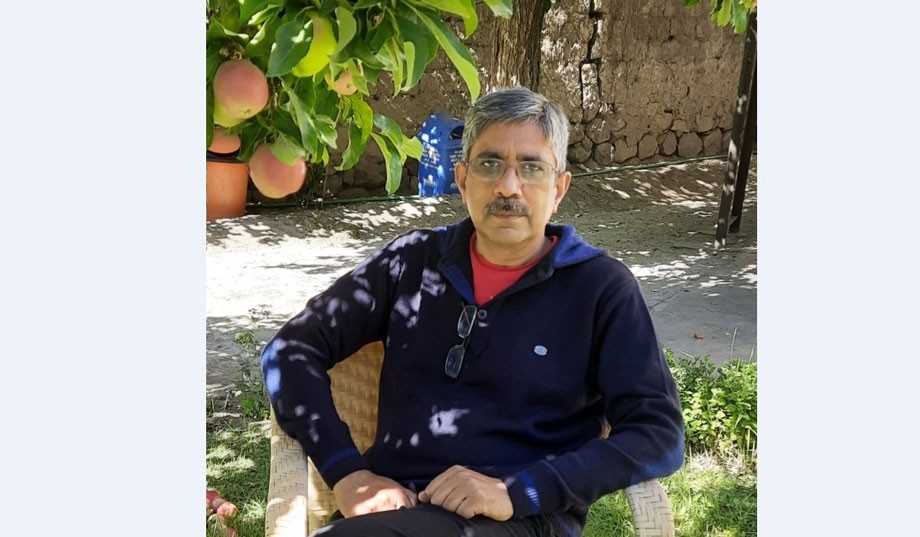 Leh :
Q. Brief us about G.B. Pant National Institute of Himalayan Environment and what are the various initiatives taken by the institute in Ladakh. 
G.B. Pant National Institute of Himalayan Environment was established in 1988-89, during the birth centenary year of Bharat Ratna Pt. Govind Ballabh Pant, as an autonomous Institute of the Ministry of Environment, Forest & Climate Change (MoEF&CC), Govt. of India. The institute's job is to advance scientific knowledge, evolve integrated management strategies, demonstrate their efficacy for the conservation of natural resources, and ensure environmentally sound development in the entire Indian Himalayan Region (IHR). GB Pant National Institute of Himalayan Environment with its headquarters in Almora district, Uttrakhand has several regional centres. In Ladakh, the centre was established in December 2019 and is the newest regional centre of GB Pant National Institute of Himalayan Environment. 
After several meetings with the officials of UT administration and as per the direction of the Lieutenant Governor of Ladakh we planned our focal areas of activities. A five-day summit themed, ' Ladakh Sustainable Development Summit 'was organised in collaboration with the UT Administration of Ladakh. Around 80 people from various backgrounds including, scientists, policymakers, public representatives and experts participated in the summit. Discussion and deliberation were held to draft an action plan for tourism and disaster. Since we were newly established, the summit also became a learning stage to understand Ladakh and plan effectively and efficiently. Before we take the next step and start any further COVID-19 pandemic hampered all the work, but the time was utilised well to study the region, its need, challenges and strategies and development. 
As the situation started getting better we met Executive Councillor, Hill Council, Leh, Stanzin Chosphel and start working with the local bodies and women's self-help groups. We organise a training programme in tailoring as suggested by the interested candidate. The participatory model training programme helps us to learn that people in Ladakh are very enthusiastic about learning and doing new things. As per the institute mandate, we developed a strategy for natural resource development to strengthen Women Self Help Groups. We tried to introduce local resources, new techniques and value addition of the products for which an expert has been called to impart training. The training helped participants explore new markets and values. Ladakh has huge potential and resources, the only thing needed is a value addition to the products, branding, and establishing market linkages which we are trying to introduce to the locals by inviting experts. 
Similarly, we tried to develop strategies for extending cultivation through low-cost rural technologies for adoption by the common man. 
We worked on mushroom cultivation by simplifying the techniques and introduced a low-cost portable polyhouse on a crop field which lies vacant during the harsh winter. Similarly, we also extended support to villagers who are facing water scarcity, and in collaboration with the wildlife department and WCBCL, a book on Birds of Ladakh has been published which will serve as a field guide. Collaborative activities are also going on with Ladakh University on research and many others.
Q. Tell us about the advantages and disadvantages of climate change in Ladakh.
Climate change leads to the rising frequency of the disastrous event, changes in distribution and rising magnitude of the disaster. We have witnessed frequent flash floods in several areas and fortunately Ladakh is a low-density area the chances of loss of life are reduced. Similarly, the precipitation regime is changing and winter in Ladakh is getting warmer. This might not affect humans a lot but is affecting orchards of apples and apricot. Weather conditions during flowering, pollination and subsequent fruit growth determine the production quantity and quality. Under changing climatic situations, an existing fungal pathogen, bacteria, and viruses may cause more damage.
 Water scarcity is already being witnessed in various parts of Ladakh which is also because of climate change. Change of natural habitat due to climate change can also be a concern; this might not be witnessed in a short time because it's a long process. Changing of natural habitat can directly impact the nomadic communities because the grazing land will shrink. 
The change in the agriculture pattern of Ladakh such as growing cash crops is said to be the advantage of climate change but I feel this is because of new techniques, scientific approaches and exploring new things.
Q. How important is it to make value addition and marketing of the local products of Ladakh? How much scope and potential do we have and what more can be explored?
In the case of Ladakh, I will say that there is a need to realize the potential instead of exploring. Buckwheat cultivated in Ladakh has an enormous value in metropolitan cities. When we say Organic there are two things; organic certification and cultivation practice. For organic certification, a proper mechanism is needed from the farm level to the market level. The organic cultivation practice is generally seen and practised in Ladakh. Selling the product just with a tag of organically cultivated without certification will also fetch a good price. 
One must feel proud of one product and should realize its value. Value addition to the products, branding, and establishing market linkages is needed to be fulfilled. Administration support is needed to compete with other products. A mechanism is needed to strengthen the local resources and involve private partners. 
Q. Since we see a shortage of water in the farming season everywhere, what can be the alternative solution to overcome these problems?
Water shortage is a concern in Ladakh and people need to modify their practices as per their needs. Water augmentation and technology are necessary to overcome the crisis. Irrigation methods need to be introduced for making the best use of the water. Water conservation and water-efficient irrigation methods such as drip irrigation and sprinkle irrigation are needed. I feel govt should introduce such schemes to make them cost-effective because such irrigation method is costly. 
Q. There is a saying that Ladakh being a cold desert excessive tree plantation will have a negative impact. What do you have to say about it?
If we say that we are turning Ladakh green, we are getting wrong. Ladakh's environment and topography are different from the rest of the country. The barren rugged mountain is the beauty of the land and is the one which attracts people from different parts of the world. Trees are grown and available where a good amount of soil and water is. Planting trees as per your need is different but a massive plantation drive to turn Ladakh green will not be right because, in my opinion, we are changing the natural environment. 
Message to the readers
There are choices we can make in our day-to-day life to lessen our personal impact on the environment. Reduce carbon footprint and make a sustainable future. The power to protect and restore nature now and for the next generation is in our hands.