In Conversation with Dr. Sonam Yangzes, Assistant Professor, Ophthalmology, Advanced Eye Centre, PGI
By
Tenzin Dajon
Leh, Feb 16, 2022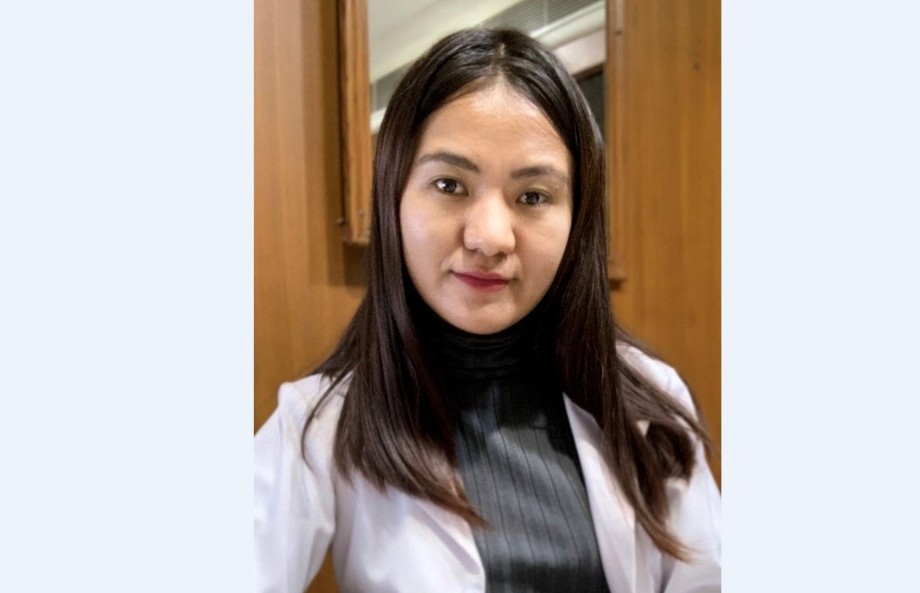 Leh :
Q. Brief us about yourself?
I studied till class 8th from Moravian Mission School, 10th from Lamdon Model Senior Secondary school, Leh, and 12th from Mount Carmel School, New Delhi. I graduated (MBBS) from University College of Medical Sciences, Delhi, followed by MS Ophthalmology from PGIMER Chandigarh, and Senior Residency (Cornea, cataract & refractive surgery) from PGIMER. I did private practice for 2years in Chandigarh and presently working as Assistant Professor at Advanced Eye Centre, PGIMER Chandigarh. I have a particular interest in research and have published articles in various national and international journals.
 
Q. Many Ladakhi's visit PGI for eye treatment. What kind of eye problem is common?
Cataract is the most common problem people face in Ladakh and globally. This eyesight problem is commonly associated with ageing like the hair turns grey after a certain age, the lens also undergoes discoloration and loses its transparency. In Ladakh, older people with cataracts often neglect it despite vision issues. We can operate it to improve the vision. Ladakh is a high-altitude region; the climatic condition is dry, windy, and cold, because of which the problem of dry eyes is widespread. Excessive ultraviolet exposure causes eye problems like Pinguecula and Pterygium. Pterygium is a growth of the conjunctiva or mucous membrane that covers the white part of the eye over the cornea. These are the common problem found in Ladakhis, and all can be treated. 
Apart from these problems, Glaucoma is another condition in which the vision of the eyes keeps declining and is not detected at an early stage. Due to lack of awareness or screening, they often get late for treatment. Therefore, visiting a doctor is a must to detect Glaucoma on time. In this case, before an operation, medicine is advised first. Generally, the chances of Glaucoma are after 50 years. Still, it may also appear in children in case of congenital pathology, injury, surgery, etc. If there is a history of parents and grandparents(family history) suffering from Glaucoma/ eye pressure issues, then it is my request to visit a doctor for screening. Timely screening can prevent blindness or the need for surgery later.
An injured and damaged retina can also be operated upon, but if it remains neglected for a long time, then it becomes difficult for operation. There is a nerve called the optic nerve; if it dries up (atrophies) either due to injury or brain tumors, it becomes difficult to cure, but timely detection can make it treatable. Nowadays, diabetic retinopathy is commonly found among Ladakhis, as in the last 15 years, diabetes and Blood pressure cases in Ladakh have increased due to lifestyle changes. Cataracts occur earlier in diabetic or sugar patients. Like Glaucoma, diabetic retinopathy can also be screened. Therefore, patients with diabetes for more than a year should undergo screening of their eyes by an ophthalmologist regularly.
 
Q. We heard about the successful eye transplant surgery from Ladakh. Brief us about eye transplant surgery.
The cornea is a transparent layer in front of the iris; it is a delicate structure. Therefore a slight cut or injury can create a permanent scar on it. But the good thing is that it can be transplanted by removing it (the whitish part), and then the patient can see again.
We should collect the organ within two hours for cornea transplantation, ideally considered best, but we can collect it even after 6-12 hours of patient death. An effort is always made to collect the organ as soon as possible, to preserve it in time. Later, tissue is transferred to the laboratory, where we clean and assess the tissue to check the quality of the donated organ. Through the machine, the quality assessment is done. After that, we grade the organ and preserve the tissue in the preservative solution. Once the tissue is maintained it can be used within 48 hours to two weeks depending upon the solution, also known as preservative media.
A few years ago, a patient from Bogdang visited us with a vision issue. We registered the person in the cornea unit at once, later the patient got the cornea, and we transplanted the cornea resulting in improvement in the patient's vision. Though Eye banking is not evolved in Ladakh, it is my humble request to the people of Ladakh to pledge for organ donation after their death, which will benefit others after your death. After cornea transplantation, there is a chance to give vision to 2 blind people. At present, we do not have any data on Ladakhi patients that require cornea. For instance, Sri Lanka, a small country, has a robust eye bank program that provides cornea to its population and exports eyes to foreign countries for the needy. Being a Buddhist country, Sri Lanka believes in Lus Chinba (organ donation) and practice it in their life. Therefore, if Sri Lanka can give vision to millions, then why can't we?
Q. How can we correct eye alignment problems in children?
Many children in Ladakh have the problem of squint and refractive error. Therefore, I request the parents to bring their kids to the hospital early. Suppose they notice any abnormality in their vision like bringing books/ toys too close while reading etc. Then this is the right time to seek a doctor. Because most of the squint issues can be solved by only putting on glasses without surgery. Parents must ensure that their kids put on spectacles all the time after a check-up. Squints are of different types; in some cases, one eye remains lazy, where we advise patching the better eye. Surgery remains the last option.
 
Q. How beneficial is it to avail Ayushman Bharat health card for eye treatment?  
There is a massive benefit in holding an Ayushman Bharat health card, especially in a government hospital. Few private hospitals also accept it. Under Ayushman Bharat, patients are treated free of cost, though the paperwork remains more. Therefore attendant is a must with the patient. I request the people of Ladakh to carry the card whenever you are referred to hospitals like PGI and AIIMS. It will benefit you from operation to medications. 
 
With the help and guidance of Ven. Lama Lobzang every year, super specialists from AIIMS conduct a medical camp in Ladakh. Similarly, I feel that we can organize a PGI level eye camp in Ladakh where we can do screening for diabetes, Glaucoma, and Cataracts, and timely treatment can be advised. 
 
Message to the readers
"Due to the pandemic, children depend on phones and laptops for online classes. Recent studies in the literature have shown that an increasing number of children in Asia suffer from myopia (minus power) due to increased screen time. Therefore students must try to reduce their screen time and engage themselves in other physical activities."