In Conversation with Dr. Rinchen Zangmo, MBBS, MD, DNB; Obstetrician and Gynaecologist
By
Stanzin Dasal
Leh, Jul 06, 2019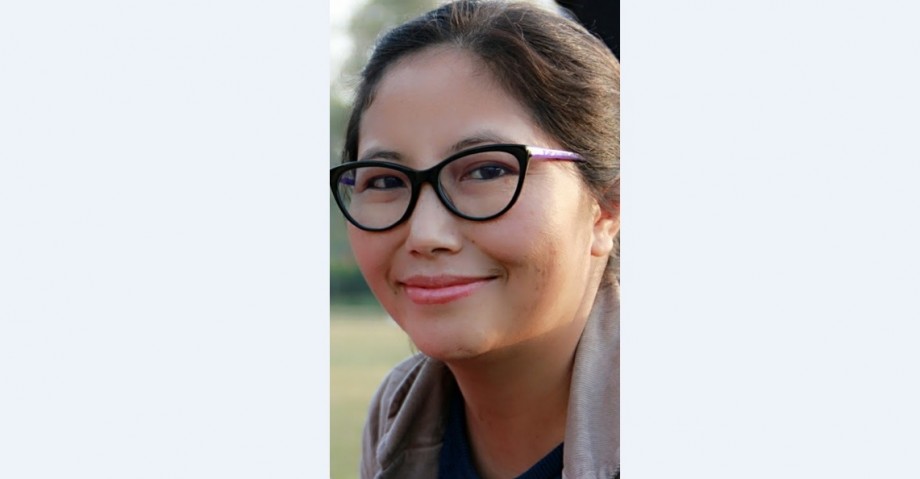 Leh :
Q. What are the most common heath issues seen among pregnant women?
A woman may experience common pregnancy symptoms like morning sickness, fatigue, headache, constipation, and mood swings because of the increasing level of a certain hormone and slight breathlessness with advancing gestation. 
The concerning health issue includes high blood pressure, diabetes during pregnancy (Gestational Diabetes), low hemoglobin (Anaemia) and hypo/ hyperthyroidism. Pregnancy may aggravate preexisting medical illnesses like heart disease, asthma, Type 1 or type 2 diabetes, chronic hypertension, and neurological diseases. Special attention is needed in women with such problems and in certain cases, patients are advised to avoid getting pregnant altogether. 
High blood pressure during pregnancy is one of the most common causes of referral from Ladakh to higher centers. 
Q. Can you explain the reason behind the blood pressure and referrals for the same?
Risk factors for high blood pressure in pregnancy include pregnancy at an advanced age, twin or higher order pregnancy, obesity, family history, chronic hypertension, kidney disease, high altitude. I have seen many patients being referred in view of uncontrolled blood pressure in Ladakh, as soon as the patient lands up in Delhi her blood pressure becomes normal.
 
Uncontrolled Blood pressure can lead to poor foetal growth, fetal demise, risk of uterine bleeding and bleeding in other organs, risk of maternal death. Babies with poor growth inside the womb need to be referred to higher centers due to lack of level three neonatal intensive care unit.
Q. What are the causes of a problem like hypothyroidism, anaemia during pregnancy?
There are two kinds of thyroid disorders in relation to the level of active thyroid hormones: hypothyroidism and hyperthyroidism.  Hypothyroidism is common in India especially in females with around 11% prevalence. Previously iodine deficiency was the most common cause of hypothyroidism, as iodine is a mineral needed for the synthesis of thyroid hormones T3 and T4. Now, hypothyroidism because of iodine deficiency is very rare with the availability of iodized salt. Autoimmune thyroiditis is said to be the most common cause of hypothyroidism.
Causes of anaemia include nutritional deficiency of iron, folic acid, vitamin B12, and other micronutrients, poor absorption, worm infestation, chronic diseases and genetic (e.g. Thalassemia). Thalassemia is uncommon in Ladakh. We can consider screening for Thalassemia traits in children born from inter-race marriages, where one of the couples is from Thalassemia belt.
Q.  What are the causes of infertility?
Infertility is when a couple cannot conceive despite trying regularly for 1 year. It can be due to male factor (1/3rd roughly), female factor (1/3rd) and other 1/3rd of the cases is unexplained. The male factor can be due to obstructive causes (by birth or later), infections like mumps, occupational (working in hot places), smoking, excessive alcohol intake. 
Female factors include blockage of fallopian tubes, ovulation disorder, ovarian failure and endometrial factor.  In developing countries like India, tuberculosis plays an important part in female infertility. Age is a very important factor for female infertility. Apart from a decrease in ovarian reserve with age, the risk of chromosomal abnormalities like down syndrome in the baby increases with increasing maternal age and more so after 35 years of age. A woman's body reproduces and there is a time for it. It's up to you whether you want to have a family, but if you have decided for one, don't delay.
Q. We have seen many cases of cesarean delivery nowadays as compared to normal delivery. What is the reason behind that?
If we compare the maternal and neonatal mortality rates of the present day with say 25 years back, the rates have declined. One reason for this decline is timely delivery by cesarean section in those needing immediate delivery to save lives. Another reason for the increased cesarean section is more number of high-risk pregnancies. 
Pregnancy at an advanced age has more chances of complications like high blood pressure, poor foetal growth. Many patients conceive with IVF treatment and in such cases, we cannot take many risks.  More intensive fetal monitoring is again one of the reasons for Caesarean deliveries. Women should have continuous support, warmth, and encouragement during labour from her closed ones, which play a big role in decreasing cesarean rates. Caesarean delivery has to be done for a genuine indication and not just like that. Time to time audits are carried out in most centers on the same topic, decreasing caesarean rates. I think there is more to do from our (doctors) side on this matter.
Q. What is pre and postnatal care?
Prenatal care is caring for a woman during pregnancy to monitor the progress and to detect and manage complications on time with a timely referral if needed. As per latest WHO guidelines, a pregnant woman should have at least 8 antenatal checkups, the frequency can be more in case of complications, and women must follow their obstetrician's advice on when to come for next follow up.  
Postnatal care is caring for women and newborns after delivery. Care doesn't end with delivery, there are certain complications which can arise after delivery and which can be directly or indirectly related to the delivery. Postnatal care is to detect and manage any such complication.
Q. What is preconception care?
This is something, which many are unaware of including many of the well-educated people. It is when a female comes to her doctor with a plan to start a family. Formation of organs (Organogenesis) starts from the 3rd week, the period from 3rd to 8 weeks is the most important. A woman knows that she is pregnant when she misses her period, by the time she and her doctor comes to know about this, the pregnancy is already 5 weeks gestation. 
Preconception care is important for all females planning a pregnancy, but more so in patients with preexisting medical illnesses like diabetes, high blood pressure and neurological problems. It is during this time, that we review the status of her disease and her medications. For example, high blood sugar in mother during the first 3 months can lead to abnormalities in the foetus, there are certain medications for blood pressure, which can lead to abnormal organ development in the baby and the woman needs to be switched to safer medications. 
All women planning for pregnancy should take preconception folic acid, ideally 3 months before planning pregnancy. Women with a preexisting medical condition must have a preconception counseling with her doctor before she is deemed fit to conceive. 
Q. Tell us about the Cervical Cancer. What are the early symptoms, precaution and treatment?
Cervical cancer is the second most common cancer in females in India after breast cancer. It is caused by high-risk strains of Human papilloma virus, which get incorporated in the cells of the cervix and gradually convert the normal cells into cancer. I have seen many cases of cervical cancer from Ladakh since my post graduation days. The symptoms include excessive foul-smelling discharge, irregular bleeding, contact bleeding. In advanced stages pain, bleeding with stools, blood in urine, and kidney failure due to obstruction of the ureters by growth, importantly, patients may remain asymptomatic till later stages. Here comes the importance of screening. 
Screening for cervical cancer is done in asymptomatic sexually active females above 25 years of age. Pap smear is the most commonly used screening test, once normal, it has to be repeated every 3 years till 50 years of age and then 5 yearly till 65 years. Patients with abnormal screening results proceed for further tests. In places with no facilities, an internal examination by a gynaecologist can tell about the health status of the cervix grossly.
To prevent cervical cancer safe sexual practices, being faithful to your partner (both male and female), regular screening and vaccination are important. Vaccination is available against HPV strains 16 and 18, the most common types of HPV implicated in cervical cancer. So even if one has been fully vaccinated, screening has to be done for the other strains. Vaccination can be done after 12 years of age. Treatment includes surgery with/ without chemoradiation therapy depending on the stage of the disease.
Q. What is menopause and what are the symptoms and treatment of menopause?
Menopause or cessation of ovarian activity is when a woman stops having periods and can no longer get pregnant naturally. Cessation of periods, hot flushes, mood swings, irritability, depression, and anxiety palpitations, sleeplessness, night sweats, decreased sexual drive, vaginal dryness and urinary symptoms are common complaints.
Treatment for menopause depends on the severity of symptoms. The primary aim is to provide symptomatic relief. It may include lifestyle changes or hormone therapy and treatment of specific symptoms with non-hormonal medications. Lifestyle changes like avoiding caffeine, spicy food, eating soy products can reduce symptoms of menopause significantly. One must take plenty of calcium and vitamin D in food or supplements. Exercise, healthy diet and relaxation techniques help to maintain a healthy lifestyle in postmenopausal women. Any kind of physical activity is helpful, besides this, 30 to 40 minutes of weight-bearing exercise in a day is important.
Hormone replacement therapy (HRT) should be prescribed only after discussing the benefits and risks of hormone therapy with the woman.
Q. Can you give some tips to women for a healthy lifestyle?
A nutritious diet is an important component of good health. Folate supplements in reproductive years, protein-rich diet, iron and calcium supplements in pregnancy and post delivery are important to stay healthy and bear healthy offspring.  Women should also focus on pelvic floor exercises after a normal delivery, stress management by yoga and meditation, regular cervical screening, screening for breast cancer after 50 years, adequate calcium and vitamin D intake during perimenopause and weight-bearing exercises.
Message to the readers
"Don't ignore any abnormal symptom, perhaps your body is trying to tell you that something is not right. Remember that there is a time for everything; plan your pregnancy well in time. Consult your doctor to clarify doubts. Last but not least take good care of yourself so that you can take care of your family."