In Conversation with Dr Jamyang Gyalson, State Award winner in Literature
By
Tenzin Dajon
Leh, Apr 26, 2022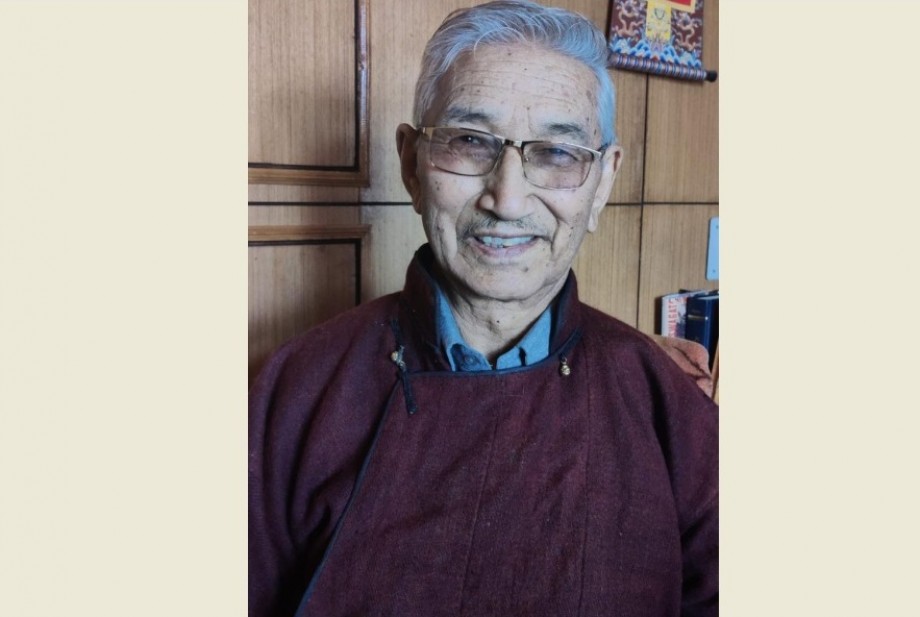 Leh :
Brief us about the history of Ladakh's literature? 
'Tsom-Rigs,' literature in Ladakh includes drama, poetry, grammar etc., which are further compartmentalized into ten fields of knowledge system. Most of our literature began in the eleventh century when Lotsawa Rinchen Zangpo came to Ladakh from Tibet. He built Nyarma Monastery in Thiksey village. His literary works are still available even today. Out of many disciples of Lotsawa Rinchen Zangpo, two of his students built Alchi Lakhang where they inscribed beautiful poetry on frescos (wall painting) which corroborates the existence of poetry in Ladakh back then. The field evolved with a rare poetic rendition at the beginning that later blossomed during the reigns of kings. Unfortunately, in the 18th century, these art/compositions were destroyed during the invasion of Zorawar Singh. Former sRas Rinpoche Lobzang Tsultim Chosphel was a scholar of RigNas. He studied in Tibet and wrote many literary works, which earned him the epithet 'the Pandita of Ladakh.' Lama Tsultim Nyima was a scholar of Nyanngak 'poetry' too. He built Rigzong Gonpa. As a contemporary of Zorawar Singh, he advised Zorawar not to invade Tibet as the country was very powerful then. But, the Dogra General didn't heed the advice and was later killed in Tibet.
In modern times many scholars like Late Tashi Rabgias left an indelible mark in the field of Ladakhi literature. In 1959, Bakula Rinpoche established CIBS to develop and promote the literature of Ladakh.
Q. We have seen that most of the authors are foreigners who wrote books on Ladakh. What reason do you see? 
There have been two reasons behind a few authors from Ladakh. First, the lack of capability and secondly financial assistance to write a book. Publishing a book is not a piece of cake; one has to print the book on self-expenditure after writing it. Therefore, due to lack of support from the government, and lack of market, it becomes difficult for a writer to write a book. The foreigners, on the other hand, have better opportunities and support either from his/her university or government for their work. Thus, we can see more books in English than in Bhoti or Ladakhi. 
However, compared to earlier times there are enough authors and writers in Ladakh. When I was young it was very difficult to find a person that could read, especially Umet (Tibetan script). Now besides English, there are many Bhoti teachers and writers. Even there are many youths that are quite good in the subject. We are very hopeful that in the days to come we will see many young writers and authors.
Q. There is a demand for the inclusion of the Bhoti language in the 8th Schedule of the Indian constitution. Are we prepared for that if it is fulfilled?
There can be little challenges in the beginning, but we are all ready. Bhoti is not yet an official language because of which we don't have many opportunities in getting jobs after learning it, except in a few departments like- Radio, DD, and Information Department. The subject is being taught in schools and monasteries from the first standard and once it becomes an official language, the youth will develop a heightened interest in it automatically. They can opt for Bhoti as an optional language in civil services examinations like UPSC and can give interviews in the language. Both hill councils and MP Ladakh is emphasising the inclusion of Bhoti under the 8th schedule and I think Govt of India will soon pass it in the parliament. 
Besides job opportunities, we must learn Bhoti as it is an inherent part of our culture. Basics of Bhoti should be learned by everyone, especially students doing master and PhD. The challenges are more in rural areas as they lack both infrastructure and faculties, but if our people and leaders work together then it can be easily sorted out. LBA says that within five years they will leave no one without a working knowledge of Bhoti. Adult education is being discussed in Leh. Language is the main pillar of culture. If a society loses its language, then it will also lose its culture. Many foreigners learn about Bhoti in Dharamshala for a reason. They know it is full of treasures like Rignas-Chu. 
Q. How do you see the reading culture of Ladakh?
It is a little disappointing. There are very few people who read newspapers or books on a regular basis and the number decreases further in the case of Bhoti readership. Even students are not reading much, they do just to pass the examinations. Students should read different kinds of books other than academic books as it will improve their personality. Our KanGyur- TenGyur is full of philosophy written by ancient Indian scholars like Gonbo Lundup. In the month of Tangpo (Holy month), these texts are read by the Buddhist community of Ladakh. In Leh, these texts are mostly read by people from Zanskar and Changthang because they started learning these texts before ABC in their villages as a part of tradition with their parents, especially in winter. The readership number is dismal in the cities. 
To develop literature the youth have a huge role to play. Cultural Academy has printed around 300 books on Ladakh on topics ranging from drama, songs, stories and many more that are available at an affordable price of just Rs.15-20. Youth must read these books and in fact, they must have their own library in their house. In this way, our roots will be strong, and we can tell the world about Ladakh. By creating awareness, we can develop the culture of reading in Ladakh.
Q. Brief us about the importance of CIBS in the promotion and preservation of Ladakh's literature? 
CIBS has been contributing to the promotion and preservation of our literature since its inception in 1959. Be it the newspaper of LBA, Ladakh SarGyur or the magazine of the Information Department, Ladakh Phonya, and all the major Bhoti publications from Ladakh are edited by CIBS. Many monastic schools are affiliated with it and most of the Bhoti teachers in Ladakh are from CIBS. In addition, it has produced personalities like Jamyang Tsering Namgyal, MP Ladakh, Rinchen Lamo, Member of Minority Commission, EC, Tashi Namgyal Yakzee and many more. Therefore, institutions like CIBS are not only an institution of education but also an institution of culture.
Message to the readers
"Bhoti is the root of our culture and literature and we must give effort for its promotion and preservation."