In conversation with Dolma Lhamo, Physiotherapist SNM Hospital, Leh
By
Stanzin Dasal
Leh, May 16, 2017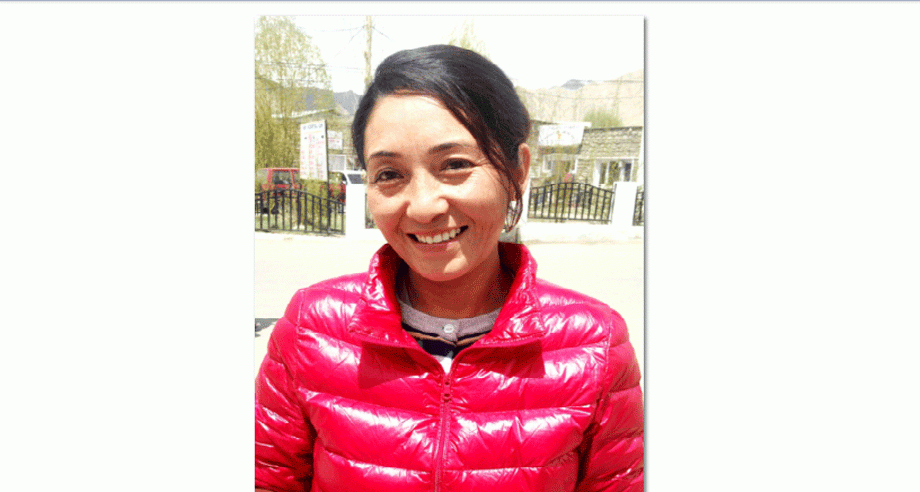 Leh :
Physiotherapy 'Freedom to function' a drug-free treatment practice to make one independent, live active and healthy life is becoming one of an important part of health care plan. 
Dolma Lhamo, Physiotherapist did her therapy course from Doon Paramedical College. In the year 2007, she joined SNM Hospital and is still serving.  In 2010, she worked with the Canadian team in a new pediatric unit for specially-abled children started by SNM Hospital for the very first time.
Q.  Can you begin by explaining what physiotherapy is?
Physiotherapy also is known as physical therapy helps people to keep the function, or regain the movement of the body which has been lost either through weakness, disease, trauma or injury. It is concerned with the development, restoration, and maintenance of body function and preventing disability. The exercise or the technique used depending on the patient helps in achieving a quality and normal life by strengthening the muscle.
The therapist works closely with physicians, surgeons, psychologist etc. while treating a patient.  The coordination helps in making the treatment successful.  We work in many areas like cardio-respiratory, orthopedics, neurology, pediatrics, women's health, seniors' health, and sports.
Q.  Who can seek the help of physiotherapy?
Physiotherapy is useful and helpful for the patient who needs physical strength and has been suffered from fractures or any kind of injury, seniors, disabled or chronically ill people.
The therapy is good for the patients with heart and lung disease, traumatic, workplace and athletic injuries, amputations, arthritic joints, stroke, brain injury, spinal cord and nerve injury, cancer and pre and post-surgical needs.
Q.  What are the different specialties in physiotherapy?
There are different speciality areas in physiotherapy such as Orthopedic, Neurological, Pediatric, Cardiac, Sports, Gynae.
Orthopedic Physical Therapy is for the people who have suffered injury or disease affecting the muscles, bones, ligaments or tendons of the body. It helps to recover from orthopedic surgery.
The neurological physical therapist helps the one who has a neurological disorder or disease such as, stroke, spinal cord injury, brain injury, cerebral palsy,  paralysis, vision impairment, poor balance, difficulty walking.
Pediatric physical therapy assists infants, children, and adolescents with a variety of injuries, disorders, and diseases that affect the muscles, bones, and joints. Physiotherapy in Obstetrics and Gynaecology treats problems related to pregnancy, osteoporosis, pelvic floor and other women related disorders. 
Q.  What are the different techniques used by the therapist while treating a patient?
We generally use exercise and electrotherapy technique while treating a patient. The technique is applied as per individual needs.  In exercises, we teach the basic exercise such as muscle strengthening, stretching, breathing, posture retraining whereas, in electrotherapy, we use machines and equipment. The machines are generally prescribed to the one who has severe pain and after the relief exercise is recommended. 
Q. Could you tell us about the lower back pain and knee problem? How common is it in Ladakh and what are the causes?
Yes, lower back pain and knee problem are very much common in Ladakh nowadays. This seems to be generally because of the change in lifestyle.  It is basically caused because of the poor posture, overweight, repetitive work-related activities and incorrect technique. Also, we don't have the habit of drinking milk and proper diet. The geographical condition of our place is one of the reasons for the pain and the causes of the complication. And most people when they get aged they don't use the walking stick support which is very much important. 
Ignorance and carelessness are also an issue because many people don't go for the treatment in the first place. They just wait and consult doctors or seek help very late. 
People are less health conscious and hardly prefer to take time out for their fitness and gets engaged in work and daily activities. 
Q.  Tell us about the scope and progress of Physiotherapy profession in Ladakh?
In 2007, when I first came to serve in this field I found that it was very new to the people and hardly anyone was aware of it.  The specialist and doctors also recommend the patient for physical therapy along with the treatment because earlier people used to just take the medication. For e.g. If somebody suffers from fractures after the plaster or operation they don't really prefer for physical therapy at the right time thus, causing stiffness and difficulty in movement. 
Nowadays, people are aware as compared to early days. It was during our start we have initiated the therapy with the specially-abled children. That was a time when people are reluctant to bring them out now the mentality is changed and it is not like before. 
At present in SNM hospital, we are 4 in total so with time it is improving and increasing.
Q.  Physiotherapist is a very new thing in Ladakh. Do they seek timely help from the therapist if something happens?
Like I said before, with time people understand the importance of Physiotherapy but still, we need more awareness. Many times they don't really take it seriously and are irregular.  They just come when it becomes too serious and in severe pain.  The irregularity and untimely assistance approach nature are often seen among our people.
Q. What kinds of problem are mostly seen among the people of Ladakh? Reason
Osteoarthritis, Low back pain, knee problem, frozen shoulder, and fractures are very common.  Problems like osteoarthritis, low back pain and knee are caused or seen mainly because of the change in lifestyle, weather and geographical condition.
Q. What is women's health physical therapy and how important it is?
Women health physical therapy helps pregnant women prepare for an easier delivery and preventing complications also after the delivery, pelvic pain, frequent urination, loss of bowel/bladder control when coughing, laughing or sneezing. This therapy is important for a pregnant woman physical preparation for labour like positions, breathing techniques etc. and also after the delivery in treating low back pain, abdomen and all. 
Definitely, it is very important for quality and healthy lifestyle.
Q.  How effective physiotherapy is for a patient to manage pain and prevent disease?
Physiotherapy is included in the treatment plan of a patient.  In maximum cases, it is considered very effective because it improves the recovery condition, movement, and strengthening of the body. This will also help in preventing further injury. It pushes the patent from limitation thus motivating to be independent, confident and relaxed. The result will definitely take time because you can't get an instant result just after one or two seating. For the 100% result, we need cooperation, support and teamwork of doctors, therapist, patient and family members.
Q. How important is diet and weight when trying to avoid muscle and joint problems?
Knee problem, in general, can be caused because of overweight.  Weight management and proper diet are very important to be healthy.  After 40, we should intake calcium and multivitamins tablet. Drink milk and avoid oily foods and red meat.  If anyone is suffering from such a problem or in general try to wearing proper comfortable shoes during the daily routine. One should avoid wearing high heels if they have knee and back problem.
Q.  What advice would you give to people if they feel back or knee pain-should they get help at once from the physio?
For knee and the low back problem I would like to highlight a few precautionary measures:
1.   Use appropriate mattresses for the bed like the simple cotton one.  Avoid using the low-quality Dunlop which is available abundantly.
2.    Avoid lifting heavy things. Carry heavy things in an appropriate way without pressuring instantly on the back.
3.    Exercise regularly.
4.    Correct sitting posture.
5.    Use railing of the stairs for support.
6.    Proper and healthy diet.
7.    Increase water intake.
8.    Consult the doctors on time if there is any kind of pain or complications.
Message to the reader
Along with daily work and activities take time for yourself. Physical fitness is an utmost importance to achieve anything in life. A proper healthy diet, maximum water intake, and regular exercise are the prerequisite to be safe, sound and happy.