In Conversation with Ghulam Mehdi Ashoor, Executive Councillor, LAHDC, Leh
By
Tenzin Dajon
Leh, Dec 01, 2021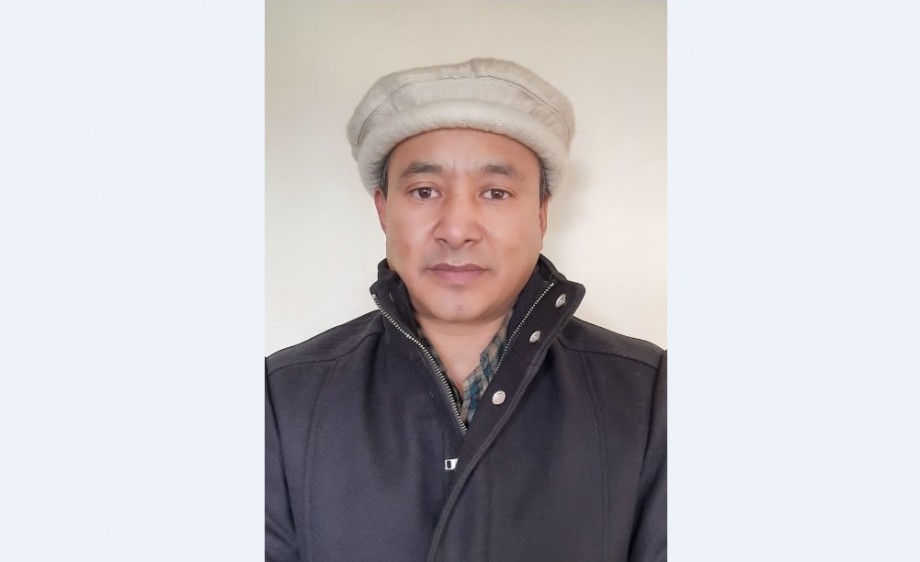 Leh :
Q. You hold various portfolios like the forest, minority affairs, horticulture, soil conservation, and fisheries, etc. Which is the most focused and priority area?
All departments which fall under my portfolio are developing at a good pace. Each sector is very important and I am focusing on every sector equally.  The local artists and artisans have plenty of opportunities in the Handicraft and Handloom sectors whereas the Horticulture sector in Ladakh is lucrative and commercially successful. Ladakh is endowed with globally distinct coldwater resources and aquatic biodiversity. The fishery sector has enormous scope to provide sustainable and remunerative employment opportunities and nutritional security in the region. And under minority affairs, we try to act as a bridge to guide or help minorities to avail various benefits in government schemes. Thus, all the sectors are important and equal focus is given to each sector. Fortunately, under the UT setup, it has become easy to implement any scheme because of sufficient funds.
Q. Brief us about the steps being taken by the Council to solve the issue of unemployment. Share with us the data of unemployed youth and vacancies available.
Unemployment is a serious issue faced everywhere. Because of the COVID pandemic and bifurcation of J&K state into two Union Territories, many posts such as Panchayat Account Assistant, forest guard, and wildlife forest guard, etc were held pending.  Now things are getting sorted with time and the above posts are all filled.  After bifurcation, the concern regarding job security was many but now the residence certificates (RC)  are being issued and have secured jobs for the educated youths of Ladakh which is a big achievement. The jobs notified under DSSRB will be only for the youths of Ladakh. In addition, LAHDC is working day and night to create more young entrepreneurs to solve the problem of unemployment. 
As of now, around 2783 unemployed youth are registered in the employment department. I would say more youth should register themselves so that it could help the administration and council in planning and solving the issue.
Q. Fisheriesis one of the potential sectors in Ladakh. Brief us about the steps being taken to promote fish production?
Consumption of fish products in Ladakh is more than the supply because of the number of hotels and restaurants. The demands of fish are met by importing fish from J&K. The fish seed is being procured from Srinagar as it is not available in Ladakh. Transportation of fish seed is organised in oxygenated tanks which incur a huge sum of money and often the livestock suffer huge mortality during this process. Thus, a limited quantity of fish seed is being supplied to the department which is not sufficient to cater to the demand. Last year we had successfully set up a fish hatchery in Ladakh, around 5000 fish in Chushot and 8000 in Nubra. We have plenty of opportunities in the sector and if youths come forward then definitely we will not only fulfill the demand but will also help in reducing the issue of unemployment to some extent. The ponds are given by the council and the feeds are also provided at a subsidized rate.
To promote fish culture in the private sector financial assistance to the aspirants is provided. Recently we have sanctioned Rs. 6 crores to expand existing fish farms and to build new fish farms and feed mills. 
Q. Ladakh has enough potential in horticulture and we even did debut in export with apricot to Dubai. Brief us about the challenges and potential in the export of horticulture produce. 
We used to do small businesses in horticulture during the time of our great grandparents. The time has changed now, Ladakh has huge potential in the horticulture sector. Like apricot, we can also export apples to the International market. No one can question the quality of our apple. In the early 80s government of the erstwhile state, J&K banned Ladakh's apple in the name of codling moth. After the bifurcation, the ban has been removed. In the coming days, we will be exporting our apple to the international market like Kashmiri apple with farmer's cooperation. Ladakh's Apricot has huge potential and to boost marketing we have distributed 350 drier machines costing around 2.5 lakh of which only Rs. 26000 is paid by the buyers and the rest by the government to boost export. Within a short time, we will be able to compete in the international market. 
By 2025 Ladakh will be an organic state. Soon we are going to get GI (Geographical indication) tag for Raktse Karpo ( Apricot)  as it is found only in Ladakh. Similarly, sea buckthorn will also get a GI tag. Both the products fulfill all the conditions required to get the GI tag. Later we can export them at a huge level. 
Q. You are also the councilor of the Turtuk constituency,  a border area. What are your achievements and also brief us about your future developmental projects for the region?
Turtuk includes Bogdang, Chalungkha, Changmar, Garadi, Tyakshi and Thang. Each region is connected with macadamized road, 24X7 electricity, and telecommunication service. Many roads and bridges are under construction along with telecommunication works in Tyakshi and Thang villages. In a nutshell, each region of Turtuk has been sanctioned with a mobile tower. 
Turtuk Hanu road was one of the oldest demands of the region and I had been seeing our elders demanding it since my childhood. I had also kept it in my manifesto. Now it has been sanctioned, which is big news for the region. It will not only ease the movement but will boost the region's economy and attract more tourists.
We have organised the Apricot Blossom festival in collaboration with the UT administration to promote apricot. To boost tourism, Turtuk 50 Years was also celebrated from September 22 to 25 with great pomp and show. Around 200 artists came from outside Ladakh. Hill Council is working sincerely to make Turtuk a tourist destination. 

Message to the readers
"I would like to appreciate Reach Ladakh for actively bridging the gap between government and the public. In two years of UT set up, we have achieved many milestones despite the COVID-19  pandemic and other challenges. Hill Council is focussed to develop rural areas and is working sincerely in different sectors for the welfare of people."