Sixth Schedule
By
Tsering Dolker
Leh, Nov 30, 2019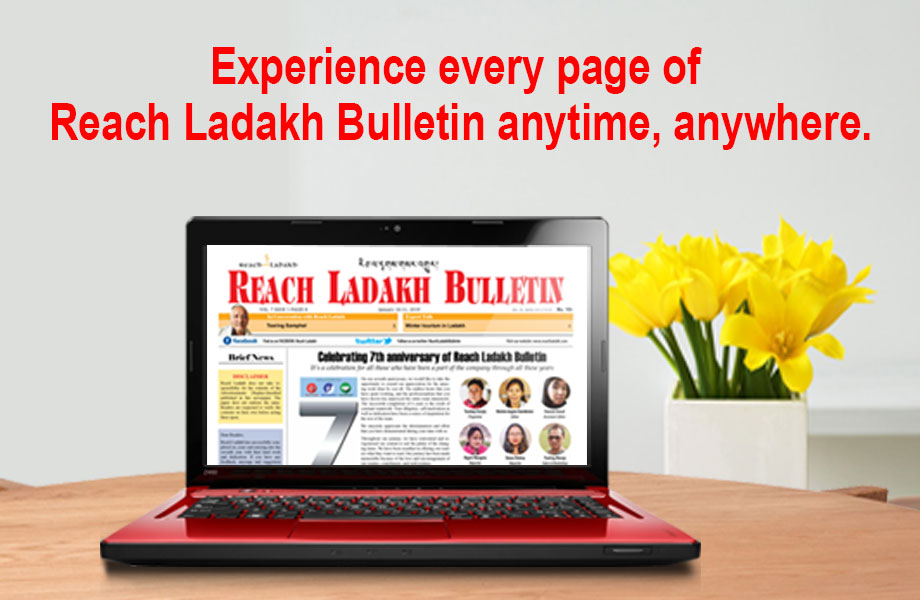 Leh :
Disket Angmo, Environmental Lawyer: The Sixth Schedule provides autonomy to the tribal population through a simple administrative set up that helps to preserve their tribal customs, their way of life and their identity, and their autonomy at managing affairs that are best understood by them.
The spirit of the Sixth Schedule in this manner reflects the aspirations and determinations of the framers of the Constitution to provide the nation's tribal population with the right to preserve and maintain their identities and their autonomy that will help them develop politically, socially and economically as per their desires.
The mere inclusion of Ladakh within the Sixth Schedule of the Indian Constitution will not help in ensuring land or environment safeguards. The Sixth Schedule does not include legislative power over locally crucial subjects such as land transfer, environment, tourism or natural resources. The Sixth Schedule is therefore deficient to this extent and requires a considerate amendment to include locally crucial subjects.
The Ladakh Autonomous Hill Development Councils (LAHDCs) have been vested with power over various matters like it can take administrative decisions on land, development schemes and plans, budget, employment, promotion of language and culture, public health, watercourses, roads, environment, education and more. However, its powers are only limited to executive powers (Section 23, LAHDC Act, 1997). This means that the LAHDCs can only act as an administrator to carry out and manage developmental and other matters listed in the LAHDC Act, 1997.
 
While executive powers are important to ensure execution and implementation of action on the ground, they do not empower the Hill Councils to make laws (apart from bye-laws) to ensure preservation and safeguards. Their ( LAHDC Leh and Kargil) powers are therefore limited to this extent. 
With respect to the land, all government land (Section 2 (n) of Ladakh Autonomous Hill Development Councils Act, 1997) is transferred to the Council. The Council has the right to decide upon the allotment and use of these government lands. However, it cannot make any laws with the decision of laying down restrictions upon the use or transfer of any land. For example, it can pass directions to build cultural and language centres to promote the same but cannot make laws stating that land cannot be sold to non-domiciles to ensure that influx does not affect culture and language.
The LAHDC, therefore, can initiate action to promote language, environment, and culture but it does not have the power to make regulations to ensure the preservation of the same.
Importance of the sixth schedule for Ladakh
It is extremely crucial for Ladakh region owing to its very distinct nature. The problem faced in the region and the solutions pursued are equally different, which required an in-depth understanding of the region and its people.
This can perhaps only be ensured by a body consisting of local members who understand the region, its people, geography, ecology, needs, and problems. Sixth Schedule could, therefore, be a means towards this.
Furthermore, a region like Ladakh, while rich in heritage, culture, and tradition, is a threatened minority with a population of mere 2.7 Lakh of which 97% is tribal, in its home country India and the world. Its rich heritage and identity, therefore, require safeguards to ensure not to lose in the process of 'modernization'. 
Ladakh without Sixth Schedule
Absence of Sixth Schedule or any measure which provide autonomy, through both legislative and executive power, will somewhere affect the contextual development of the region and will endanger the preservation of tribal identity, custom and environment.
At present Ladakh is a Union Territory and is therefore governed and administered directly by the Centre. This would mean that all decisions for Ladakh will be taken by an administration that is neither based here nor composed of people who understand the region, its people, its geography or its environment. While the Ladakh Autonomous Hill Development Councils (LAHDCs) have been retained, their powers are only limited to executive or administrative actions that are not enough to safeguard subjects of local importance.
 Solutions:
Inclusion of Ladakh within the Sixth Schedule of the Indian Constitution  
Recognition of the existing Hill Councils as Autonomous District Councils which is envisaged in the Sixth Schedule.
If entertained, this would mean that the LAHDC would (i) be constitutionally recognised, and (ii) would be endowed with legislative and judicial powers along with executive powers. This will allow the LAHDC to implement actions to promote environment, language, culture, etc. also to make regulations to ensure the preservation of the same. 
Nasir Shabani, Assistant Professor, Government Degree College Kargil: There are fears that there will be a massive influx of trade, industry, and commerce as well as of people who are alien to the cultural, religious and traditional ethos of Ladakhis which they have upheld for centuries.
Ladakh's ecology is very fragile. Rapid industrialization and increasing population will adversely impact the socio-cultural fabric. A narrow population of around 300 thousand [h1] will be exposed to minority risk unless land ownership and employment rights are protected. Government and defence jobs are the only service industry available to Ladakhis which provides maximum employment opportunities. All these concerns of the people need to be safeguarded within the ambit of the constitution.
 
In a Union Territory, there will be better administrative control, economic prosperity, and accessibility but due to the distinctiveness of the region, both the districts must work together to chalk out the modalities so that many reservations, as well as safeguards which were available to our region under Article 370, could be the part of the Union Territory of Ladakh. Under the constitution of India, many other States, as well as Union Territories, are conferred with such provisions to safeguard their distinct identity and culture. 
Article 244 in Part X of the Constitution envisages a special system of administration for certain areas as designated as 'Scheduled Areas' and 'Tribal Areas'. These areas are treated differently by the constitution and sizeable amount of autonomy has been given to the people for self-governance. Presently the four tribal areas i.e, Assam, Meghalaya, Tripura and Mizoram have been constituted autonomous districts of similar nature of Ladakh Autonomous Hill Development Council and enjoy privileges and safeguards so that their cultural and tribal distinctiveness remain protected.
 
In regard to land, which is the biggest concern of the people of Ladakh, the Sixth Schedule states as: the allotment, occupation or use or the setting apart, of land, other than any land which is reserved forest for the purposes of agriculture or grazing or for residential or other non agricultural purposes likely to promote interests of the inhabitants of any village or town, administer the areas under their jurisdiction.
Solution:
Shifting of Autonomous District Council to Regional Council under Union Territory Ladakh will be a milestone in promoting coexistence among different cultural, religious and linguistic identities of the region.
The district or regional Councils shall have the power to make laws on certain specified matters like land, forests, canal water, shifting cultivation, village administration, the inheritance of property, can construct or manage primary schools, dispensaries, market, roads and so on. And are empowered to assess and collect land revenue and to impose certain specified taxes.
Both the Autonomous Councils must coordinate and collectively put forth the demand for strengthening the existing LAHDC Act and inclusion of the above provisions.