Protect Our Species
By
Dawa Dolma
Leh, May 11, 2019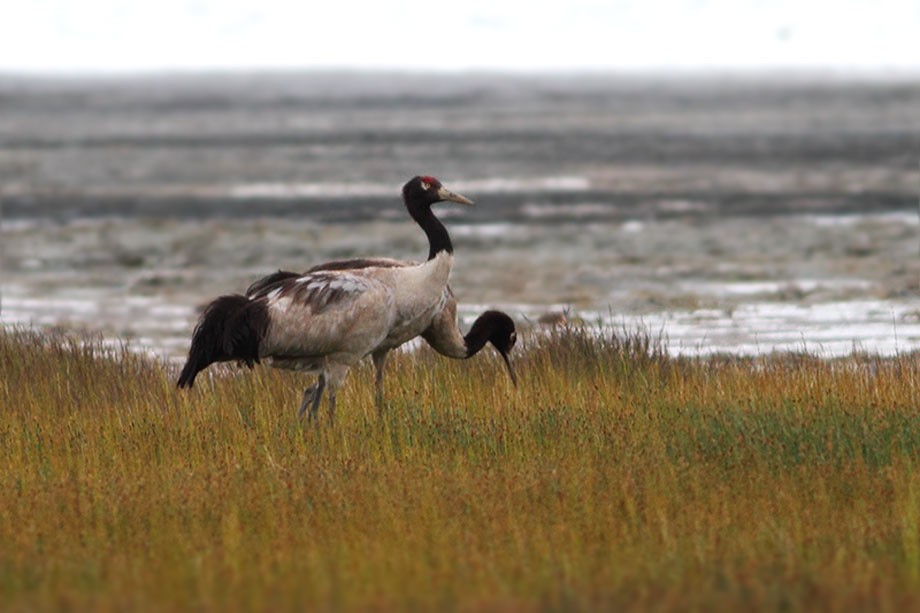 Leh :
Dr Tsewang Namgail, Director of Snow Leopard Conservancy India Trust: Snow Leopard Conservancy India Trust (SLC-IT) came into existence in the year of 2003, mostly in response to the growing conflict between snow leopards and humans. The conflict is largely in the form of snow leopard getting into livestock pens and killing a large number of domestic animals like sheep and goats. The organization is working not only for snow leopard conservation but also for the welfare of the overall mountain ecosystem of Ladakh.
The non-profit organization operates several conservation programs; Workshops/awareness programs to educate people about eco-system services provided by wildlife and the role of wildlife in maintaining an ecological balance in the region, research to understand the population and ecology of various wild animals by using cutting edge methods like camera traps, global positioning system, remote sensing, etc. The livelihood improvement programs include the award-winning Himalayan Home-stay giving income generation opportunities to people living in the remotest parts of Ladakh, empowering women and providing job opportunities to unemployed youths and school drop-outs, handicraft developmental program, eco-friendly initiatives such as eco-cafes and eco shower facilities that help in promoting eco-tourism in Ladakh.  
Geographically, Ladakh is a very isolated area with low primary productivity, but surprisingly, it has a very diverse group of wild flora and fauna including some of the most threatened and charismatic species like snow leopard and wild yak. Despite the thin air and high aridity, Ladakh has more than 34 species of mammals, more than 320 species of birds and over 10 species of reptiles. There are over 1000 vascular plants, most of which have medicinal values. 
Unprecedented human developmental activities, resulting in climate change and global warming have an adverse effect on nature, wildlife and ecology of Ladakh. Extinction rate of flora and fauna is rising all over the world. In Ladakh, various mammals and birds are under the threat of local extinction. Tibetan antelope, Wild Yak, Ladakh urial, Tibetan argali, and Tibetan gazelle to name a few are on the verge of local extinction. Birds in Ladakh are mostly migratory in nature as they move seasonally between their breeding and wintering areas. Black-necked Crane is an elegant bird and is the state bird of Jammu and Kashmir, but its population is declining fast. There are several other highly threatened birds such as Egyptian vulture, a raptor visiting Ladakh in limited numbers, is listed as an endangered species on International Union for Conservation of Nature and Natural Resources. 
The causes of the declining numbers of wild animals in Ladakh haven't research adequately. Overgrazing and competition with domestic sheep and goats have been implicated as the primary reason for the declining population of several wild animals like Tibetan gazelle, Tibetan argali and Tibetan antelope. The nomadic herders in the eastern part of Ladakh have been increasing the number of Pashmina goats in response to the growing demand for the fibre. If the current rate of population growth of domestic livestock continues, then the entire grazing system in the region might collapse, leading to desertification.
There are several other threats to wild animals in Ladakh. The biggest of them all is free-ranging dogs. The populations of these dogs have been growing exponentially over the last decade or so. There are organizations working to reduce the menace of stray dogs, although they focus primarily on sterilization, considered by them to be the most effective solution. Well, sterilization can control the population of these canines but only when we spay and neuter over 80% of the dog population. The long-term solution is the management of wet waste engendered by the rapid growth of mass tourism. 
Unregulated tourism is threatening wildlife in an unprecedented way. Tourism has both a direct and indirect impact on wildlife. Everyone knows about the menace of feeding wild animals by thoughtless and insensitive tourists. Feeding of wild animals can make the critters fat and prone to diseases as their digestive system is not designed to digest modern human food characterized by high fat and sugar content. Trashing of wildlife habitat with plastic and other pollutants is rampant. These wastes will ultimately harm wild animals as these pollutants contaminate water. Air pollution also harms wild animals in various ways.
Solution: 
•Having a proper wet waste management system in places of stray dogs. SLC-IT is currently developing a prototype of a biogas digester, which can help in managing the kitchen waste and producing gas for the kitchen. 
•Reviving and revitalizing our rich value system characterized by compassion and deep respect for Mother Nature. 
•Putting a cap on our aspirations and letting economic well-being translate into human well-being. 
•Responding to moral and social incentives in addition to economic incentives. 
•Introducing wildlife conservation and ecotourism in the school curriculum so that children can develop conservation and travel ethics early on in their lives. 
Dr Pankaj Chandan, Team Leader of WWF- Leh: World Wide Fund for Nature is an international organization working for nature conservation by condensing degradation of the planet's natural environment and building a future in which humans' lives in harmony with nature. WWF – India works with varied groups of individuals and institutions across different sections of society to take forward the agenda of environmental protection. 
The organization has created its mission to conserve the world's biological diversity, to ensure the use of renewable natural resources in a sustainable way, and to promote the reduction of pollution and wasteful consumption. 
Ladakh is famous not only in India but across the globe for its unique wildlife and its Trans-Himalayan landscape. So far WWF has recorded more than 30 species of mammals and about 280 species of birds of Ladakh, and are recorded through field surveys using various wildlife census techniques. They include the iconic mammal species like snow leopard, Eurasian otter, lynx, Himalayan brown bear and Asiatic ibex. The wetlands of Ladakh are also for known breeding grounds of the iconic species like Black-necked Crane and Bar-headed Goose. Other bird species are found in Ladakh such as upland buzzard and Saker falcon. 
Since Ladakh is part of the Trans-Himalayan region which is highly vulnerable to the impacts of climate change. However, currently, there is no data to conclude that certain wildlife of Ladakh is facing the threat of extinction as a result of climate change. Yet, the aquatic animals are of higher risk from emerging threat of climate change like Black-necked crane and Eurasian otters. To avoid such risk, it is crucial to protect each and every nesting site of cranes in Ladakh. 
Unplanned and unregulated developmental activities not only in Ladakh but across the globe are the main causes of climate change. Such impacts are now becoming more visible in Ladakh especially when there was limited rangeland in the pastures last year due to extreme drought. Sudden heavy snowfall in Changthang killed a large number of Pashmina goats at Tsokar and nearby areas in March 2019.
Solution:
•The only way to protect our unique species is to work together and to raise awareness among people about the importance of unique wildlife species.
•All the key stakeholders like Government departments, Indian army, ITBP, NGO's, local communities and local educational institutions must come together to conservation efforts.
•To ensure tourists to properly regulate wildlife habitat without any negative consequences to the environment. 
•Working together to protect all the wildlife species of Ladakh should be our main pledge during Earth Day 2019.