Wildlife Week: WCBCL organises photo exhibition on Ladakh's birds and mammals
Aims to create awareness about the wildlife of Ladakh  
By
Tenzin Dajon
Leh, Oct 09, 2021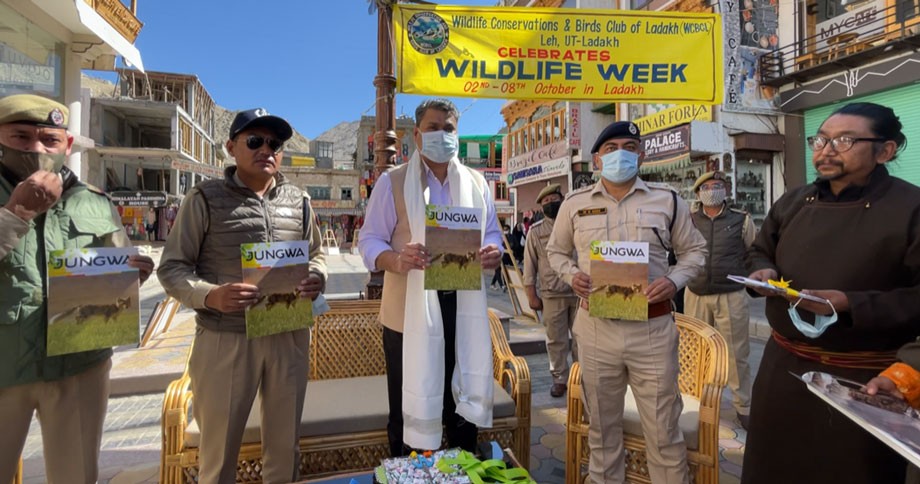 Leh :
Celebrating Wildlife week, Wildlife Conservation & Birds Club of Ladakh (WCBCL) organised a photo exhibition on Ladakh's birds and mammals in the main market, Leh, on October 7 and 8.
 
The second edition of the magazine 'Jungwa' based on wildlife of Ladakh was also launched during the inaugural day by S.S Khandare, ADGP Ladakh Police.
 
S.S Khandare, ADGP said, "Ladakh is very rich in wildlife. Many rare and endangered species are found in Ladakh. Also, many migratory birds visit Ladakh for a limited period. I hope such exhibitions will help in creating awareness among the locals and tourists regarding the wildlife of Ladakh. Conservation is only possible if we can create awareness among the people."
He congratulated WCBCL for organising the exhibition as it will prove helpful in the preservation of wildlife.
 
Lobzang Visuddha, President WCBCL said that India is celebrating the 67th Wildlife week, but we have been celebrating the week for the last four years in Ladakh. He said that the exhibition becomes more important to make people aware of the wildlife found in Ladakh and its importance. 
Talking about the ADGP's interest in wildlife and its conservation, Lobzang Visuddha said that the ADGP Ladakh Police showed interest in providing training to Ladakh Tourist Police personnel in wildlife. 
 
Tsewang Dorjay Daya, General Secretary, WCBCL informed about the  Jungle magazine.  He said that the magazines will be available in all stationeries and also informed that they have given 30 days of wildlife training to 25 students in collaboration with UNDP. A book was compiled on the training which was also inaugurated by the ADGP and is available for free distribution for the participants.