Weeklong Super Speciality Medical Camp begins in Leh
By
Reach Ladakh Correspondent
Leh, Sep 30, 2019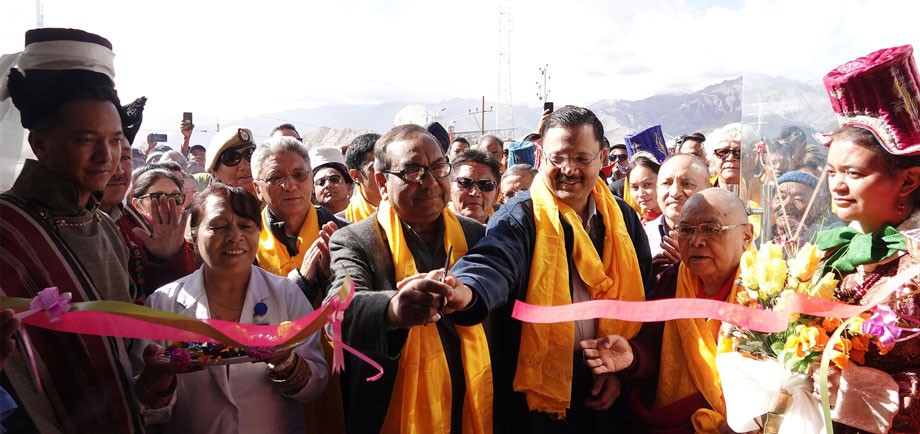 Leh :
 To provide specialised health services to the people of Ladakh, a weeklong Super Speciality Medical Camp begins in Leh on September 30 at SNM hospital, Leh. 
This camp is organised by  Ashoka Mission in collaboration with Sonam Norbu Memorial Hospital Leh and Medical Social Service Association. 
Headed by Founder Ashoka Mission, Lama Lobzang Kaau, around 25 Super Specialist doctors including Gastroentrerology, Neurology, CTVS, Cardiology, Neurosurgery, Dermatology, Oncology, Plastic Surgery RML, Nephrology, Endocrinology, Medicine, SR AIIMS, Orthopedic, General Surgery, Surgery of Oncology, Urology, ENT Head & Neck Surgery, Obstetrics & Gynecology, Pain Clinic RCM, Pulmonary Medicine & Sleep disorder etc from AIIMS, New Delhi have come to Leh and started with consultation, treatment and medication.
The doctors were given a warm reception by the medical staff. 
Dr. Tsering Samphel, Medical Superintendent welcoming the Doctors said that their visit to Leh for such medical camp will be highly beneficial to the local patients. He made a special mention of Lama Lobzang and Tashi Motup Kau for bringing super specialists to Leh and their goodwill gesture towards poor and needy patients of Ladakh.
Lama Lobzang said that organising this medical camp has been made possible by the concern and loving attitude of the doctors from AIIMS towards the Ladakhi people. He said that most of the people in Ladakh are financially poor which makes availing expensive treatment outside Ladakh difficult for them. 
Recalling the initial years when this medical camp was started in Ladakh with doctors like Dr. Sampat and other that has now become an annual feature to the cause of local patients in need of specialised consultation and treatment. He added that those Ladakhis who go to AIIMS have been receiving special attention from the doctors with access to best and easy facilities.
Lama Lobzang appealed the Super Specialists to continue similar gesture with Ladakhi patients in future considering the unusual difficulties and challenges faced by the people of this region. 
He also urged the Doctors to try their best to ensure that no patient remain unattended. He also praised Tashi Motup Kau for his active role in holding this medical camp in Leh since last few years and also appreciate the contribution of Ladakh Medical Service Association for their great health services to the people of Ladakh.
Dr. Praveen Vashist said that Ladakh has high UV radiation; the RP Centre is conducting a comprehensive research programme to examine 800 people randomly by house to house visit which will establish the fact whether UV affecting the eyes of people in Ladakh. 
Dr. Anup Sarai, expressed immense pleasure over attending the camp regularly. He said that the other purpose of their visit is for capacity building of local doctors to ensure better health services to the people of this remote region.