Week-long road safety programme concludes in Leh
By
Reach Ladakh Correspondent
Leh, Feb 11, 2019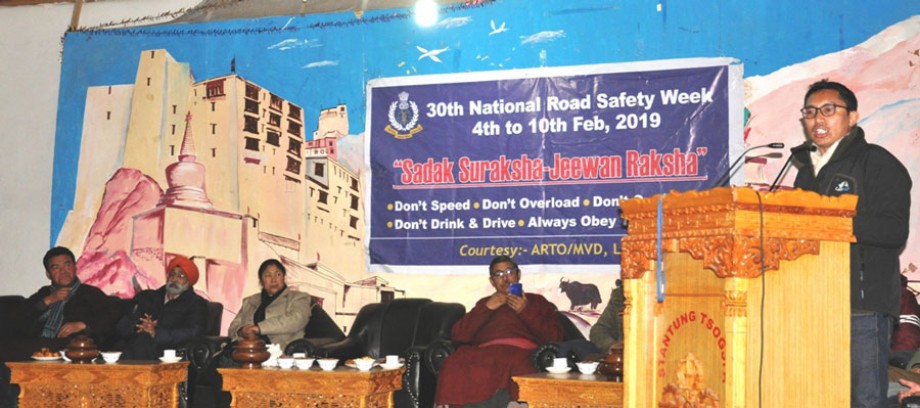 Leh :
The 30th road safety week themed 'Sadak Suraksha Jeewan Raksha' concluded on February 10.
It was organised by the Motor Vehicle Department, Leh in collaboration of All Ladakh Transports Union, Leh, All Motors Vehicle Dealers of Leh and Mars Pollution.
The week-long road safety programme conducted vehicle rally, awareness campaigns, street drama, painting competition at the school level, culture programme etc. 
Jamyang Tsering Namgyal, CEC, chief guest on behalf of the people extended gratitude to the people who have actively participated in the week-long awareness programme and made it beneficial in terms of safety and security for all. 
He also appealed to wear helmet, use of seat belt and prevent over-speeding and drunken driving and to avoid the use of mobile phone while driving. He advised motor drivers to drive cautiously following the standing rules and regulations of road safety, saying that a huge responsibility lies on them to take every possible deterrent measures to protect human life on the roads. 
Also, he urged upon the drivers to check their vehicle on a regular basis so that eventuality of road accidents can be minimized. 
Spalzes Angmo, Secretary District Legal Service Authority, Leh, Deputy SP,  Ishtyaq Kacho, Sonam Dorjey, Dy. SP, SDRF and the resource persons highlighted the road safety measures and traffic rules and regulations.
Abdul Hamid, Inspector, Motor Vehicle Department gave a detailed summary of the objective of National Road Safety Week and highlighted the traffic rules and regulations. A skit was also presented on road safety.
Prizes were distributed to the winner of painting competition, professional drivers under different categories of vehicles, students and artists who took part in the skit.