Vegetable-cum-Flower expo held in Leh
By
Reach Ladakh Correspondent
Leh, Sep 07, 2019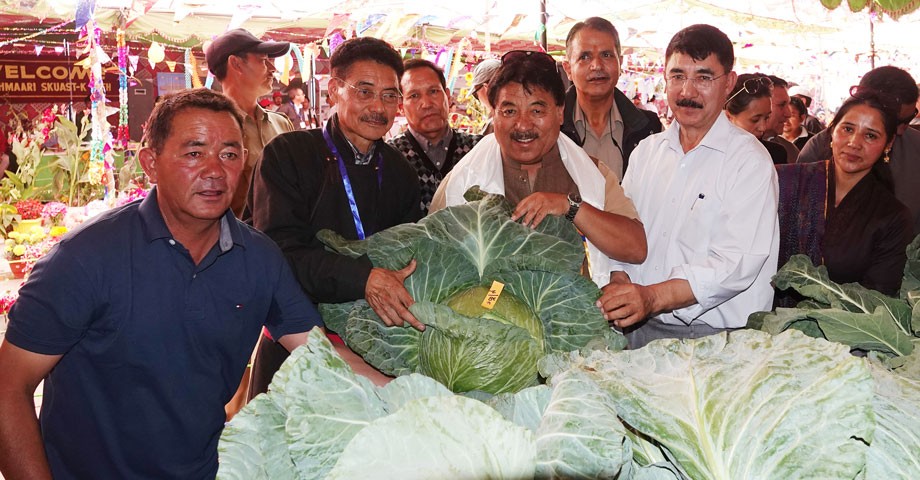 Leh :
Varieties of vegetables, fruits and flowers grown by local farmers was exhibited during the Vegetables-cum-Flowers Expo, 2019 on September 6 at Indoor Stadium, Leh.
Gyal P Wangyal, CEC, LAHDC, Leh inaugurated the exhibition.
Gyal P Wangyal said that agriculture has always been the priority sector of Hill Council and the project of making Leh district organic by 2025 is an important mission of Hill Council. He said that with the organic products and proper marketing the income of the farmers will increase manifold.
Talking about the Buckwheat production which has a high demand and price in the national and international market, he stressed on the need to increase the cultivation of buckwheat for commercial purposes. Also, he stressed on the need to develop mushroom production in Leh and create more awareness among the public at all levels.
Remembering Former CEC, Late Dr. Sonam Dawa initiative to grow Juniper using scientific technology, Gyal informed that Himalayan Forest Research Institute, Shimla is working on it with their laboratory set up in Leh.
He further urged parents to encourage and support their children in advance farming providing them with modern equipments to make field works interesting for them. He also instructed Agriculture Department to provide adequate seeds to the farmers and to work on providing them with alternative manure in place of chemical fertilizers.
Satya Prakash Negi, IFS Conservator of Forest, HFRI, Shimla talked about their success with 70% germination of Juniper seeds in Himachal with the use of seed technology and artificial regeneration technique.
He said that they are using similar technique with local species of Juniper in Leh and once the result is positive they in collaboration with Forest Division, Leh will introduce it for the public. Also, he highlighted the potential of medicinal plants in Ladakh and informed about a project taken up with Sowa Rigpa to research on medicinal plants in Leh.
Tashi Tsetan, Chief Agriculture Officer highlighted the schemes, technological and other agro facilities given to farmers and the achievements of the department.
He apprised about the profitable production of high yielding peas and rajma with vacuum pack and the need to promote florist and mushroom production.
Talking about the Mission Organic 2025, he informed about that it will start with around 25 identified villages in the first phase.