Tributes pour in on Sonam Wangyal's 22nd death anniversary
By
Konchok Norboo
Leh, Nov 10, 2020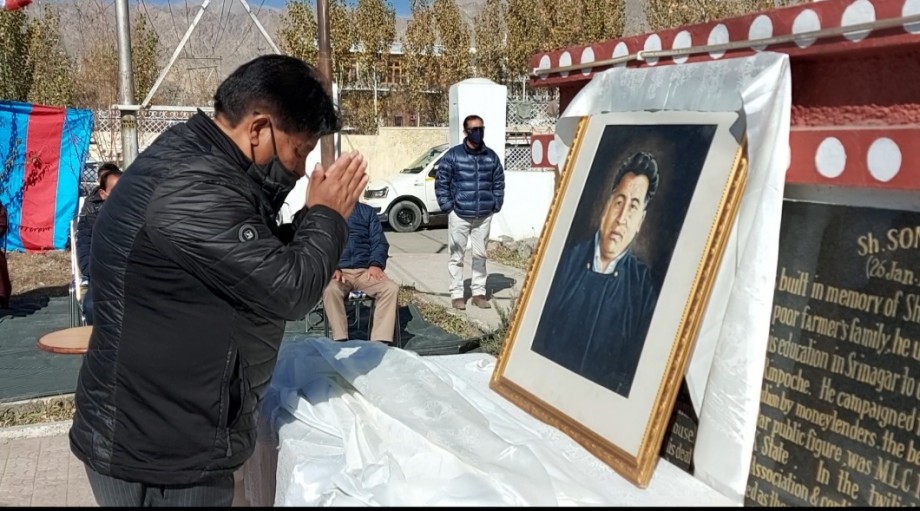 Leh :
On the 22nd death anniversary of Former Minister, Late Sonam Wangyal, rich tribute was paid at his Memorial stupa on November 10. 
A book ' Remembering the Life of Sonam Wangyal was also released. The commemoration day was organised by Aba Sonam Wangyal Memorial Society. 
Recalling Late Sonam Wangyal contribution to society, PT Kunzang, Convenor, Aba Sonam Wangyal Memorial Society said, "During the era when education hadn't touched Ladakh, and the region was going through the plight, young Sonam strived to bring education here to enlighten the people to free them from the abuse of money lenders and biased government officials".
He said that Late Sonam  Wangyal earned his name with his efforts and became the public's voice. He became Kushok Bakula Rinpoche's personal assistant and later emerged as the political leader and minister, benefiting the public as much he could. 
"On behalf of the society and Ladakh we have recommended the UT administration to recognize Late Sonam Wamgyal with Kabir Award", he informed.
Advocate, Thinles Angmo on behalf of the Wangyal family and the Society thanked the dignitaries and everyone for their warm presence. She as a daughter gave a brief on the Late Wangyal. She said that among all the morals he gave, he always emphasized on telling that how menial a job is one should put their maximum effort in doing it, one should never shy or be afraid of practicing its rights against unfairness and his opinion particularly on education, stressing more on girls. 
Later,  on behalf of the Aba Sonam Wangyal Memorial Society face masks and foot operative sanitizers were donated to the staff and students of E.J.M college. A book on Late Sonam Wangyal was presented for the college library.  
Late Sonam Wangyal was no less than a hero to Ladakh who taught us that with compassion, dedication, and persistence anything could be achieved. His journey began from a youth ready to sacrifice for his country during the Pakistan invasion to becoming one of the most dynamic ministers of the region. He was a member of the Jammu and Kashmir Legislative Assembly as a minister for a total of twenty years, especially remembered for becoming the voice against the social and economic injustice in Ladakh. Sonam abolished the system of forced labor to an end, freeing the common people of Ladakh from the exploitation of the then government and the burden of debt and high interest that had kept the locals close to starvation.