Tourism Department, Kargil  organises basic photography workshop 
By
Reach Ladakh Correspondent
Kargil, Nov 11, 2020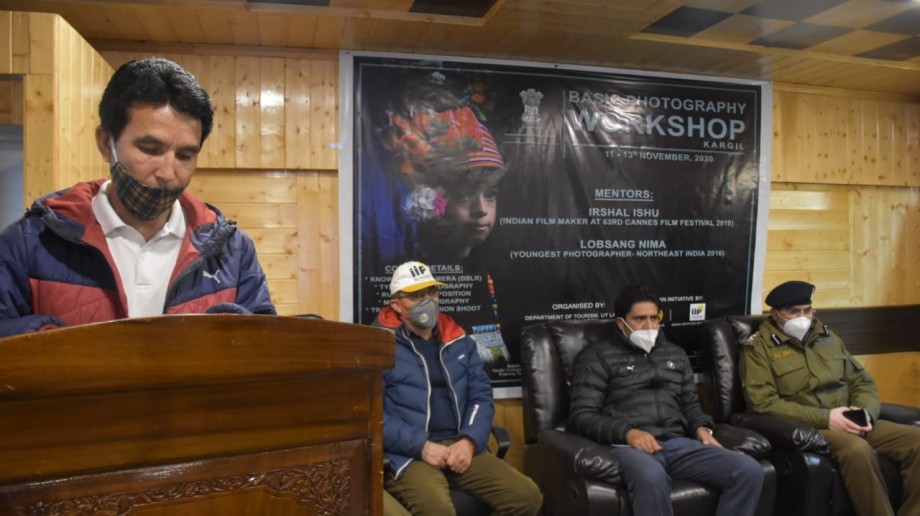 Kargil :
Three days basic photography workshop was inaugurated by Baseer ul Haq Choudhary, DC Kargil on November 11 at Tourist Reception Center.
The workshop has been organised by the Department of Tourism, UT Ladakh in collaboration with the Indian Institute of Photography and Art for Cause.
More than 40 trainees are participating in the workshop during which the mentor's Indian Film Maker at 63rdCannes Film Festival, 2010 Irshal Ishu and Youngest Photographer- North East India, 2016 Lobsang Nima will impart basic training about various aspects of photography like Knowing the Camera (DSLR), Types of Photography, Rules of Composition, Mobile Photography, Traditional fashion Shoot, and Editing.
While appreciating the initiative of the Tourism Department UT Ladakh in organizing the workshop, Baseer ul Haq Chaudhary expressed optimism that it would introduce the participants to the various aspects of professional photography and further guide them towards pursuing photographic techniques at the later stage.
He said that the workshop would also help in tourism and cultural promotion in the district and urged the participants to pursue the training progarmme with utmost passion and sincerity.
The training programme is being run in two batches with Batch-I for school students (8th-12th Grade) in the morning session and Batch-II Youth/College Students in the evening session.