Tibetans at TCV Ladakh flaunt affluent Tibetan attires on 'Tibet: Our Country' day
By
Tenzin Menkyi
Leh, Nov 05, 2014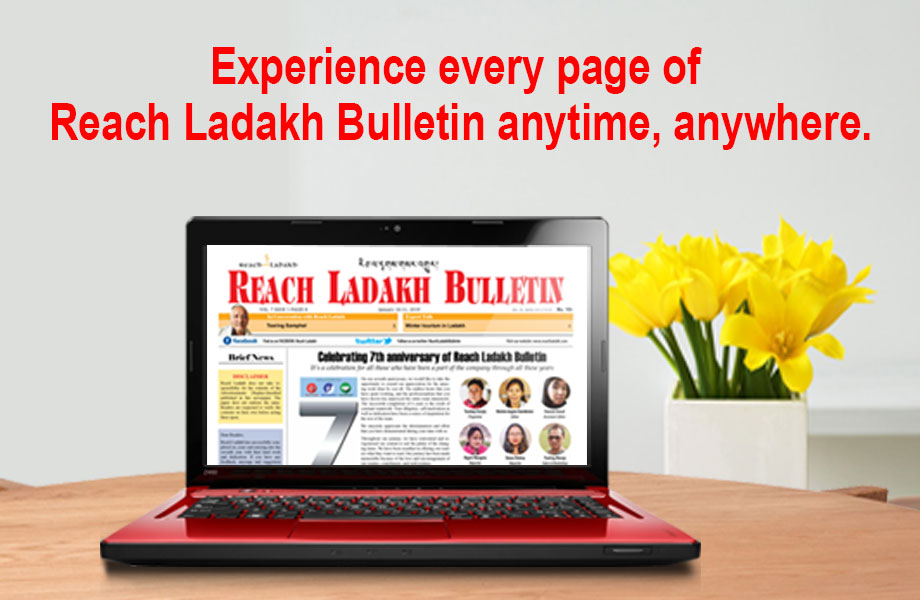 Leh :
After seeking asylum in India, His Holiness the 14th Dalai Lama's steadfast effort in keeping alive Tibetan culture; Tibetan Children's Village (TCV) schools were set up at various places in India, with his goal to provide education to young Tibetan who would shoulder the responsibilities of preserving and imbibing affluent Tibetan culture and religion. Consequently, to pursue his advice, Tibet: Our Country day is celebrated annually to hark back the Tibetan youth, born in exile, about Tibet's rich tradition, culture and identity. Also, to pay gratitude for His Holiness's endeavours, TCV schools all over India on October 23, fervently celebrate the day wearing traditional Tibetan attire from head to toe, sing and dance to Tibetan music and eat Tibetan food.

In his introduction to the day, Lundup Namgyal, principal TCV Ladakh said: "The observance of Tibet: Our Country day has its roots in 1970's when TCV Dharamsala, HP, the main TCV School first celebrated the day. Owing to its immense success, sooner, TCV school branches all over India follow the suite."

CRO Dhondup Tashi was the Chief Guest and Prof, Dr. Ramu along with his wife were the Special Guests for the occasion. Other dignitaries presented were; head of local Judiciary and Legislative, local head of five sects of Tibetan religion, other officials, head of all camps, head of TCV School, its staffs and parents.

Tibetan and Indian National anthem were sung followed by a minute silence observed for all the Tibetan martyrs who laid their live for the cause of Tibet.

The function began with the guests and dignitaries presenting ceremonial scarf to the huge image of the 14th Dalai Lama seated on the throne.  

The multifarious programme then began with enactment of His Holiness the 14th Dalai Lama's life history by infant students of TCV Ladakh's Menlha branch school. The act embraces the major events occurred in the young Dalai Lama's life; his selection and enthronement.

Karma Tsondue, representing class IX and X, presented a brief explanation on one of His Holiness's book on introduction to Buddhism. TCV Infant section students, in their petite traditional Tibetan dress, presented a short eulogy or poem and song titled Tibet: my country. TCV Junior section students performed a group dance with its lyrics in eulogy of His Holiness the Dalai Lama and Panchen Rinpoche.Class I to III students of TCV Choglam branch Ladakh, presented a song titled His Holiness's blessing and briefly introduce 'Karmic effect' by each students.

Class VII students, comprising of about 90 students perform a mass cultural dance for the audience entertainment. Tupten Chonjor and Guru Dakpo, music teacher of TCV School were appreciated for choreographing the mass dance. TCV Middle school's group dance titled Tsongpon Norsang was followed by class VIII student's cultural dance.
 
Much awaited event for the day was the ramp walk by teachers and staffs of TCV Ladakh. The teachers, dressed in their best, flaunted the diverse costumes and ornaments worn by Tibetan from three provinces of Tibet while they pompously walk the ramp to show off. Every small details of the costume were given importance. Accordingly, they were ornamented distinguishing its importance along with the props. What stole the show was the two children in their early years wearing petite costumes adorn with rich jewelleries and props. They were flanged by a couple representing the traditional attire of  Gargay, Tibet.

In his concluding speech, Tsetan Wangchuk, Vice President of local Tibetan Assembly says, "Unlike other refugees in the world, it has been recognised that, Tibetan refugees enjoys a distinct refugee status blessed by His Holiness the Dalai Lama." Dondul, headmaster of TCV Leh in his concluding remarks, conveyed Diwali greeting to the special guest, Dr Ramu and wife and thanked everyone for the participation.