Tibetan Women Association, Ladakh celebrates its 30th Re-founding Anniversary
By
Tenzin Menkyi
Choglamsar, Oct 01, 2014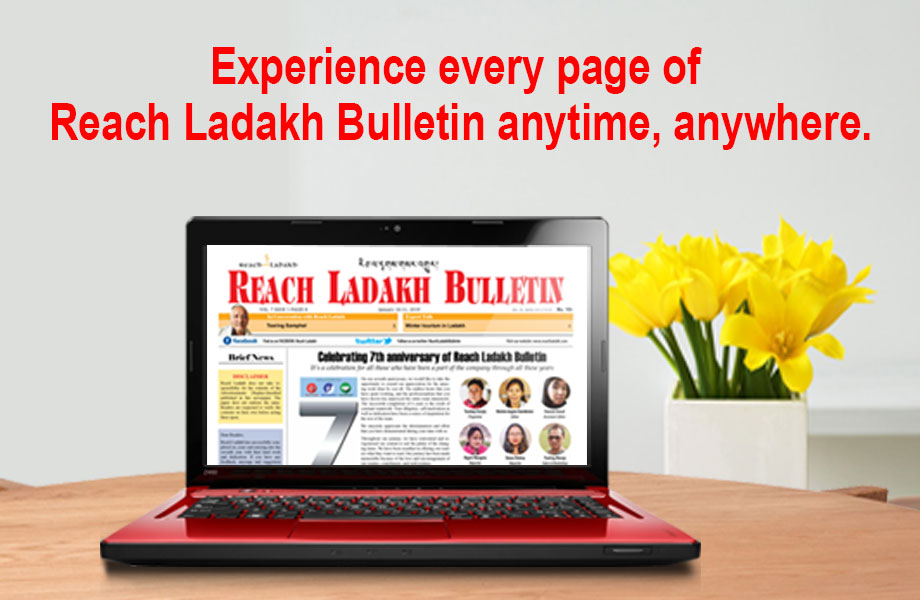 Choglamsar :
Tibetan Women Association (TWA) is a historic association run by Tibetan women from all three provinces of Tibet; to struggle against Chinese oppression, to take equal responsibility to preserve her unique culture and to maintain a high-quality social and political activism. It was initially founded on March 12, 1959 when Tibetan women led an uprising to revolt against China's brutal occupation of Tibet killing almost a million Tibetans and destroyed thousands of monasteries.

On September 6, 1984, in His Holiness the 14th Dalai Lama's address at the pre-advisory meeting on the selection of the 9th member of the Tibetan parliament; His Holiness spoke about the existence of Tibetan Women's Organization earlier and also expressed the importance of having such organization in Tibetan community in exile. Hence, TWA was officially reinstated in exile on September 10, 1984. The association had a very humble beginning with 800 Tibetan women as members and 12 regional chapters across India.

Today, TWA is the second largest Tibetan Non Governmental Organization (NGO) based in exile India and the only Women's NGO in Tibetan history. TWA is a 17,000 registered member organization with 56 chapters in four continents: Asia, US, Europe and Australia. TWA's slogan is 'Advocacy for Home, Action in Exile.'

On September 10, 2014, Regional Tibetan Women Association (RTWA), Ladakh, one of the 56 regional TWA, commemorated the 30th year of re-establishment of Tibetan Women's Association in exile. The occasion was celebrated at Sonamling Community Hall, Choglamsar, where over 150 Tibetan women form Tibetan Refugee Settlement, Leh Ladakh gathered for the function which began at 10am.

RTWA Ladakh, headed by its President, Sangye Choedon, has 400 registered member with eight executive members. At present, the 13th batch of RTWA Ladakh is in the office.

The function began with a minute of silence observed and recitation of a rosary of 'Mani'; offered to the martyrs who lost their lives for Tibetan cause.
The Chief Guest for the occasion was Dhondup Tashi, Chief Representative Officer of Sonamling Settlement. Other guest were: Dhondup Tsering, President of Local Tibetan Assembly or local legislative; Tsetan Wangchuk, President of Tibetan Freedom Movement, Ladakh; Lobsang Khenrab, head of local Judiciary; Kalsang Phuntsok, Director of Tibetan Children Village, Ladakh; local head of different religious traditions of Tibet; member of local Health department; members of Tibetan Corporative Society, member of local Health department; members of Tibetan Medical and Astro Institutes; Group Leaders of various camps and the executive members and members of TWA.

Sangye Choedon, President of Regional Tibetan Women Association, Ladakh read out the statement message sends out by Central Tibetan Women Association, Dhararamsala for the occasion. The statement briefed the history of origin of TWA, its aims and 6 points which TWA appeals to the world.
The statement also said: 'With blessing of His Holiness the Dalai Lama and remembering the undying spirit of fellow Tibetan brothers and sisters, TWA puts its effort to bring up Tibetan issue on International platforms to spread awareness and get justice to our cause. At the same time, TWA focus remains on strengthening our exile community by supporting the education of women, organizing various training programs and workshops to empower Tibetan women in exile".

In his speech, Dhondup Tsering, President of Local Tibetan Assembly or local legislative appreciated TWA for its success in all its endeavors. He spoke about importance of women in a society and its responsibilities. He quoted that: "giving an education to a woman equals to imparting teaching to 10 or 15 men, while educating a man simply benefits himself". Thus he emphasize the fact the mother of a family is responsible for a success of their family.
Tsetan Wangchuk, President of Tibetan Freedom Movement, Ladakh spoke about the self-less free service rendered by Tibetan women all over for the success of Tibetan Refugees in exile. He also pointed out the fact that; it is the girls, who come out with best results in the academic field, in all Tibetan Schools. He also mentioned that the reason behind the lack of women leader is only because women are burdened with family responsibilities and gets no time to involve in other responsibilities.

Chief guest for the occasion, Dhondup Tashi, CRO, Tibetan Refugee Settlement, Ladakh thanked the Regional TWA, Ladakh for its social service for the welfare of society. He spoke about Gyalyum Chenmo, the mother of His Holiness the 14th Dalai Lama, and her achievements and motivated the women of their capabilities.

Tenzin Wangmo, executive member of Regional TWA Ladakh, reminded the women audience about the upcoming election of executive members of 14th RTWA batch, which will held on March 25th, 2015. She talked about importance of electing educated executive members for a success of the organization.

Tashi Palmo, Vice President, RTWA, Ladakh delivered a thank-you speech and concluded the function by thanking all the dignitaries and audience presented at the function. She also extends a heartfelt thanks to the group leaders of all 12 camps in Tibetan refugee settlements, with their unwavering support for the organization and its activities.