SVEEP program held in Trans-Singhe villages
By
Reach Ladakh Correspondent
Leh, Apr 24, 2019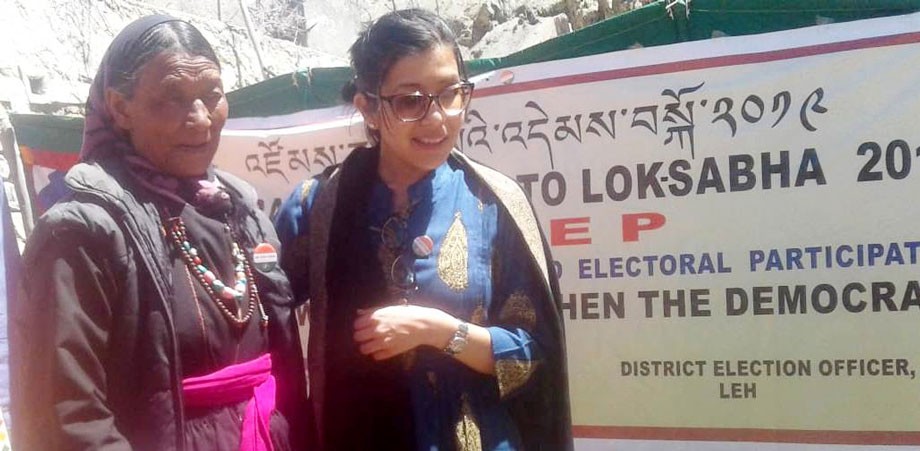 Leh :
Under SVEEP programme, Avny Lavasa, DC/ District Election Officer visited villages of Trans-Singhe-la area for voter education and awareness on April 24.
Addressing the public gatherings at Fanjila, Hunufatta, and Fotoksar, Avny Lavasa strongly urged upon all the eligible citizens to vote on May 6.
Highlighting the importance of exercising their voting franchise to choose a good government for better progress and development, she urged upon the people to ensure their larger participation in upcoming Lok Sabha elections. She said that this will not only help to strengthen the democratic system of our country but would also ensure the overall improvement of public life.
Avny also visited educational institutions in the area and interacted with the students about their current state of education as well as the availability of basic infrastructural facilities and teaching staff. 
The Master Trainers also conducted workshops and gave live demonstrations on the operating procedure of EVM and VVPAT.
On the second day, she visited the newly opened polling station at Hipti and took stock of the availability of Assured Minimum Facility such as road, drinking water, toilet, ramp and electricity at the polling station. The concerned officers were directed to ensure the basic facility for the convenience of the electorates.
She also visited Mangyu village and urged upon the voters to exercise their voting franchise. She said that each vote is important and decisive for forming a good government.
Detail information about the functioning of the newly introduced VVPAT machine was also imparted.
Tsering Motup, SDM Khaltsi, Ex en. PWD Khaltse and BDO Khaltse were also present.