Stress on sustainable and responsible tourism
By
Rinchen Angmo Chumikchan
Leh, Aug 29, 2015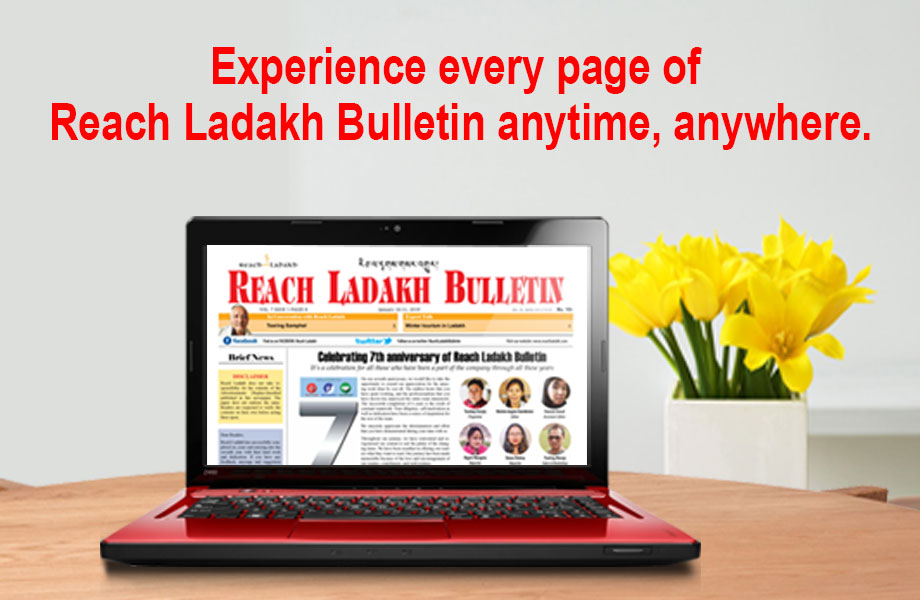 Leh :
A conference was held on August 24 to discuss the impact and solutions for 'Responsible and Sustainable Tourism', at Hotel The Grand Dragon, here. The chief guest was Ashi Kesang Wangmo Wangchuk, the princess of Bhutan. The seminar was a part of the 4th International IFBHL.
The seminar brought together a broad spectrum of tourism stakeholders from India and abroad, representing governments, tourism industry, international organizations, and non-governmental organizations to discuss the pressing issues in tourism ethics and responsible tourism.
The seminar aimed at inspiring the industry towards more sustainable actions.
Ven Bhikkhu Sangasena presented the welcome speech. Datuk Seri Dr Victor Wee, Chairperson, conducted the event. He said the conference on sustainable and responsible tourism was very relevant for the entire world. "As we have seen that tourism brings a lot of benefits to the country and communities, it can also do a lot of damages." He said Ladakh is very sensitive in terms of environment and culture. So we have to be extremely careful about the impact of tourism.
C. Phunsog , former Chief Secretary, J&K, said that now in the development strategy of tourism, the challenge is to give a proper direction to future growth and see the adverse consequences on environment, socio-cultural traditions and values of the local people.
It would be disastrous to let tourism grow haphazardly, as at present. Conscious efforts were required to be made to preserve the fragile ecosystem and the unique cultural heritage of the region, he said.
He said such issues required to be discussed, debated and analysed by all the stakeholders at appropriate forums so as to throw up information and issues for the policy makers to take informed decisions and for planners to lay down sound development strategies.
He stressed on the promotion of hospitality and etiquettes in keeping with the Indian tourism motto 'Atithi Devo Bhava', and said we should minimise the negative impacts.
Former Ambassador, P.Stobdan, President Ladakh International Centre, Leh, said he saw cultural and political stress growing in the region as a result of haphazard tourism; and that tourism was beating the rising expectations of the people of Ladakh. "I am sure there is a gap somewhere. Our great scholar, Tashi Rabgais, used to say, 'Ladakhspa love tourist and tourist love Ladakspa'. It was in the late 80s & 90s. Things have changed now." He said more than sustainable tourism, "you have to have responsible tourism, the behavioural aspect of tourism where all the stakeholders have responsibility and accountability for their actions and consequences of their actions."
Sonam Wangchuk, founder, Students Educational and Cultural Movement of Ladakh (SECMOL), Leh, talked about the changing scenario of tourism in Ladakh. He said the past was perfect with quality tourists. But now, he said, it was all mass tourism. It was 10-fold by 2010 and all blindly and haphazardly, he regretted.
Tsewang Namgyal, Director, Snow Leopard Conservancy Trust of India, Leh, spoke about the truths behind the ever-increasing volumes of travellers and how the industry hit the nature and environment. He said today a whole gamut of tourists visited Ladakh and it was putting a lot of pressure on the ecosystem, wetlands and animals. They feed animals like gulf bird, Himalayan marmot which makes then sick and less efficient in finding food in nature. Today hundreds of bikes and vehicles drive in Pangong without any concern. "This is not sustainable and responsible we are talking about", he said.
The President of All -Ladakh Tour Operators Association (ALTOA), Rinchen Namgyal, suggested strict rules on hotels, guest houses and said that an environment fee should be charged from both domestic and international tourists. He also spoke about organic farming.
Among the other speakers who spoke on the occasion were EC tourism, Mohd Shafi Lassu, Mohd Ashraf, Former Director JK Tourism, Dr Vijay Samarawickrama, Eminent Buddhist Scholar and Senior Lecturer, Taylor University, Malayasia and Halena Norberg Hodge.